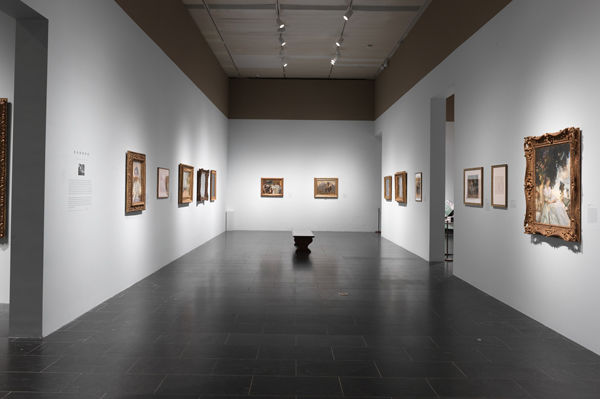 The final gallery in the exhibition Sargent: Portraits of Artists and Friends, on view through October 4, 2015
One of my favorite sections of Sargent: Portraits of Artists and Friends, on view through this Sunday, October 4, is the final gallery, with its dazzling Italian scenes. All date from a time when the acclaimed painter had ceased to produce his self-termed commissioned "paughtraits," giving himself over entirely to the sensuous satisfactions of capturing art and friendship on canvas in the open air. Dubbed "painted diaries" by a family member, these breathtaking pictures arose from Sargent's summer and fall sojourns in Italy, the country of his birth. Habitually, he would invite a number of friends, some of whom were artists, and family to join him on excursions to the Veneto, Tuscany, Lombardy, and other picturesque regions.
Two of Sargent's frequent travel companions were Jane and Wilfrid de Glehn. Sargent first met Wilfrid (1873–1961), an English artist, in Paris, then later worked with him on commissions for the Boston Public Library. By the time Wilfrid married, in 1904, Jane Emmet (1870–1951)—a one-time art student of William Merritt Chase (1849–1916), second cousin of Henry James (1843–1916), and niece of Stanford White—Sargent and he were so close that the friendship soon encompassed the couple. (While Jane Emmet didn't formally meet Sargent until after her marriage, reportedly, she first caught sight of the esteemed painter at the infamous 1890 dance recital by Carmencita (1868–1910) at Chase's Tenth Street Studio.) The de Glehns would go on to appear in countless Sargent oils and watercolors, with Jane becoming something of a muse for the artist in these years.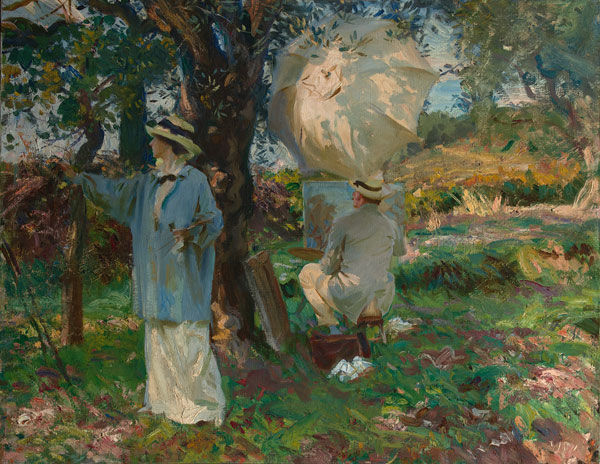 John Singer Sargent (American, 1856–1925). The Sketchers, 1913. Oil on canvas; 22 x 28 in. (55.9 x 71.1 cm). Virginia Museum of Fine Arts, Richmond, Arthur and Margaret Glasgow Fund, 58.11
The Sketchers is one of those pictures—and a particular favorite of mine, as it comes from the collection of the Virginia Museum of Fine Arts, my former institution. Moreover, this fluidly painted, dynamic work reveals Sargent—establishment artist par excellence—at his arguably most modern and experimental stage of picture making, marking an exciting transitional moment in his career. That The Sketchers was produced the year of the infamous Armory Show, which represented America's first widespread introduction to modern art, also suggests that Sargent was not immune to the visual charms of the avant-garde.
While in Virginia, I became fascinated by The Sketchers, including the ongoing debate about the identity of the woman in the blue smock, intently working on an unseen canvas in a lush olive grove in San Vigilio, overlooking Lake Garda (Sargent described the spot as "paradise"). There was never any doubt that the seated figure viewed from the back was Wilfrid de Glehn. Based on the sheer number of Sargent's images of Jane de Glehn in single and double portraits with her husband—for example, the extraordinary The Fountain, Villa Torlonia, Frascati, Italy—it was long assumed that both de Glehns were the "sketchers" in question. Yet, after much study and research, it is now accepted (most importantly by Sargent scholar, grand-nephew, and curator of the Met's exhibition, Richard Ormond) that the woman is not de Glehn, but a friend from her Paris student days—Mary Foote (1872–1968), who was a member of the San Vigilio circle that September in 1913.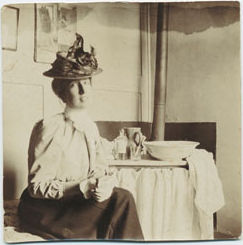 Foote hailed from an old New England family with deep Connecticut roots. Yet after losing both parents at a young age, she grew up in an unsettled, peripatetic fashion, not unlike that of the expatriate Sargent. After studying art at Yale with John Ferguson Weir, she moved to Paris, where she shared an apartment and studio with the charismatic and well-connected Emmet sisters, Ellen and Edith, as well as their cousins Lydia and Jane.
Left: Mary Foote, Paris, ca. 1897. Mary Foote Papers, Beinecke Rare Book and Manuscript Library, Yale University
The Emmet family's illustrious relations led Ellen to meet Sargent in London through cousin Henry James, who later persuaded James McNeill Whistler (1834–1903) to visit the women in Paris and introduce them to Frederick William MacMonnies (1863–1937), with whom they would subsequently study at his home-atelier in Giverny. Foote became one of MacMonnies's closest protégés, painting alongside her teacher on numerous occasions and serving as his assistant on exhibitions and publications. Returning to America in 1901, she established herself as a self-supporting portraitist who, like Sargent, favored impressionistic plein-air landscapes when on holiday. Here's an image of her view—depicted in the painting on the unseen easel in The Sketchers—from that inviting olive grove.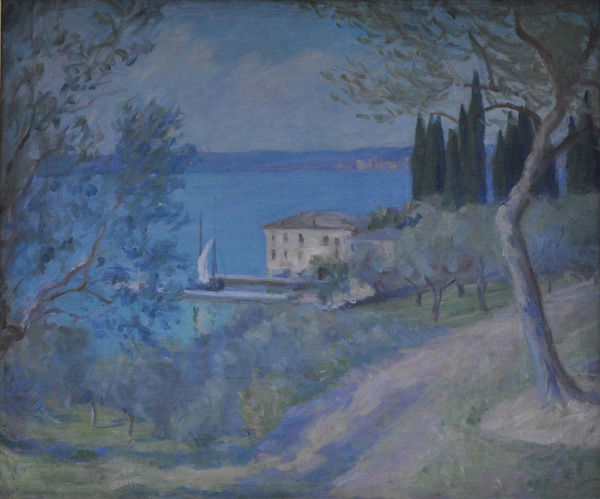 Mary Foote (1872–1968). San Vigilio, 1913. Oil on canvas. Private collection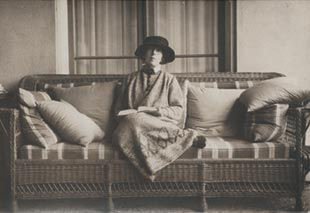 Known for her great intelligence and charm, as well as a biting wit, Foote was a popular fixture in various artistic circles—from the MacMonnies' and de Glehns' to the more modernist salons of Mabel Dodge, whom she first met in New York and frequently visited at her villa in Florence, Italy, then later in Taos, New Mexico.
Right: Mary Foote, Taos, ca. 1917–20, Mary Foote Papers, Beinecke Rare Book and Manuscript Library, Yale University
While not as radical as some of her cohorts (in addition to Dodge, friends included Gertrude Stein, Isadora Duncan, and D. H. Lawrence), the independent, free-thinking, and progressive Foote would eventually give up her Greenwich Village artistic life for a quieter existence in Zurich, Switzerland. There, in 1927, she became a psychoanalytic patient and assistant of Carl Jung (1875–1961), editing most of his important works. This compelling biography makes one imagine the heady conversations in the air of that Italian grove on the eve of World War I—when overlapping artist circles were nurtured and blossomed on the brink of irrevocable change.
Acknowledgments
I'm grateful to Mary Foote descendant Dr. Anne Moore, as well as Julia Converse and Richard Bartholomew, for sharing unpublished manuscripts and other material on the artist's life and work. Some Foote papers are preserved in the Beinecke Rare Book and Manuscript Library at Yale University, her alma mater.