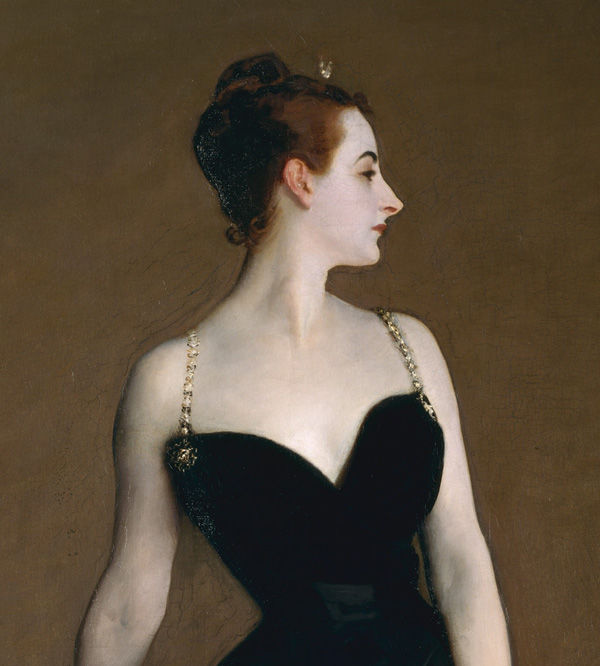 John Singer Sargent (American, 1856–1925). Madame X (Madame Pierre Gautreau) (detail), 1883–84. Oil on canvas; 82 1/8 x 43 1/4 in. (208.6 x 109.9 cm). The Metropolitan Museum of Art, New York, Arthur Hoppock Hearn Fund, 1916 (16.53)
John Singer Sargent's Madame X (Madame Pierre Gautreau) is an icon of the Met's collection. Each year, visitors flock to The American Wing to muse on the eccentric glamour of this bold portrait featuring the American wife of a French banker. Ordinarily we think Madame X looks quite splendid in gallery 771, where she is seen with other grand-manner portraits of the period. Surrounded by Sargent's portraits of the Wyndham sisters and Mr. and Mrs. I. N. Phelps Stokes, Gautreau appears quite distinct from the elegant high-society portraits.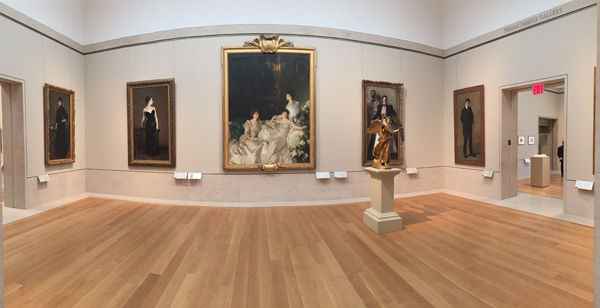 Gallery 771 in The American Wing. Photograph by the author
It might surprise you to know that Madame X was not initially included in Sargent: Portraits of Artists and Friends. Though iconic, the subject was neither an artist nor a friend, so she didn't quite fit the original parameters of the exhibition. The Madame X decision had been made early in the planning process—before Elizabeth Mankin Kornhauser and I joined the team in 2013 as co-curators of the Met's presentation of the show—but the question resurfaced periodically and lingered in our minds. Finally, our colleagues in London broached the subject again this past spring: Why not include Madame X?
Throughout his early years in Paris, Sargent built his reputation by convincing friends and notable members of fashionable society to pose for him and then exhibiting these works at the Paris Salon. This is the case with Madame X, his most famous portrait. She was Virginie Avegno Gautreau (1859–1915), an expatriate from Louisiana who was married to a French banker. She was a familiar figure in Parisian society, known for her artful appearance, which she accentuated with dramatic cosmetics and clothing. The ambitious young Sargent was fascinated by her and undertook the portrait without a commission, hoping to enhance his reputation.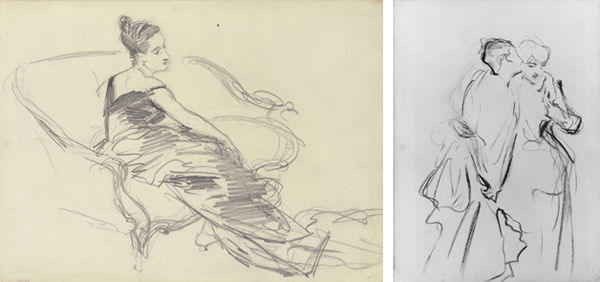 Left: John Singer Sargent (American, 1856–1925). Madame X (Madame Pierre Gautreau), 1883–84. Graphite on off-white wove paper; 9 3/4 x 13 3/16 in. (24.8 x 33.5 cm). The Metropolitan Museum of Art, New York, Purchase, Charles and Anita Blatt Gift, John Wilmerding Gift and Rogers Fund, 1970 (1970.47). Right: John Singer Sargent (American, 1856–1925). Whispers, ca. 1883–84. Charcoal and graphite on off-white laid paper; 13 9/16 x 9 11/16 in. (34.4 x 24.6 cm). The Metropolitan Museum of Art, New York, Gift of Mrs. Francis Ormond, 1950 (50.130.117)
After arranging an introduction through a mutual acquaintance, Sargent began the portrait. He created more studies in preparation for this portrait than for any other. In the sketches, he was preoccupied with Gautreau's distinctive profile but experimented with a variety of poses, even capturing her in informal moments between sittings. (Both of the drawings above can be seen in the reading room of the exhibition.) In the final portrait, he created a dynamic twisting pose in a near monochromatic palette, emphasizing his sitter's egotism and glamour. He exaggerated her daring style by showing the right strap of her gown slipping from her shoulder.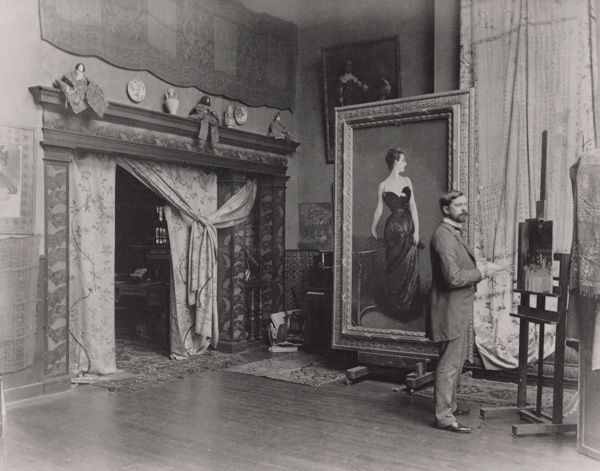 Of course, the painting was a scandalous success at the Paris Salon in 1884. Viewers and critics found the portrait offensive, ugly, and eccentric, and Gautreau and her mother begged Sargent to remove the painting from the exhibition. Though Sargent was devastated by this response, he stood behind his ambitious portrait, declaring that he had only painted Gautreau as she appeared. After the exhibition, Sargent repainted Gautreau's shoulder strap in the upright position, and since it was not a commissioned work, he kept the picture for himself, proudly displaying it in his studio. When he sold the painting to the Met after Gautreau's death in 1916, he called it "the best thing I have done."
John Singer Sargent (American, 1856–1925). Louis de Fourcaud, 1884. Oil on canvas; 23 5/8 x 19 9/16 in. (60 x 49.7 cm). Lent by Paris, Musée d'Orsay, gift of Mrs de Fourcaud, 1915
Sargent's friend Louis de Fourcaud (1851–1914) was an art critic, art historian, poet, musician, and musicologist, and an influential figure in Parisian cultural life. Fourcaud wrote several perceptive articles about Sargent and his art in the 1880s. He recognized the portrait of Gautreau as a characterization of a new type of woman who used her appearance to acquire celebrity and social standing—someone who was famous simply for being famous (a direct ancestor of someone like Kim Kardashian today). Like an artist or an actor, the so-called "professional beauty" enacted a role in Parisian society, which Sargent sought to capture in his enigmatic portrait. For Sargent, Gautreau's careful self-fashioning was a kind of performance art. It became clear to us, and our colleagues in London, that Madame X belonged in the installation.
As our planning progressed, any lingering fears we had that the bold Madame X would overshadow some of Sargent's more informal and experimental portraits from his years in Paris vanished. In the exhibition, she appears in the company of the artist's most daring and innovative portraits of the period. Though she still commands attention, we think she blends in seamlessly.