The hieroglyphic text above Chahk tells us the creation event we are witnessing took place in primordial time, before the advent of human history.
The text begins with a date: 13 Ok 8 Zotz.
The number 13 is indicated by three dots and two bars. Bars signify the number five.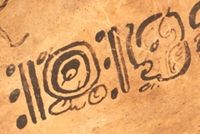 The second part of the date, 8 Zotz, records the month. The glyph is the head of a bat (zotz), identifiable by his leaflike nose.
While the initial date refers to an event in mythical times, the text on the right mentions a historical lord, perhaps the owner of the vessel.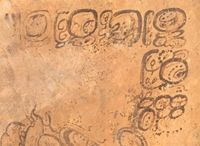 The two moments are linked in this composition, the mortal being emphasizing a connection with divine power and primordial creations.
The plate, in all its swirling, cosmological complexity, would have been accessible to few.
Yet the viewers who were privileged to gaze upon Chahk and his companions were invited to reflect on fundamental ontological questions about origins, creations, and existence—questions that all humans confront in understanding their place in the world.
Authors
Joanne Pillsbury, Andrall E. Pearson Curator of Ancient American Art, is a specialist in the art and archaeology of the ancient Americas.
Laura Filloy Nadal, Associate Curator for Ancient American Art in the Michael C. Rockefeller Wing, is a specialist in pre-Hispanic and early colonial Latin American art, archaeology, and cultures.
Further Reading
Doyle, James A., "Creation Narratives on Ancient Maya Codex-Style Ceramics in the Metropolitan Museum": Metropolitan Museum Journal, v. 51 (2016).
Doyle, James A. and Stephen Houston, "The Universe in a Maya Plate": Maya Decipherment, March 4, 2017.
Reents-Budet, Dorie, et al., Painting the Maya Universe: Royal Ceramics of the Classic Period. Durham, NC: Duke University Press, 1994.
Schele, Linda, and Mary Ellen Miller, The Blood of Kings. Dynasty and Ritual in Maya Art. Fort Worth, TX: Kimbell Art Museum, 1986.
Credits
Tripod plate, mythological scene. 7th–8th century. Mexico or Guatemala. Maya. Ceramic with red, cream, and black slip. D: 16 1/2 in. (41.9 cm). The Metropolitan Museum of Art, New York, Gift of the Mol Collection, 2021 (2021.320)
Six pages from the Dresden Codex featuring eclipses, multiplication tables, and a flood. Image courtesy Wikimedia Commons
Cylinder Vessel with Palace Scene. 740–800. Guatemala, Petén, Dos Pilas or Motul de San José. Maya. Slip-painted ceramic with post-fire pigment. H: 7 1/8 in. (18.1 cm); D: 5 1/8 in. (13 cm). Los Angeles County Museum of Art, Los Angeles, Purchased with funds provided by Camilla Chandler Frost (M.2010.115.12). Image © Museum Associates/LACMA Conservation, by Yosi Pozeilov
Cylinder Vessel with Palace Scene (rollout photograph). 740–800. Guatemala, Petén, Dos Pilas or Motul de San José. Maya. Slip-painted ceramic with post-fire pigment. H: 7 1/8 in. (18.1 cm); D: 5 1/8 in. (13 cm). Los Angeles County Museum of Art, Los Angeles, Purchased with funds provided by Camilla Chandler Frost (M.2010.115.12). Image © Museum Associates/LACMA Conservation, by Yosi Pozeilov