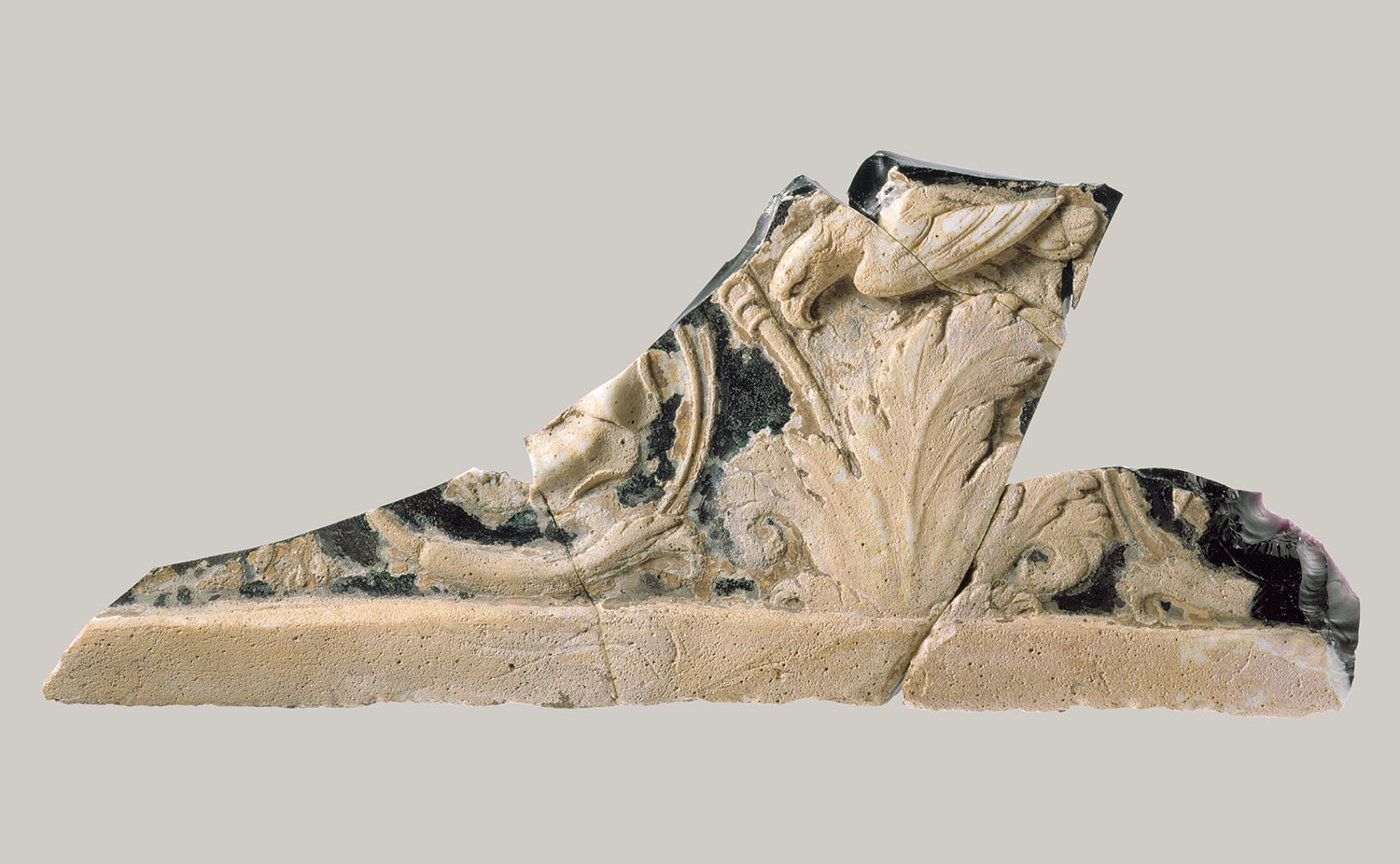 ---
Cameo architectural panel, ca. 1–25

a.d.

; Augustan–early Julio–Claudian
Roman
Glass; H. 5 1/16 in. (12.9 cm), W. 11 7/8 in. (30.2 cm)
Rogers Fund, 1918 (18.145.38a)

The reign of the first emperor Augustus (27 B.C.–14 A.D.) is rightly regarded as the Golden Age of Rome. Augustus is credited with transforming Rome from a city of brick to one of gleaming marble, where many new buildings were erected and decorated with ornate architectural facades and sculptural elements. A favored type of decoration was the so-called inhabited tendril scroll. While examples can be seen on large public monuments such as the Ara Pacis in Rome, it was imitated on a smaller scale in a variety of media, including silver drinking cups, Arretine pottery, and glass. This fragment was once part of a larger panel of cameo glass that served as a revetment to a wall or pilaster, and its scale suggests that it formed part of the interior decoration of a large and elegant house belonging to a prominent figure at Rome.
The panel is part of an elaborate frieze inhabited by various animals and birds; an eagle can still be seen preserved in the right corner. The bounteous acanthus motif (10.210.28) is a characteristic element of Augustan art; it reflects the peace and subsequent prosperity brought to the Mediterranean after Octavian (Augustus) defeated Marc Antony at Actium in 31 B.C., effectively ending the period of civil strife that had plagued Rome for over a century.
Perhaps the most famous use of the acanthus frieze during Augustus' regime is on the Ara Pacis Augustae, the Altar of Augustan Peace, built in 13 B.C. to promote Augustus as the savior of Rome and its new, legitimate, ruler. Both the close association of acanthus friezes with Augustan art and the likely high cost of such an elaborate cameo panel point to Augustus or his immediate circle as the most likely patrons for this object and the building it adorned.
Related