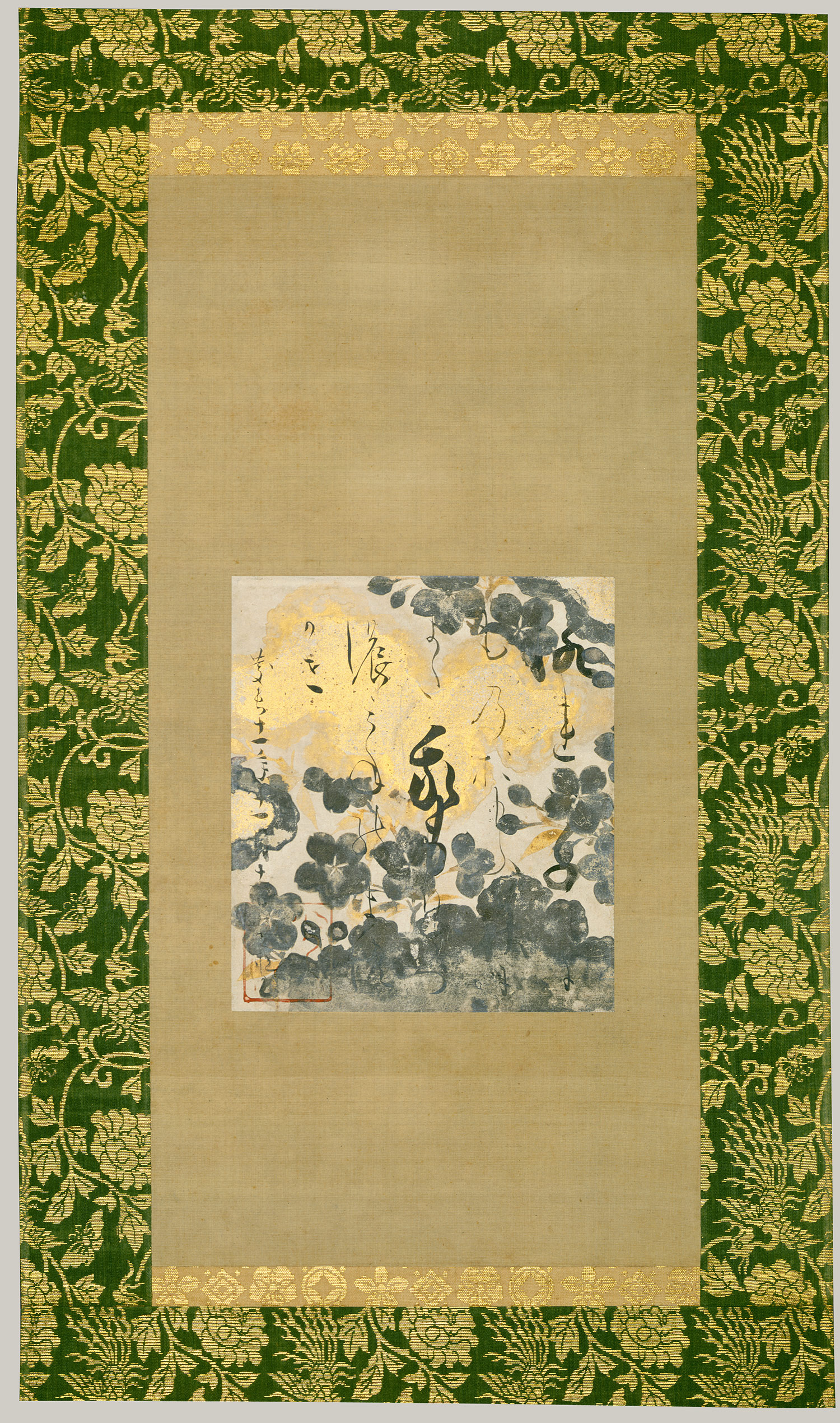 ---
Poem page mounted as a hanging scroll, Momoyama period (1573–1615), dated 1606
Painting by Tawaraya Sotatsu (Japanese, active early 17th century); Calligraphy by Hon'ami Koetsu (Japanese, 1558–1637)
Ink on paper decorated with gold and silver; 7 7/8 x 7 in. (20 x 17.8 cm)
The Harry G. C. Packard Collection of Asian Art, Gift of Harry G. C. Packard, and Purchase, Fletcher, Rogers, Harris Brisbane Dick, and Louis V. Bell Funds, Joseph Pulitzer Bequest and The Annenberg Fund Inc. Gift, 1975 (1975.268.59)

A classic poem has been inscribed by Hon'ami Koetsu on this square sheet of paper decorated by Tawaraya Sotatsu in a gold and silver design of clouds amid cherry blossoms. Now mounted as a hanging scroll, this is one of a set of similar poem pages probably intended to be pasted on a gold-leaf screen. The unusual dated signature, "the 11th day of the 11th month of Keicho [1606], Koetsu," makes this one of the earliest verifiable works by this influential calligrapher and arbiter of taste. The poem, from his favorite anthology of Japanese court poetry, the Shinkokinshu, is by Kamo no Chomei (1155–1216):
I sit staring,
Assailed by thousands of melancholy thoughts.
Is it for me alone that the wind in mountain pines
comes again this autumn?
Although the gorgeous spring decoration has no resonance in the poem's nostalgic melancholy, there is visual harmony between Sotatsu's bold design and Koetsu's personal version of Heian court script—a rhythmically modulated blending of thick dark characters with small fluid ones, connected by thin trails of his quickly moving brush. The collaboration between Koetsu and Sotatsu produced many similar works on individual sheets as well as on horizontal scrolls, and laid the foundation for a decorative artistic tradition, later called Rinpa, which gave fresh treatment to ancient yamato-e themes.
Related