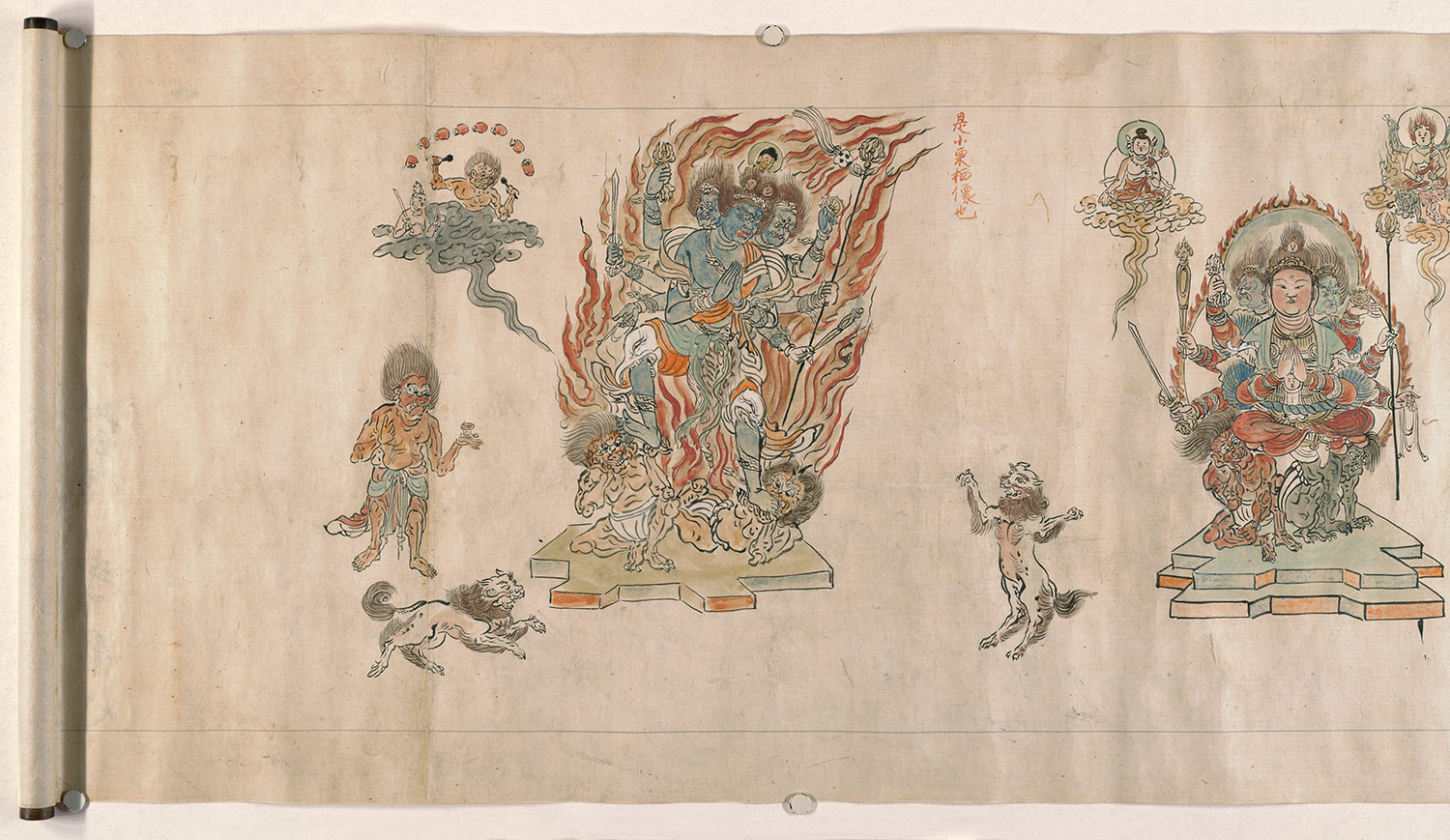 ---
Scroll 8 of Collected Iconography (Zuzōshō): Myōō (Vidyārāja), Heian period (794–1185), late 12th century
Japan
Handscroll; ink and light color on paper
The Harry G. C. Packard Collection of Asian Art, Gift of Harry G. C. Packard, and Purchase, Fletcher, Rogers, Harris Brisbane Dick and Louis V. Bell Funds, Joseph Pulitzer Bequest and The Annenberg Fund Inc. Gift, 1975 (1975.268.6)
Collected Iconography (Zuzōshō) is an encyclopedia of Esoteric Buddhist iconography in ten scrolls. This, a copy of its eighth scroll, is devoted to depictions of a category of guardian deity known as Kings of Brightness, or Myōō. Kings of Brightness are ferocious-looking deities who ward off evils in order to protect the Buddha's law. The scroll opens with a lengthy description of the most popular of the Kings, Fudō Myōō. His Sanskrit name, his Sanskrit seed syllables (syllables that represent the deity like initials), and his secret name are provided, as are the implements he holds. Then the text gives examples of textual and visual sources for his iconographies, as well as detailed descriptions of his purpose and further aids to his portrayal, such as what colors he should be and the variety of postures in which he appears. The text is followed by five different iconographical drawings of Fudō, as well as close-ups of the ritual implements he can be found holding. There are also later annotations, including a small rendering of Fudō's sword, with its name, kurikara.
After Fudō, the scrolls turns to explanations of six other Kings of Brightness, Gōzanze, Gundari, Daiitoku, Kongōyasha, Munōshō, and Dairin. Each is followed by a single illustration. Four illustrations are appended to a lengthy description of the next King, Ususama. In two of these, the Buddha Shakyamuni, of whom Ususama is an avatar, is drawn above his head. Kongō Dōji, a youthful avatar of Amida or the bodhisattva Kongō, appears in two forms, one in which he has two arms, and another in which he has six, and stands upon a rock surrounded by swirling water. The final section of the scroll is devoted to Daigen Myōō, who in both illustrations is shown stomping on demons and accompanied by a variety of figures, including one beating an arc of drums that resembles the deity Raijin, the God of Thunder. These figures are neither named nor described in the accompanying text.
The original Zuzōshō, no longer extant, was produced in the early twelfth century, when multiple versions of Esoteric Buddhist iconographies made it necessary to assemble and organize a guide to illustrating the many deities. Many copies of the set of scrolls were made as aids for religious practice and instruction. This scroll, purportedly from the temple Tōji in Kyoto, is stylistically close to the oldest extant version of the Zuzōshō, housed at Daigoji, also in Kyoto, and dating from approximately 1193.
Related