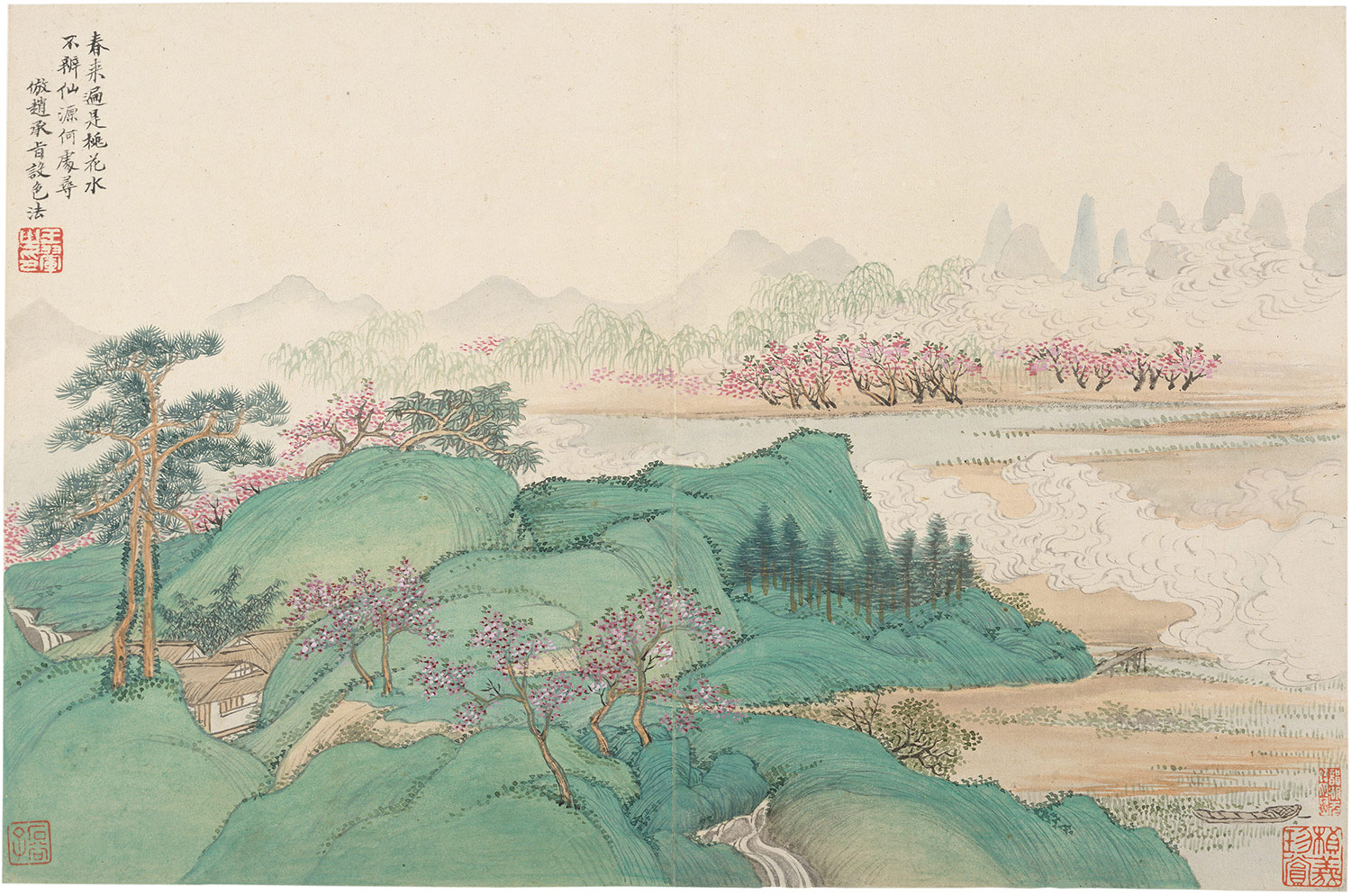 ---
Landscapes after Ancient Masters, Qing dynasty (1644–1911), dated 1674 and 1677
Wang Hui (Chinese, 1632–1717) and Wang Shimin (Chinese, 1592–1680)
Album of 12 paintings; ink and color on paper; 10 paintings by Wang Hui: 8 5/8 x 13 1/4 in. (22 x 33.8 cm); 2 paintings by Wang Shimin: 10 x 13 in. (25.4 x 32.9 cm)
Inscribed by the artists
Purchase, The Dillon Fund Gift, 1989 (1989.141.4)
Wang Hui painted the first ten leaves of this album at the height of his artistic maturity, as he systematically pursued a creative synthesis of earlier styles through thoughtful study and reinterpretation of ancient paintings. Done at the request of his mentor, Wang Shimin, it is a virtuoso performance meant to show the older painter just what he was capable of. Wang Hui blends startling personal touches into established models: large-scale compositions have been condensed and reshaped, brush idioms have been transformed into small-scale brushstrokes of great liveliness and freshness, and vivid colors have been applied in striking combinations.
Wang Shimin was so impressed by Wang Hui's performance that he created his own set of album leaves based on those of his pupil. Only two of Wang Shimin's leaves remain. His interpretation of Li Cheng is closely modeled on Wang Hui's painting, but he was unable to duplicate the younger man's evocation of Zhao Mengfu's intricate "blue-and-green" style. Instead, Wang Shimin substituted his version of Zhao Mengfu's sketchy landscape manner.
Leaf G: Wang Hui, Peach Blossom Spring Following Zhao Mengfu's (1254–1322) Methods of Using Color
When Spring comes peach blossom waters are everywhere;
If this is not an immortal's spring what place is?
Related