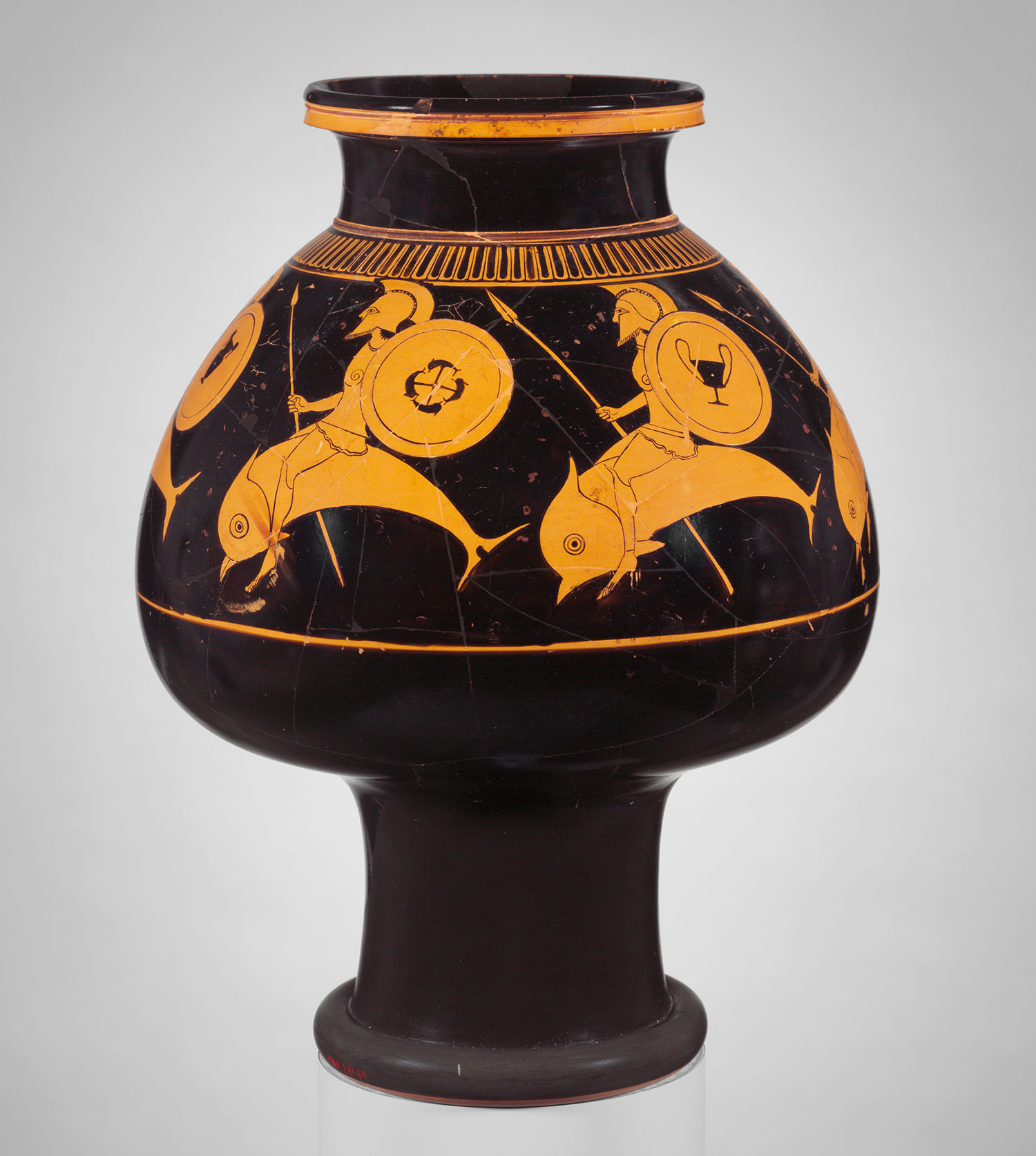 ---
Psykter, ca. 520–510

b.c.

; Archaic; red-figure
Attributed to Oltos
Greek, Attic
Terracotta

H. 11 7/8 in. (30.2 cm)
Gift of Norbert Schimmel Trust, 1989 (1989.281.69)
Hoplites astride dolphins encircle the body of this psykter, a vessel used for cooling wine at symposia (drinking parties). After filling the psykter with wine, participants would have placed it inside a large krater containing cold water. As the psykter bobbed in the water, the dolphins would have appeared as if diving into and leaping from the depths of the krater. This psykter is attributed to Oltos, an early red-figure painter who specialized in decorating cups and other vessels used at symposia.
Each of the six hoplites on this drinking vessel is armed with a shield and spear; each wears a Corinthian helmet, greaves, and a cuirass over a short chiton. Their postures are almost identical, as befitting a well-disciplined military squadron. Only the emblems on their shields vary: three are vessels used at symposia—a krater, kantharos, and cup, and three are symbols—a whirl with four dolphins, a triskelis (three running legs that symbolize human industry), and a whirl with the foreparts of a lion, horse, and griffin. The painter carefully arranged each ornament so as to impart a certain rhythm to the scene.
A number of vases from this period are decorated with hoplites riding dolphins. Each of these scenes, however, includes a flute player, which suggests that the hoplites represent a Greek chorus. The similarity of the dolphin riders on this psykter with the choruses of dolphin riders on these other vessels suggests that this scene, too, illustrates a dramatic chorus, perhaps from a contemporary play performed on the Athenian stage. On this particular vessel, the words "upon the dolphin," which are carefully inscribed in retrograde in front of the mouth of each hoplite, may be the opening words recited by the chorus.
Related