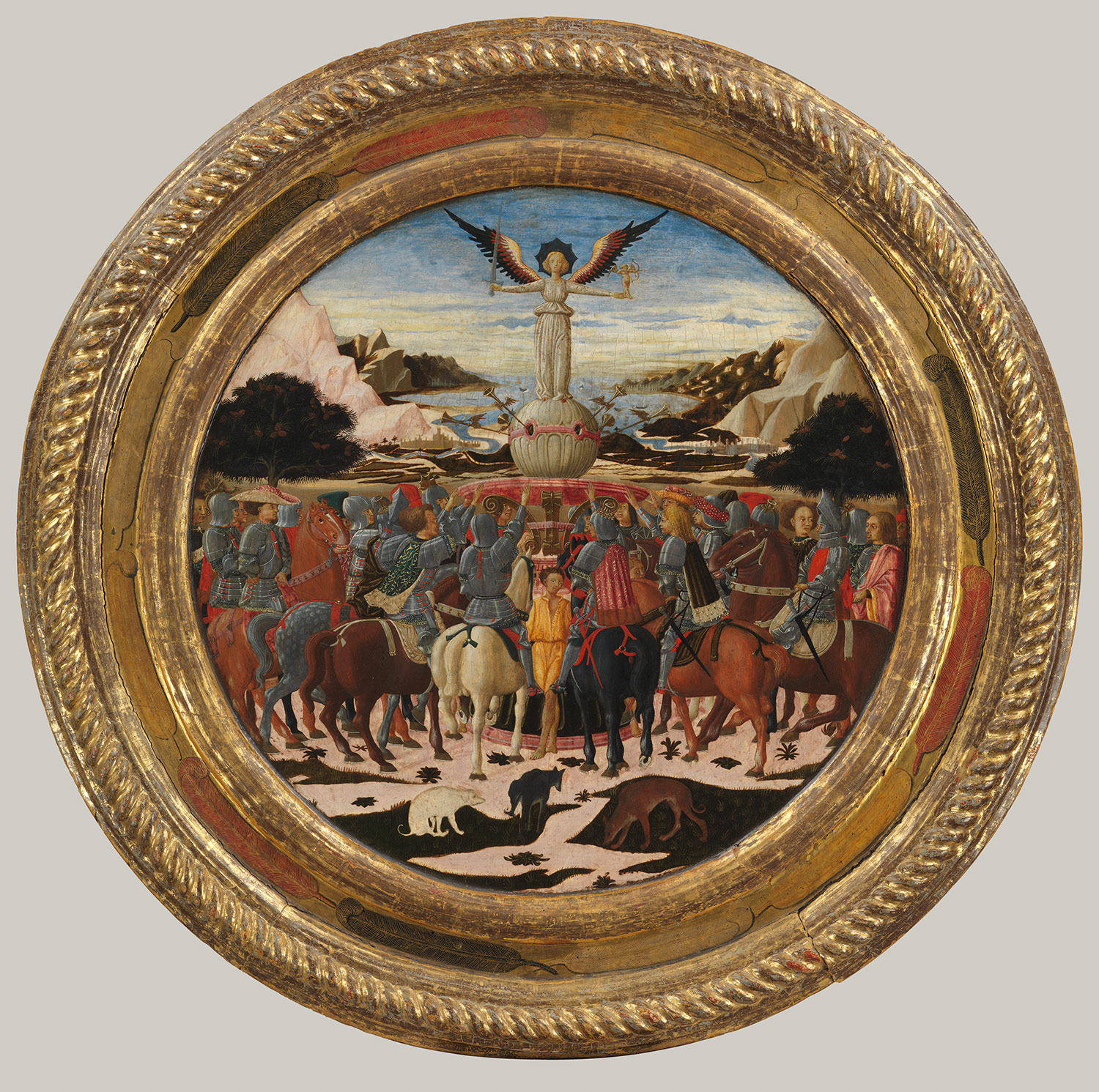 ---
Childbirth tray (desco da parto) with the Triumph of Fame (recto) and Medici and Tornabuoni arms and devices (verso), 1448–49
Giovanni di Ser Giovanni Guidi, called Lo Scheggia (Italian, Florentine, 1406–1486)
Tempera, silver, and gold on panel

Overall (with engaged frame) Diam. 36 1/2 in. (92.7 cm); painted surface (recto) Diam. 24 5/8 in. (62.5 cm); painted surface (verso) Diam. 29 5/8 in. (75.2 cm)
Purchase in memory of Sir John Pope-Hennessy: Rogers Fund, The Annenberg Foundation, Drue Heinz Foundation, Annette de la Renta, Mr. and Mrs. Frank E. Richardson, and The Vincent Astor Foundation Gifts, Wrightsman and Gwynne Andrews Funds, special funds, and Gift of the children of Mrs. Harry Payne Whitney, Gift of Mr. and Mrs. Joshua Logan, and other gifts and bequests, by exchange, 1995 (1995.7)
This salver was commissioned to celebrate the birth of Lorenzo de' Medici (1449–1492), de facto ruler of Florence from 1469 until his death, and is the largest and most elaborate surviving birth tray. Twenty-eight men on horseback are shown pledging allegiance to Fame, a beautiful winged woman who holds a sword and a statuette of Cupid as she stands atop a globe on an enormous pedestal. This scene, known as the Triumph of Fame and based on Boccaccio's Amorosa Visione (1342) and Petrarch's Trionfi (1354–74), clearly shows the dynastic ambitions of Piero de' Medici, Lorenzo's father, who commissioned the work and gave it to his wife Lucrezia Tornabuoni. The tray must have had considerable commemorative value to Lorenzo, as it was hanging in his bedchamber at the time of his death.
Giovanni di Ser Giovanni Guidi, known as Lo Scheggia, was the younger brother of Masaccio, the short-lived revolutionary artist of the early quattrocento in Florence. Scheggia, on the contrary, had a long, successful career and was particularly adept at the production of secular domestic objects.
The back of the salver, once resplendent with silver decoration that has now oxidized, is embellished with Piero de' Medici's emblem, a diamond ring, three feathers, and a banderole inscribed with the motto "Semper," or "Always." At the top are the coats of arms of the Medici and the Tornabuoni. To the left of the central feather are the eight red balls of the Medici, and to the right the rampant lion of the Tornabuoni.
Related