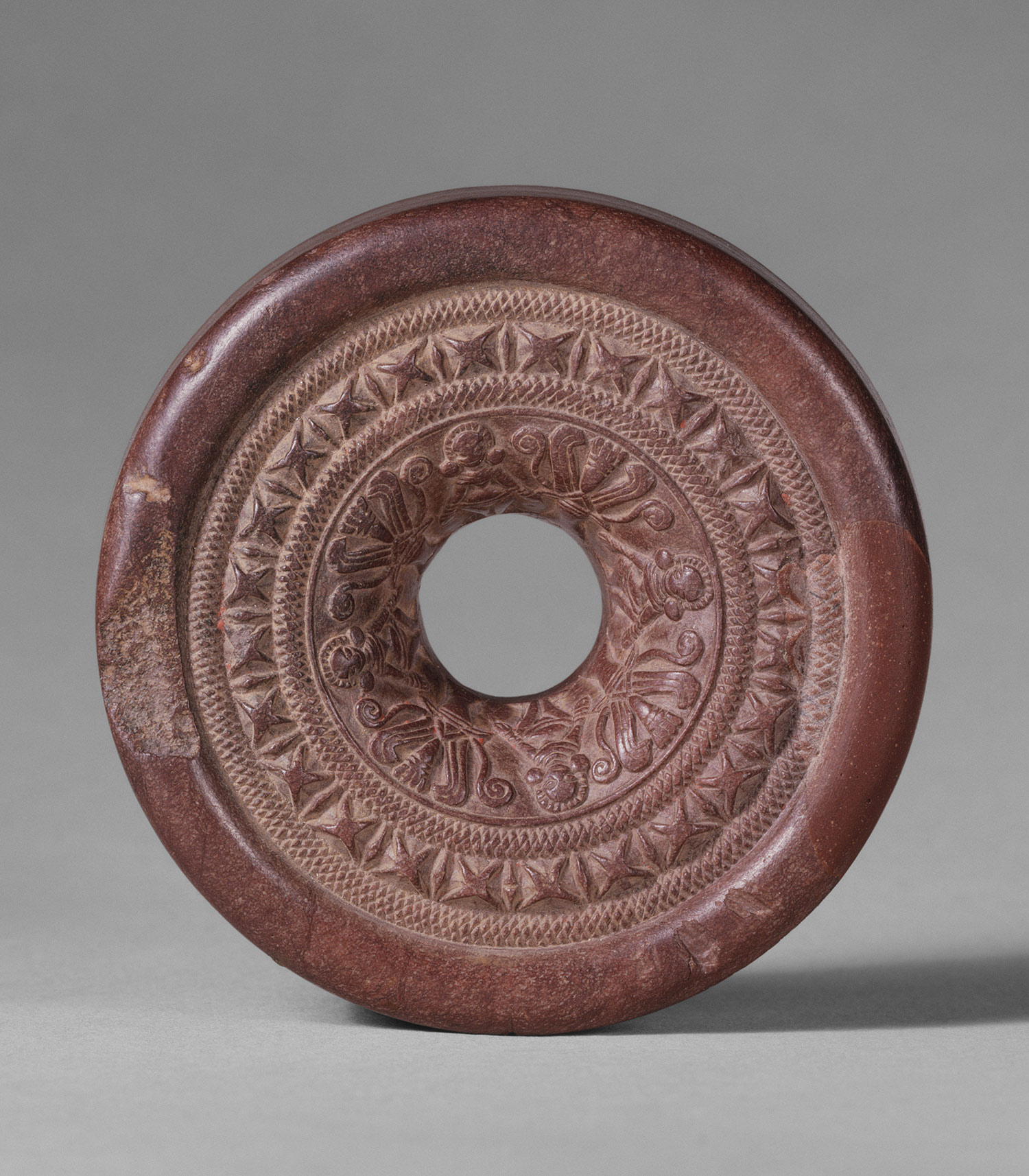 ---
Ring stone with four goddesses and four date palms, Mauryan period (ca. 323–185

b.c.

), 3rd–2nd century

b.c.


India
Stone; Diam. 2 5/16 in. (5.9 cm)
Samuel Eilenberg Collection, Bequest of Samuel Eilenberg, 1998 (2000.284.10)

Ring stones are an important and enigmatic category of early Indian sculpture. They are small, doughnut-shaped objects whose top surfaces, richly decorated with raised carvings, are contoured in the form of gentle parabolas that curve down and in to constitute the walls of their central voids. The perimeters and bottom surfaces of ring stones are flat and smoothly finished but never decorated. Their bravura miniaturized carving, whose individual elements look more like repeated stamped impressions than integrated bas-relief carvings, seems to have closer affinities with the aesthetics of Near Eastern seals and early Greek mold-made ceramics than with later Indian sculpture.
The function and iconography of ring stones have been much discussed. Their connection with a fertility cult has always seemed likely, given the nudity and splayed attitude of the ubiquitous goddesses, the plant imagery (palmettes, lotuses, and fruiting trees), and the obvious analogy of the ring's form with female genitalia: the ring stones seem to give metaphoric birth to female goddesses, animals, and plants from their central voids.
The convex surface of this ring stone shows four nude goddesses alternating with four trees framed by a quadripartite border. The goddesses wear a characteristic wiglike coiffure and are adorned with large circular earrings, tripartite collar-necklaces, bangles, and girdles. Each hourglass-shaped tree trunk supporting a palmette may represent an oriental date palm. The central band is carved with a cross-and-reel motif and is surrounded by two borders with demilune profiles carved with a plaited pattern. These in turn are set within a wide, raised, undecorated border with a demilune profile.
Related