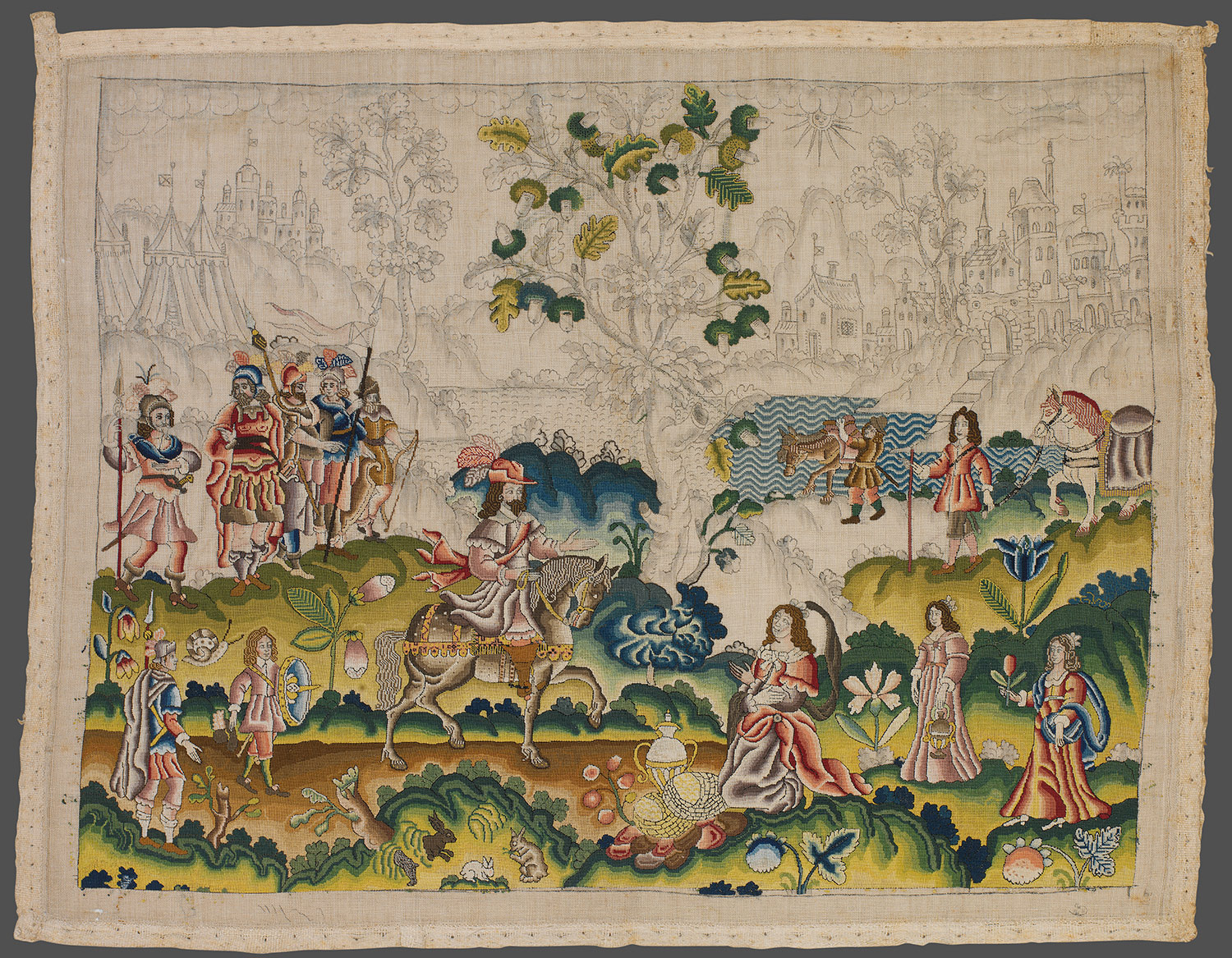 ---
David and Abigail, mid–17th century
English
Canvas worked with silk thread; tent, back, and cross stitches; unfinished; 19 x 24 1/4 in. (48.2 x 61.5 cm)
Gift of Irwin Untermyer, 1964 (64.101.1325)
The unfinished state of this tent-stitch panel reveals the fine underdrawing and shading that guided the embroiderer. Because this piece was probably never displayed, the colors are especially well-preserved and include several shades of yellow and green, normally the shades that fade.
This panel is an example of how professional draftsmen repeated motifs from a variety of sources. Elements such as the castle in the right-hand background, the group of warriors in the upper left, and the young warrior carrying an elaborate shield in the lower left all appear in other embroidered panels of the period. Many of the figures are based on engravings by Maarten de Vos that appeared in Gerard de Jode's 1579 illustrated bible Thesaurus Sacrarum Historiarum Veteris Testamenti.
Abigail, the heroine of this biblical tale, is shown kneeling before King David as she intercedes in a dispute between her husband and the King (I Samuel 25:18–35). Her husband refused to offer hospitality to David and his soldiers; Abigail recognized her husband's mistake and proceeded to grant the king's request for provisions. Abigail's actions were considered the model of diplomacy during the English Civil War period, and the figure of David bears a marked resemblance to King Charles I.
Related