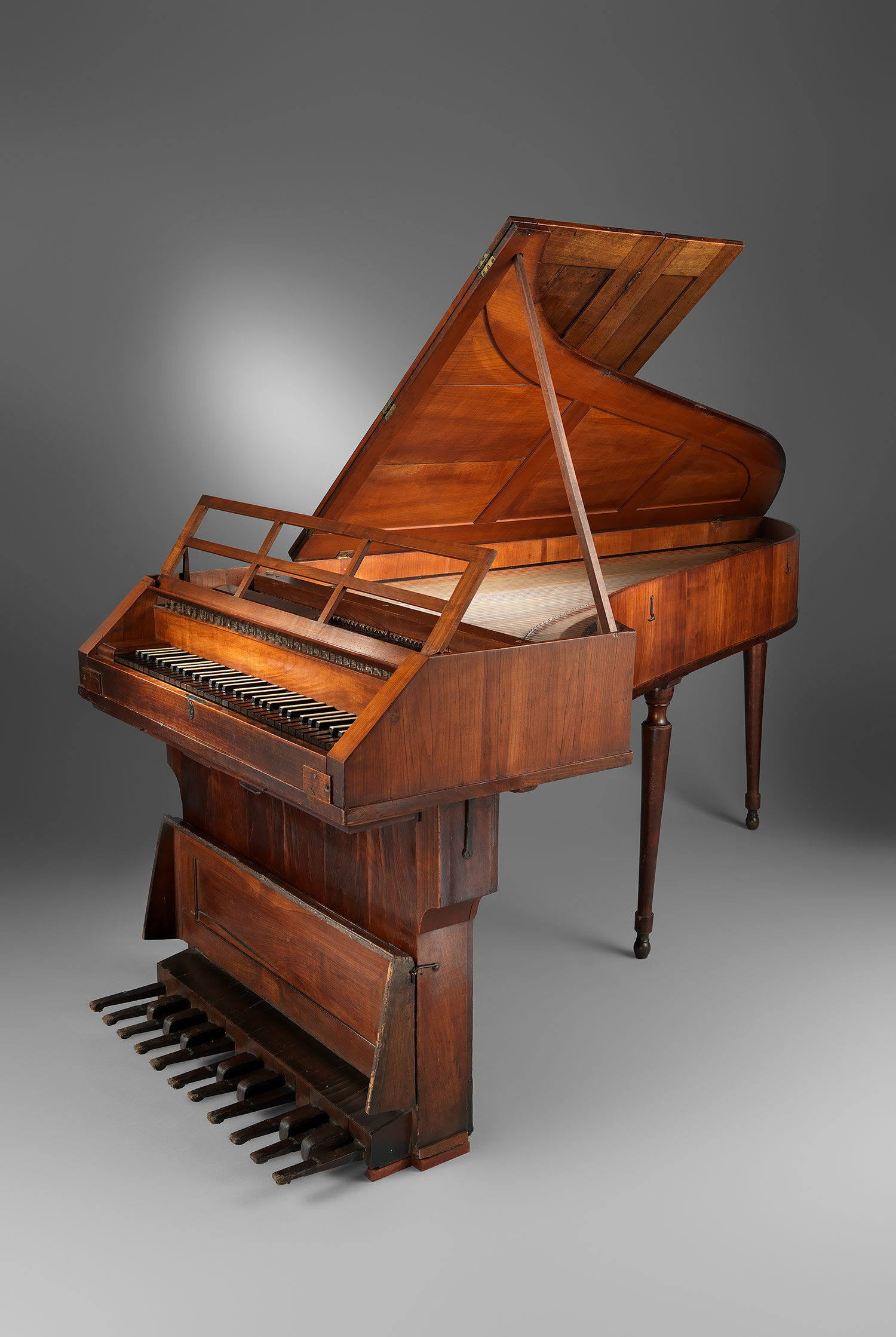 ---
---
Related Multimedia
Excerpt from Variations in F Major K 613 by Wolfgang Amadeus Mozart (1756–1791) played by Michael Tsalka at The Metropolitan Museum of Art, August, 2012.
Grand piano, ca. 1790
Johann Schmidt (Austrian, active late 18th century)
Salzburg, Austria
Various materials

Total H. 36 15/16 in. (93.8 cm); L. of case (perpendicular to keyboard) 83 1/2 in. (212 cm); W. (parallel to keyboard) 40 1/8 in. (102 cm)
The Crosby Brown Collection of Musical Instruments, 1889 (89.4.3182)
This extraordinarily rare piano from about 1790 has a pedal board with eighteen notes that are played like pedals on an organ. Pedal stringed-keyboard instruments were not uncommon in the eighteenth century. Johann Sebastian Bach is known to have owned a pedal harpsichord and Wolfgang Amadeus Mozart's piano by Anton Walter supposedly had a pedal mechanism at one point. Mozart's D-minor piano concerto, K. 466, requires the use of a pedal mechanism as it cannot be performed with the range of the manual alone. This example is attributed to Johann Schmidt of Salzburg, a friend of the Mozart family, whom Leopold Mozart (Wolfgang's father) helped to secure the job of court organ and instrument maker in Salzburg. Indeed, cleaning done in the 1980s revealed the initials of Wolfgang Mozart scratched inside long ago. It is possible that Mozart played this piano in Salzburg.
This rather plain grand piano has a cherry wood veneer. The keys are black-stained wood naturals with bone-topped accidentals. The entire keyboard is double-strung (two strings tuned in unison for each note). Knee levers operate the dampers and a "soft" stop, moving a leather pad to rest between the hammers and strings. A hand lever operates a "bassoon" stop, which presses a piece of parchment paper against the lowest twenty-six pairs of strings and causes a buzzing sound.
Related