Jon Gray
Artist in Residence, 2020–2022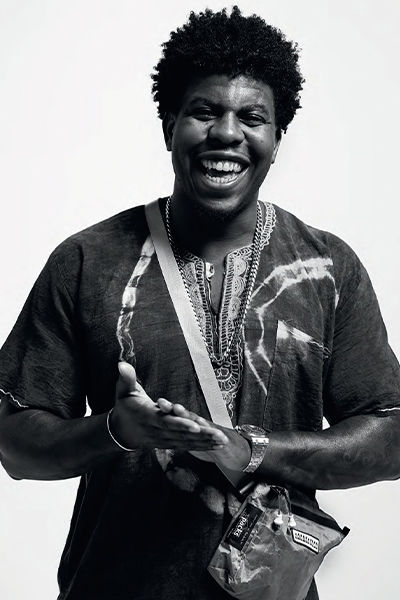 Guided by an artistic practice that merges fashion, design, and the culinary arts, Jon Gray's two-year residency at The Met centered on the ways in which people have historically gathered, rebelled, and been inspired by food. His inquiries and curiosities led him to draw connections between works of art in The Met collection from across Africa, Asia, and the Americas and his home borough of the Bronx.
Gray is the cofounder of the culinary collective Ghetto Gastro and his consumer product of reinvented pantry staples, Gastronomical. Founded in 2012, Ghetto Gastro honors the block-to-block shifts and overlap in international cuisine and culture in the Bronx. The collective is committed to feeding, inspiring, and growing young entrepreneurs in the Bronx while establishing the locale as a culinary destination. Exploring global food traditions through the lens of the African diaspora, the collective has masterminded events for fashion designers, artists, entrepreneurs, and musicians, including Virgil Abloh, Rick Owens, Tom Sachs, Martha Stewart, Flying Lotus, Vic Mensa, the Serpentine Galleries, and the Museum of Modern Art. Event themes have ranged from the Black Panther future-world of Wakanda to the colonization and reappropriation of the yam. Initiating conversations about inclusion, race, and economic empowerment through food, the group occupies the crossroads of fashion, music, film, visual art, and cuisine.
Photo by Mario Sorrenti
"I think when you honor your food histories, you honor the ancestral histories of humankind. I look at food as a portal, right? It's a portal into culture, it's a way to connect with people that you might not connect with. People are going to come from all walks to have a good plate, try something new."
— Jon Gray, Civic Practice Partnership Artist-in-Residence
MetFest, October 2, 2021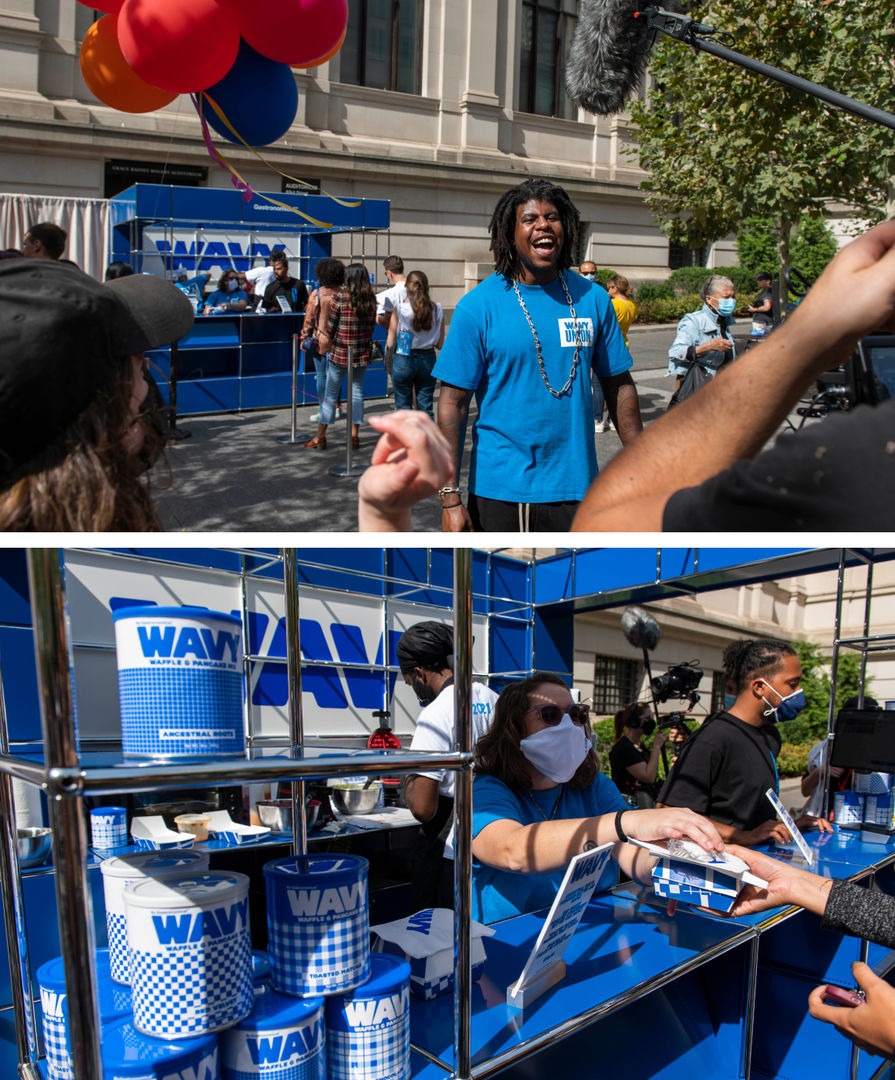 MetFest was the first-ever Museum-wide block party and a celebration of the transformative power of the arts. Artists and community partners from across New York City came together for live music, performances, art-making activities, unique tours, and more. MetFest honored the central role of art in our lives and highlighted the resilience of New York City and its people. Among over 100 performers, the Civic Practice Partnership artists in residence made significant contributions to programming, including a unique pop-up gastronomical station, where Gray and his collaborators served Wavy Waffles. These confections are made using a unique vegan and gluten-free mix based on African and Indigenous American grains highlighting the unique heritage and nutritional properties of traditional foodways.
Learn more in the press release.
Jon Gray and the Wavy Gastronomical Station at MetFest. Photos by Paula Lobo
Black Power Kitchen, October 19, 2022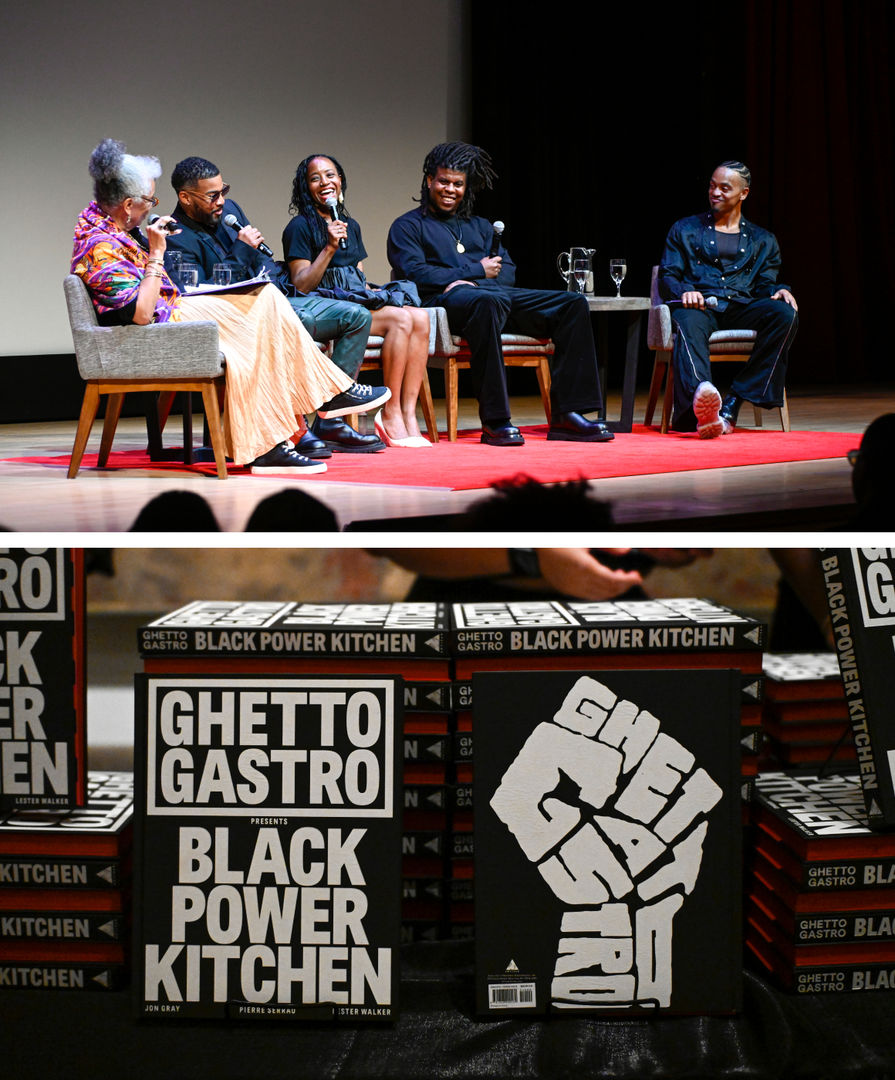 During his residency at The Met, Gray was also collaborating with fellow Ghetto Gastro cofounders members Pierre Serrao and Lester Walker, and writer Osayi Endolyn on their debut cookbook, Black Power Kitchen:
"Black Power Kitchen arms readers with 75 recipes, more than 150 photographs, and thought-provoking contributions on topics ranging from the work of Black mothers to the importance of resistance and rebellion."
Featured in Black Power Kitchen are some of Gray's inspirations at The Met, including Storage Jar, 1858 by Dave (later recorded as David Drake). On October 19, 2022, to celebrate the release of the book, The Met hosted Ghetto Gastro's Black Power Kitchen at The Met, a panel conversation among the authors moderated by culinary historian Dr. Jessica Harris.
Top: Panel conversation with authors of Black Power Kitchen at The Met; Bottom: Copies of Ghetto Gastro's Black Power Kitchen.
---
Community Collaborators and Partners
The following partners, collaborators, and supporters engaged with Jon Gray's work during his residency:
Artisan Books | Bruckner Mott Haven Garden | Carter Media Group | Osayi Endolyn | Ghetto Gastro (Pierre Serrao and Lester Walker) | Jessica B. Harris | La Morada | Nayquan Shuler | Joshua Woods | The Lit Bar
---
The Civic Practice Project is made possible by The William R. Kenan, Jr. Charitable Trust.