Miguel Luciano
Artist in Residence, 2017–21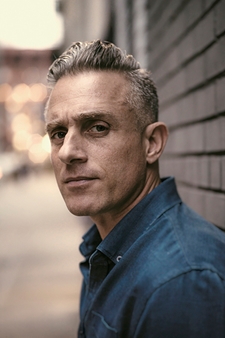 Inspired by the question, "Where do we see ourselves at The Met?," Miguel Luciano's three-year residency at The Met engaged with Taíno culture, the legacy of the Young Lords, the El Barrio community, and the groundbreaking 1973 exhibition The Art Heritage of Puerto Rico: Pre-Columbian to Present to center the histories and people of Puerto Rico and to increase the visibility of Latinx art and artists at the Museum.
Miguel Luciano is a multimedia visual artist whose work has been exhibited nationally and internationally, including in exhibitions at the Mercosul Biennial, Porto Alegre, Brazil; La Grande halle de la Villette, Paris; Museo del Palacio de Bellas Artes, Mexico City; the San Juan Poly/Graphic Triennial, Puerto Rico, and the Smithsonian American Art Museum in Washington, DC. He is the recipient of numerous grants and awards, including the Louis Comfort Tiffany Foundation biennial grant and the Joan Mitchell Foundation Painters & Sculptors Grant. He was a fellow of smARTpower—an international, community-based art initiative of the Bronx Museum of the Arts and the Bureau of Educational and Cultural Affairs of the US Department of State. His work is featured in the permanent collections of the Smithsonian American Art Museum, the Brooklyn Museum, El Museo del Barrio, the Newark Museum, and the Museo de Arte de Puerto Rico. Luciano is a faculty member of the School of Visual Arts and the Yale School of Art. He received his MFA from the University of Florida.
Photo by Ryan Redcorn
Miguel Luciano's Cemí-Libre
The culminating event of Miguel Luciano's residency, Cemí-Libre, showcased his art alongside a replica of a Zemí Cohoba stand at the Galería del Barrio and was followed by a block party celebration featuring performers from the community.

Inspirations and Interests from The Met
Public Programs
Field Notes on Justice and Practice: The Artist's Voice, May 10, 2018
Educator Workshop: Creative Exchange, June 6, 2019
Met Fridays: An Evening with Artist Miguel Luciano, July 12, 2019
Citywide Professional Development session for the NYC Department of Education, January 27, 2020
The Met Instagram takeover featuring Luciano's Shields/Escudos, July 2020
The Met Professional Learning Community, August 2020
Meet Me at The Met: A Virtual Evening, August 26, 2020
Met Speaks: Alice Neel and Spanish Harlem or El Barrio, May 27, 2021
Met Encounters: Arte del Mar, June 11, 2021
MetFest, October 2, 2021
Community Collaborators and Partners
The following collaborators, partners, and supporters engaged with the artist's work during their residency:
Classic Riders Schwinn Club | Hiram Maristany | Fabiola Méndez | Los Pleneros de la 21 | Salud y Acupuntura para el Pueblo (SAPP; Health and Acupuncture for the People)
---
The Civic Practice Project is made possible by The William R. Kenan, Jr. Charitable Trust.