Rashida Bumbray
Artist in Residence, 2017–21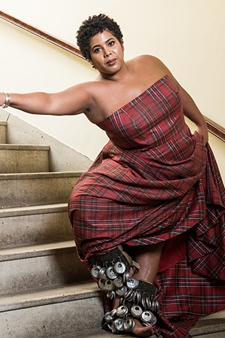 Weaving magical realism, Black healing, and the subversive modes of intergenerational transmission evoked by Black women into her practice, Rashida Bumbray's three-year residency at The Met engaged with several African objects and spaces in The Met collection to bring to light the continuation of vital cultural practices in the Black and African Diasporic communities.
Rashida Bumbray is a curator and choreographer. In 2022, she curated Loophole of Retreat: Venice, a transnational gathering focused on Black women's intellectual and creative labor as part of Simone Leigh's exhibition Sovereignty at the American Pavilion for the 59th Venice Biennale.
As a Bessie-nominated choreographer whose practice draws from traditional African American vernacular and folk forms, Bumbray's performances have been presented by Tate Modern, London; the New Museum, The Met, Harlem Stage, Dancing While Black, and SummerStage, all in New York; and Project Row Houses, Houston.
She was a 2019 United States Artist Fellow, and her work Run Mary Run was named among the New York Times' best performances of 2012.
Bumbray began her curatorial career in 2001 at the Studio Museum in Harlem, New York, where she coordinated major exhibitions including Energy/Experimentation: Black Artists and Abstraction 1964–1984 with Kellie Jones. As associate curator at The Kitchen, New York, Bumbray organized critically acclaimed commissions and exhibitions including first New York City solo exhibitions for many artists, including Simone Leigh, Leslie Hewitt, Adam Pendleton, Lauren Kelley, Jamal Cyrus, Elodie Pong, and Kyle Abraham, among others.
Bumbray was guest curator of Creative Time's public art exhibition Funk, God, Jazz, and Medicine: Black Radical Brooklyn in 2014. Most recently, as Director of Culture and Art at the Open Society Foundations, Bumbray spearheaded the development of the foundations' first global program dedicated to advancing diverse artistic practices and strengthening locally led cultural spaces around the world. In 2015, Bumbray was nominated for the Independent Curators International Curatorial Vision Award. And in 2018, she was honored among women leaders by The Met, and received the Alchemist Award for Socially Engaged Art from A Blade of Grass.
A graduate of Oberlin College, Bumbray also has an MA in Africana Studies from New York University.
Photo by Teddy Wolff
"I grew up going to museums, loving museums, but also understanding the sort of complicated relationship that museums have for people whose objects are stored inside of them."
— Rashida Bumbray, Civic Practice Partnership Artist-in-Residence
Braiding and Singing (a point), 2020
Commissioned by The Met for the Park Avenue Armory's 100 Years | 100 Women Project, Braiding and Singing (a point) (2020), Bumbray's debut film work, considers the subversive modes of transmission that Black women have engaged in transferring physical, spiritual, and political care. Braiding rice and seeds into the hair of loved ones before separation—from the Middle Passage to escaping slavery into Maroon communities—ensured the promise of future sustenance tethered to a past. In line with these magical realist practices, the film takes as a point of departure the language and architecture in the quilts of Lucy T. Pettway and Lucy Mingo in Gees Bend, Alabama. It builds on the July 2019 Met Fridays performance of the same name.
Untitled, (How High The Moon), 2024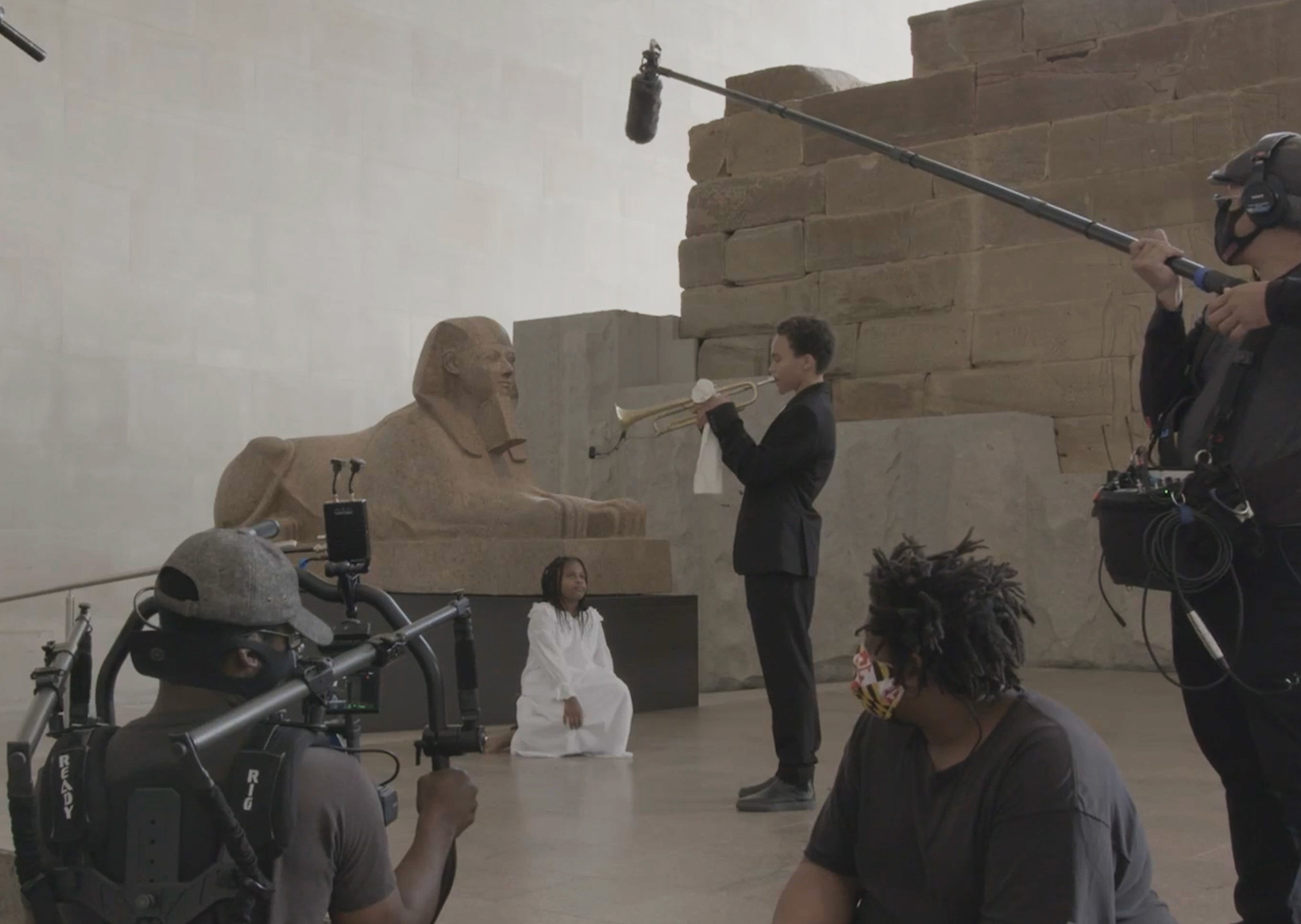 Rashida Bumbray's culminating residency film brings monuments and objects from The Met collection, such as the Temple of Dendur and the Throne of Njouteu: Royal Couple, into conversation with a participant-observer–based ethnographic perspective to create a dream space where two Black girls navigate the Museum to learn about their heritage. Bumbray writes of the film's narrative:
"My mother grew up in Harlem in the 1950s and 1960s on 110th between Lenox and 5th Avenue. As a child of eight years old until her teen years, she and her friend would walk down 5th Avenue to visit The Met while their older siblings weren't paying attention. The girls built a love for art and the cultures of the world. This film reimagines my daughter and her friend as my mother visiting The Met, my mother's favorite place."
Drawing on the work of Zora Neale Hurston, the idea of the participant-observer is one who has an ethnographic interest in a traditional or vernacular cultural form, and learns about it through engaging with it, rather than through mere observation. Such an approach resists colonialist objectification of cultural practice, transforming its study into lived experience and ensuring the continuation of vital cultural practices. In Bumbray's film, the young protagonists interact with African architecture and objects, conceptually restoring, honoring, and reimagining their cultural context. The actors explore how objects can be activated by experiential processes, and the film engages an expanded idea of "homeschool," the things that one learns because they happen at home, and by extension in the cultural home, the community home.
This work was made with the support of the following Museum departments: Asian Art, Digital, Education, Egyptian Art, External Affairs, Facilities, Greek and Roman Art, The Michael C. Rockefeller Wing, Security, and Special Events.
---
Community Collaborators and Partners
The following partners, collaborators, and supporters engaged with the artist's work during their residency:
Beatrice Anderson | Malik Bellamy | Sherry F. Bellamy | The Brownstoners of Bedford-Stuyvesant | Cecily Bumbray | George A. Bumbray, Jr. | George A. Bumbray, Sr. | Miles Bumbray | Simone Leigh | Shawn Peters | Tirop Sambu | Rashid Shabazz | Zahara Shabazz-Bumbray | Adenike Sharpley | Kim Smith | Bradford Young
---
The Civic Practice Project is made possible by The William R. Kenan, Jr. Charitable Trust.