Outer Coffin of Tabakenkhonsu
Third Intermediate Period
On view at The Met Fifth Avenue in Gallery 126
Found at a sealed chamber at the bottom of a small shaft sunk into the floor of the Temple of Hatshepsut at Deir el-Bahri, this nest of wooden coffins contained the mummy of a Mistress of the House named Tabakenkhonsu. This elite woman, the descendent of three generations of Priests of Montu, Lord of Thebes, lived about 800 years after the temple was built. During this period, a number of priestly families used the temple, which still functioned as a place of worship, for their tombs. The burials of Tabakenkhonsu, another Priest of Montu, Djeddjehutyiufankh, who was most likely her husband, and her probable mother-in-law, Nesmutaatneru, were found undisturbed, with dried wreaths of flowers from their funerals still adorning the coffins.

The rectangular outer coffin, with corner posts and a vaulted lid, echoes the form of early shrines, the jackal and birds of prey on its lid symbolizing divinities who guarded the god's body. The two inner coffins are anthropoid, representing Tabakhenkhonsu in her divinized form, identified with Osiris himself for eternity. The larger of these coffins (96.4.2a, b), which has sloping human-shaped feet, is relatively plain, decorated with several bands of inscription; the innermost (96.4.3a, b), which has a square base under the feet, is covered with religious texts and illustrations designed to ensure the deceased a safe journey to the realm of the blessed dead and her eternal existence there.

For the stela found with the coffins, see 96.4.4; for the bead net found on the mummy, see 96.4.5.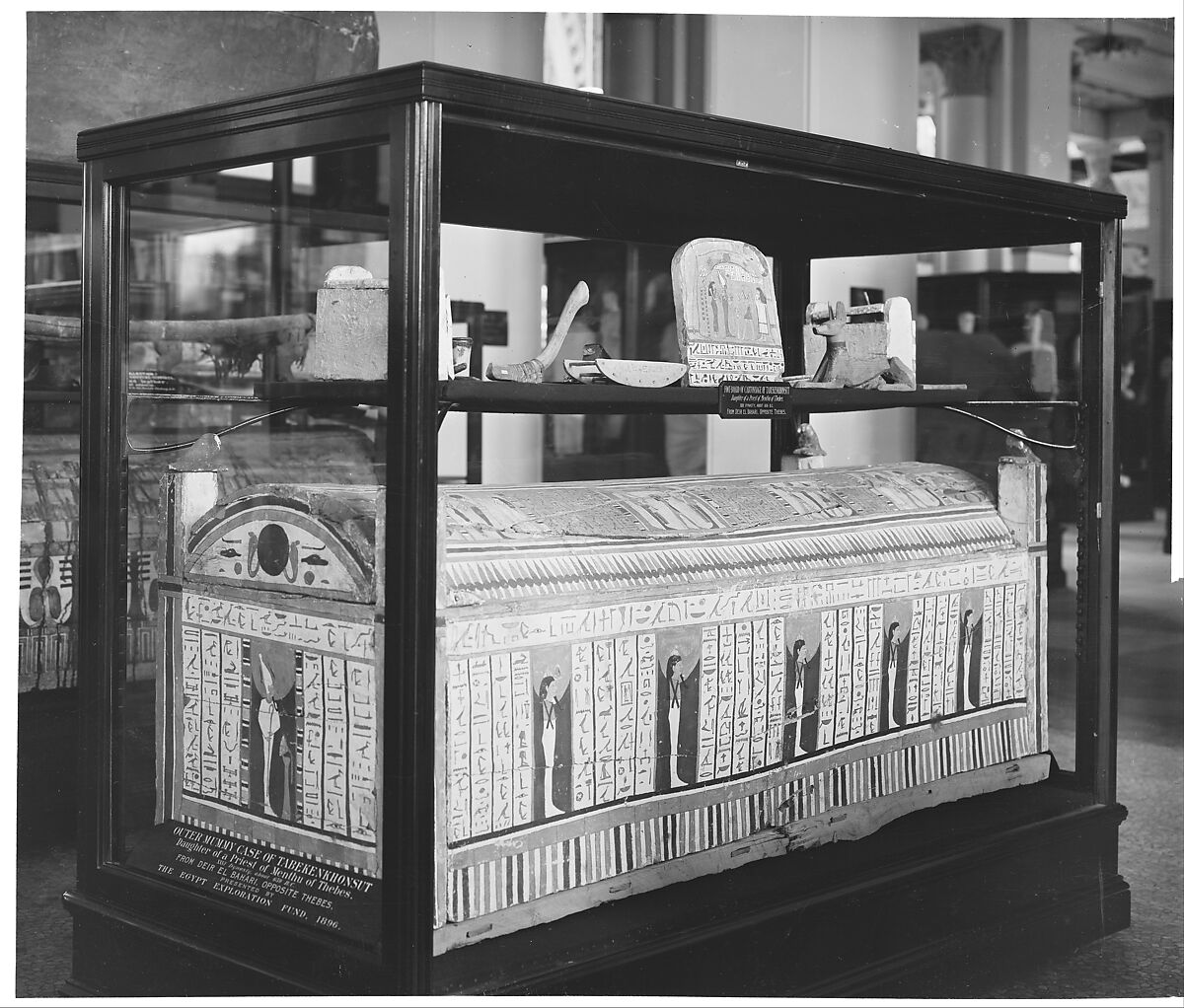 This artwork is meant to be viewed from right to left. Scroll left to view more.