Mummy Board inscribed for Henettawy daughter of Isetemkheb
Third Intermediate Period
On view at The Met Fifth Avenue in Gallery 126
Discovered in a communal tomb dug in the courtyard of Hatshepsut's temple at Deir el-Bahri, this is the innermost element of a nest of coffins belonging to the Mistress of the House, Singer of Amun, Chief of the Harim of Amun, Flutist of Mut, and God's Mother of Khonsu Henettawy (C). Likely the daughter of the High Priest of Amun, Menkheperre, and his wife Isetemkheb, she apparently married the next pontiff, Smendes and died at some seventy years of age. When this board was lifted, the body beneath was found enveloped in a shroud bearing an image of the god Osiris, with amulets wrapped within her bandages for additional protection (see 25.3.171a to e). Buried with her were several religious papyri (25.3.28. .29; see also 25.3.35a–b), as well as two boxes of faience shabtis (25.3.19, .20). Her outer coffins are now in the Museum of Fine Arts, Boston (MFA 54.639-40).

The original gilding on the hands, breasts, earrings, and face on the outer surface of the board was hacked away by robbers. On the inner side, a figure of Imentet, goddess of the West (land of the dead), stands and offers ankhs (signifying life) to two human-headed birds representing the ba (soul) of the deceased. Flanking Imentet are two cobra-headed deities, then two emblems of the west symbolizing the goddesses Selket and Neith. In the lowest register, two mummiform images of Henettawy bracket a scepter that stands in for Anubis, god of embalming.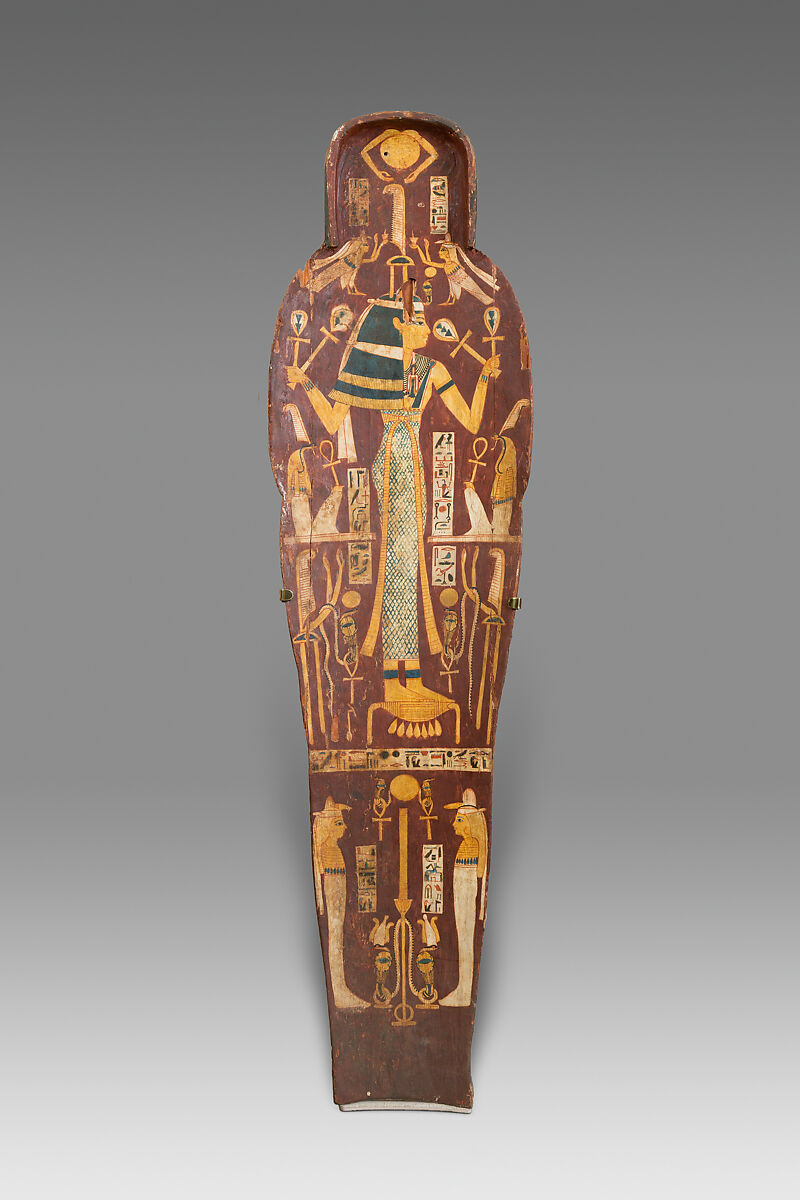 This artwork is meant to be viewed from right to left. Scroll left to view more.