Barque Sphinx
Late Period
On view at The Met Fifth Avenue in Gallery 136
Images of gods were carried out of temples on festival days on processional barque-shrines. Most often the image itself was concealed in a shrine, but sculpted heads at the prow and stern identified the god to the populace, small royal statuary surrounded and protected the god hidden in the shrine, and other gods including the one represented here rode at the prow.

Solar hymns of about 1400 B.C. identify this divinely poised and alert animal as a "sib," and describe it as "trampling the sun god's enemies." At the prow of the portable barque, its expressive and magical form telegraphed to the crowds the otherworldly nature of the appearance and the forces surrounding it. Alongside the sphinx rode Maat and Hathor, daughters of Re, and with the sib they constituted an entourage inherited from the voyage of the solar barque through the day and night sky. While the goddesses attended to the guidance of the barque, the sib dealt terrifyingly with any enemy that dared to approach.

The barque sphinx is a standard, that is to say it appears on a platform meant to be raised on a pole. Two cobras, heads broken, undulate alongside the animal on the platform, reinforcing the dangerous power of the sib. The sphinx itself is a composite of human and lion, the identity of the latter clearly indicated by the long striated mane depicted on the animal's chest. But this very beautiful example with elongated body, extremely slim and high hips and backward thrusting legs probably alludes to the dangerous grace of leopards and panthers, who are associated with the solar barque voyage, and also recalls the jackal standard.

The human head of the animal has a truly ethereal beauty: narrowed slightly tilted eyes with full lids in a perfect oval smiling face. This is one strain in the art of the Saite period that in subsequent centuries came to be the dominant mode for depicting the supernaturally perfect features of kings and gods.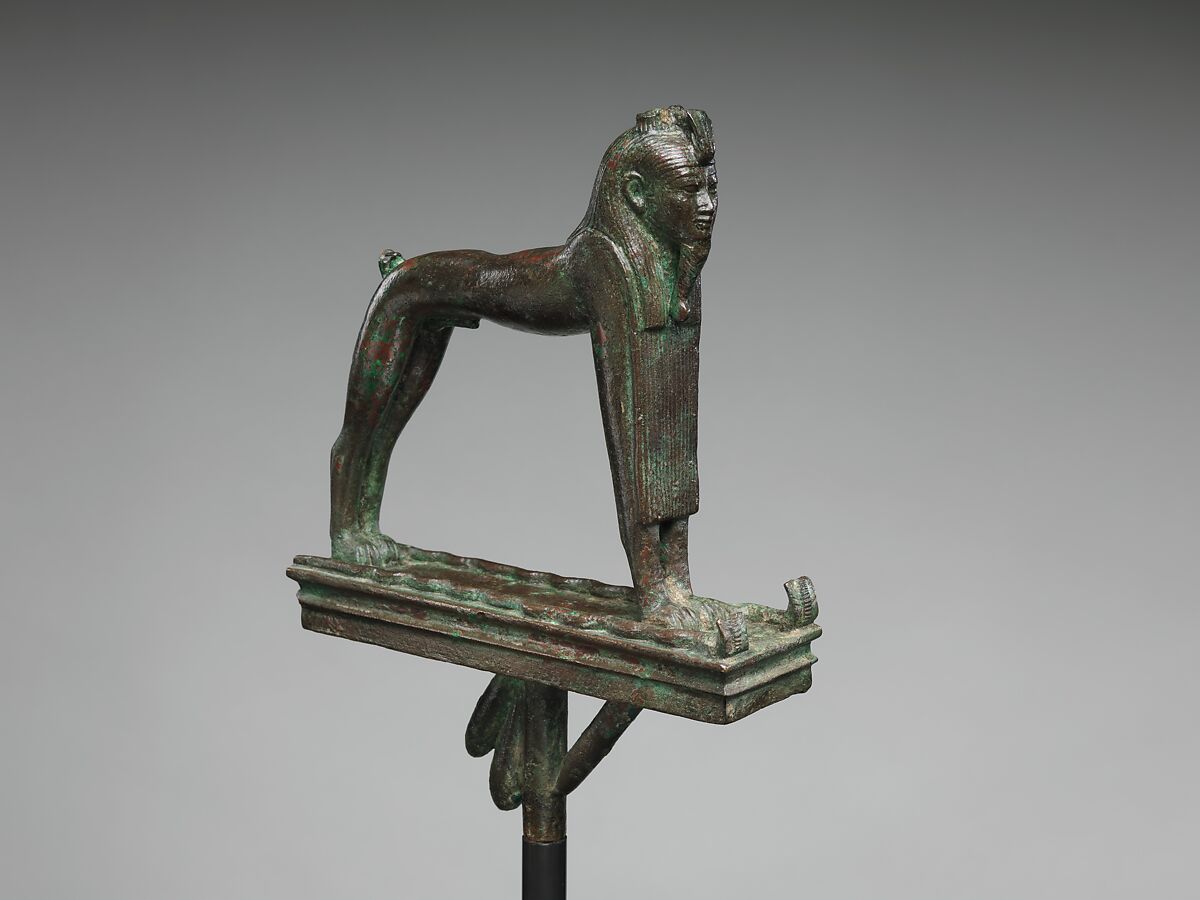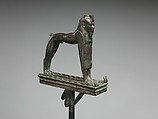 This artwork is meant to be viewed from right to left. Scroll left to view more.