The Sun Vow
Hermon Atkins MacNeil American

On view at The Met Fifth Avenue in Gallery 700
Sculptural representations of Native Americans and Western themes were extremely popular at the turn of the twentieth century. While living in Chicago in the early 1890s, MacNeil heard of a rite of passage that captured his imagination: before a boy on the threshold of manhood could be accepted as a warrior, he was required to shoot an arrow directly into the sun. If the elder judging the boy's prowess was so blinded by the sun's rays that he could not follow the flight of the arrow, it was said to have gone "out of sight," and the youth had passed the test. MacNeil portrayed the dramatic moment following the arrow's release, heightening both the visual impact of the composition and the sense of narrative suspense.

Read a Native Perspective on this work.
Playlist

3806. The Sun Vow

1137. Kids: The Sun Vow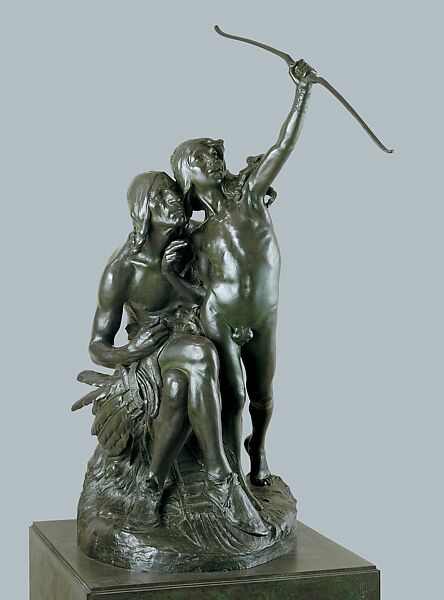 This artwork is meant to be viewed from right to left. Scroll left to view more.