Bedroom from the Sagredo Palace
Stuccowork probably by Abbondio Stazio Swiss
and Carpoforo Mazzetti Tencalla Swiss

On view at The Met Fifth Avenue in Gallery 507
The Palazzo Sagredo is situated on the right bank of the Grand Canal, next but one to the Cà d'Oro. It was acquired by Zaccaria Sagredo in the early years of the XVIII century from the Morosoni family to whom it had hitherto belonged. Zaccara largely remodeled the old medieval palace. His nephew Gérardo added a magnificent staircase by the architect Andrea Tirali, the walls of which were decorated (1734) by Pietro Longhi.

The bedroom here exhibited was the principal one of the palace. It was decorated probably by the stucco-workers Carpoforo Mazetti and Abondio Stazio, whose names and the date 1718 appear on the stucco-work in the connecting apartment on the floor above. In the antechamber, fluted Corinthian pilasters support an entablature out of which fly amorini bearing garlands of flowers. Other amorini bear the gilded frame of a painting by Gasparo Diziani, depicting dawn triumphant over night. Above the entry to the alcove seven amorini frolic, holding a shield with the monogram of Zaccaria Sagredo. A paneled wood dado with a red-and-white marble base runs around the room. The unornamented portions of the walls are covered with seventeenth-century brocatelle. The bed alcove has its original marquetry floor.The ceiling is attributed to Gasparo Diziani of Belluno.

In the reconstruction of the room the original condition has been preserved as far as possible, but a certain amount of repainting and regilding was necessary. The window frames, the paneled wood dado, and the terrazzo floor are modern. The brocatelle on the walls is of the period but not original. The curtains are modern. The marble door-frames are almost identical with the original, but come from another building, the Palazzo Lezze.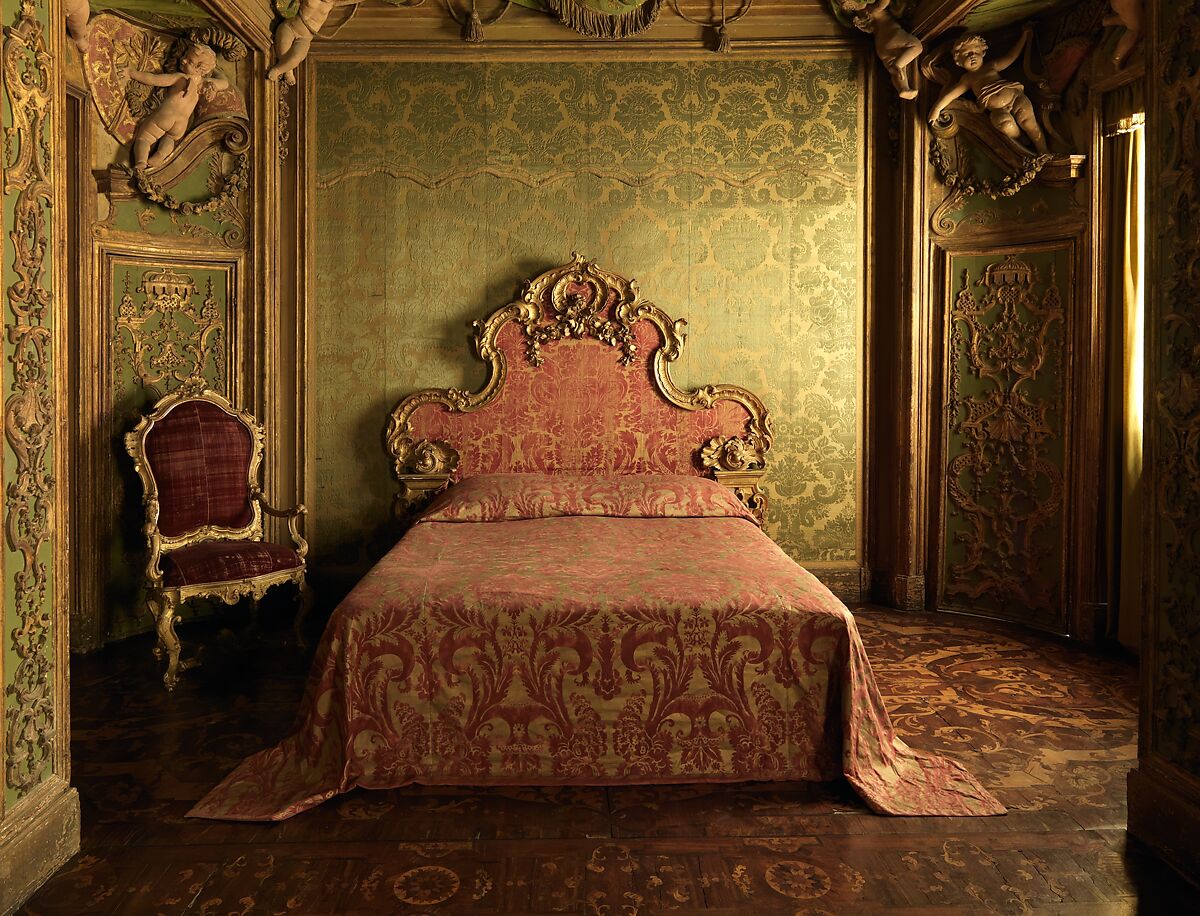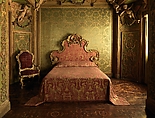 This artwork is meant to be viewed from right to left. Scroll left to view more.