Desk (Secretary)
On view at The Met Fifth Avenue in Gallery 507
In shape, this secretary is influenced by the English bureau bookcase. This example consists of three parts: the arched upper section whose interior contains visible drawers as well as hidden compartments, a middle section with a sloping fall front and the lower section with three large drawers. The construction is very basic: all the attention is lavished on the surface decoration which is executed in a decoupage technique known as lacca povera or lacca contrafatta.

Conceived as a cheaper substitute for Asian lacquer, decoupage became especially fashionable in Europe during the 1720's and was continuously practiced throughout the eighteenth century. Made by professionals and amateurs alike, the art of decoupage consists of coloring and cutting out copperplate engravings, pasting them on the specially prepared surface and varnishing them afterwards. Special manuals containing step-by-step descriptions of the technique and useful formulas for varnishes were published in various languages, as were prints specifically devised for this kind of decoration, often with a variety of motifs.

Most of the identified images on this Bureau Bookcase did not come from prints specially made for the purpose however, but rather derive from a wide variety of French and German sources. These include symbolic allegories, hunting and landscape scenes as well as Chinoiserie motifs. Despite the hodgepodge of decoration, the skillful arrangement of the images has resulted in a certain harmony of design. This, together with the remarkable dexterity shown in cutting out very delicate motifs indicate that a professional craftsman rather than a skilled amateur was responsible.

The overall shape and the embellishment of this secretary suggest an origin in Venice, which is where the Museum acquired it.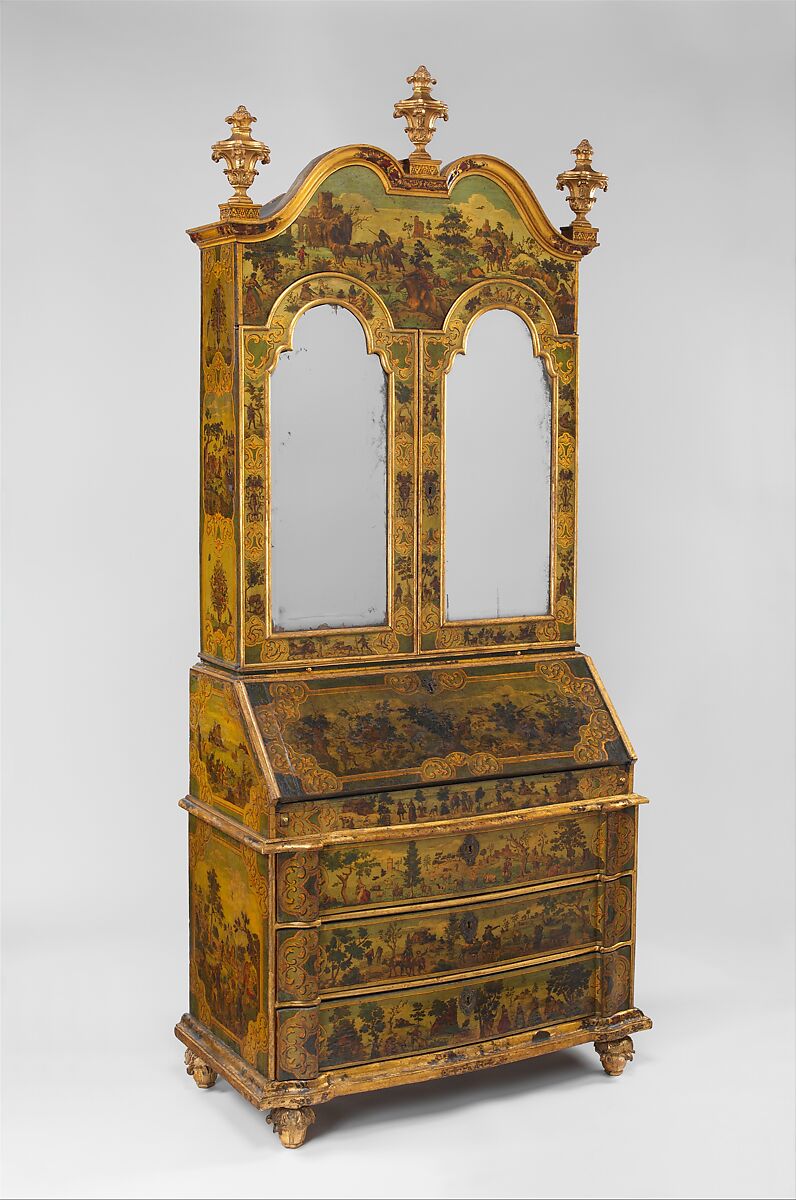 This artwork is meant to be viewed from right to left. Scroll left to view more.