Writing table (bureau plat)
Gilles Joubert French

On view at The Met Fifth Avenue in Gallery 525
In his Useful Hints to Those Who Make the Tour of France, which appeared in 1768, Philip Thicknesse (1719–1792) expressed the opinion that Louis XV would have made a much better country gentleman than a sovereign prince, since he loved the diversions of country life and seldom went to Paris. It is not surprising, then, that the king spent much of his time at Versailles, where daily business was conducted in his Cabinet Intérieur. This small study, its windows overlooking the palace courtyard below, was one of the most beautiful rooms of his private apartment. On December 29, 1759, Gilles Joubert supplied this writing table, a so-called bureau plat, or flat-topped desk, lacquered in brilliant crimson and with pseudo-Asian landscape scenes in gold for the king's use in the Cabinet Intérieur. The surface decoration imitates red and gold Chinese lacquer, which was fashionable in France as veneer for furniture in the middle of the eighteenth century. Joubert, who had been appointed cabinetmaker to the Garde-Meuble de la Couronne in 1758 and became cabinetmaker to the king in 1763, had a long and successful career that included numerous royal commissions. In fact, he received so many orders from the Crown that he often needed the assistance of other craftsmen to fulfill them.

The partly pierced gilt-bronze mounts not only emphasize the graceful curving lines of the writing table but also protect and frame the lustrous lacquered surface. The flat top, originally lined with black velvet, allowed the king and his ministers to spread out a multitude of documents and unfold maps. The bureau plat remained in the same room under Louis XV's grandson and successor, Louis XVI, until December 1786, when it was replaced by a new marquetry writing table by Guillaume Benneman (d. 1811). Joubert's piece was passed along to the king's brother, the comte de Provence, later Louis XVIII, for whom it was restored in 1787. The writing table stayed at Versailles until the Revolutionary sales of royal property in 1793–94.
#2277. Table, Writing (Bureau Plat)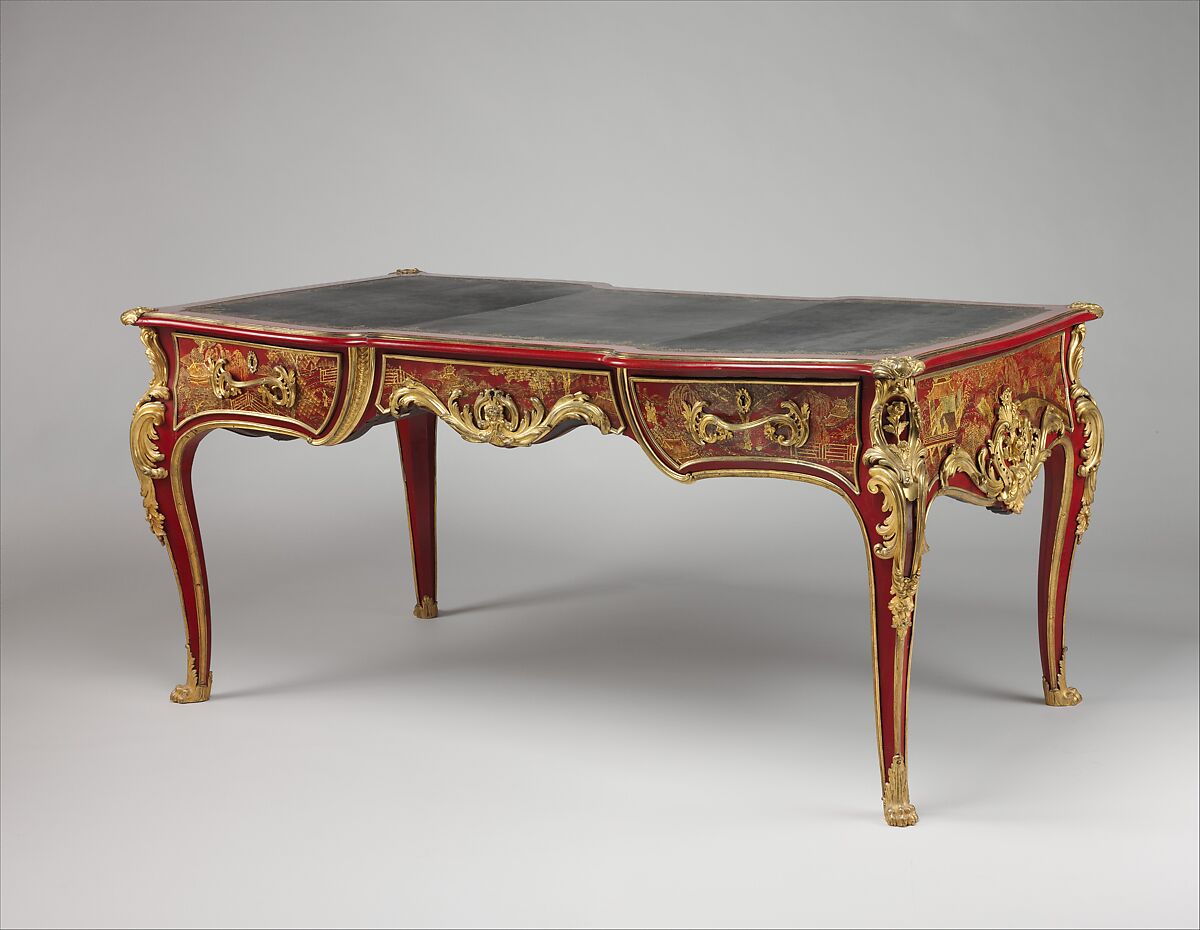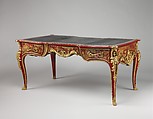 This artwork is meant to be viewed from right to left. Scroll left to view more.