Benjamin Franklin Commemorative Medal
Louis St. Gaudens American

Not on view
From the early 1870s onward Augustus Saint-Gaudens's younger brother Louis, who preferred to spell his last name "St. Gaudens," was a frequent contributor to the Saint-Gaudens studio enterprise. From time to time Augustus passed along to Louis commissions including this medal to commemorate the bicentennial of Benjamin Franklin's birth. The commission, brought about by an Act of Congress of April 27, 1904, was originally awarded to Augustus, but he insisted Louis sign the work as his own.

In 1905, through the auspices of Metropolitan trustee Daniel Chester French, Saint-Gaudens received a plaster copy of Jean Antoine Houdon's marble bust of Benjamin Franklin (1788; 72.6), which had been given to the Museum in 1872. This well-known portrait was the reference point for the bust-length profile on the medal's obverse. The reverse depicts a classically garbed figure of History sitting upon her throne holding a shield with a Latin inscription that translates as: "He snatched from the heavens the bolt and from the tyrant the scepter." The three allegorical figures at the base of the throne represent (from left to right) Franklin's varied contributions to Literature, Science, and Philosophy.

Medals were struck by Tiffany & Co. in early 1906 in an edition of 151: 1 gold, which was presented to the Republic of France, and 150 bronzes, 100 of which, including this one, were distributed by President Theodore Roosevelt.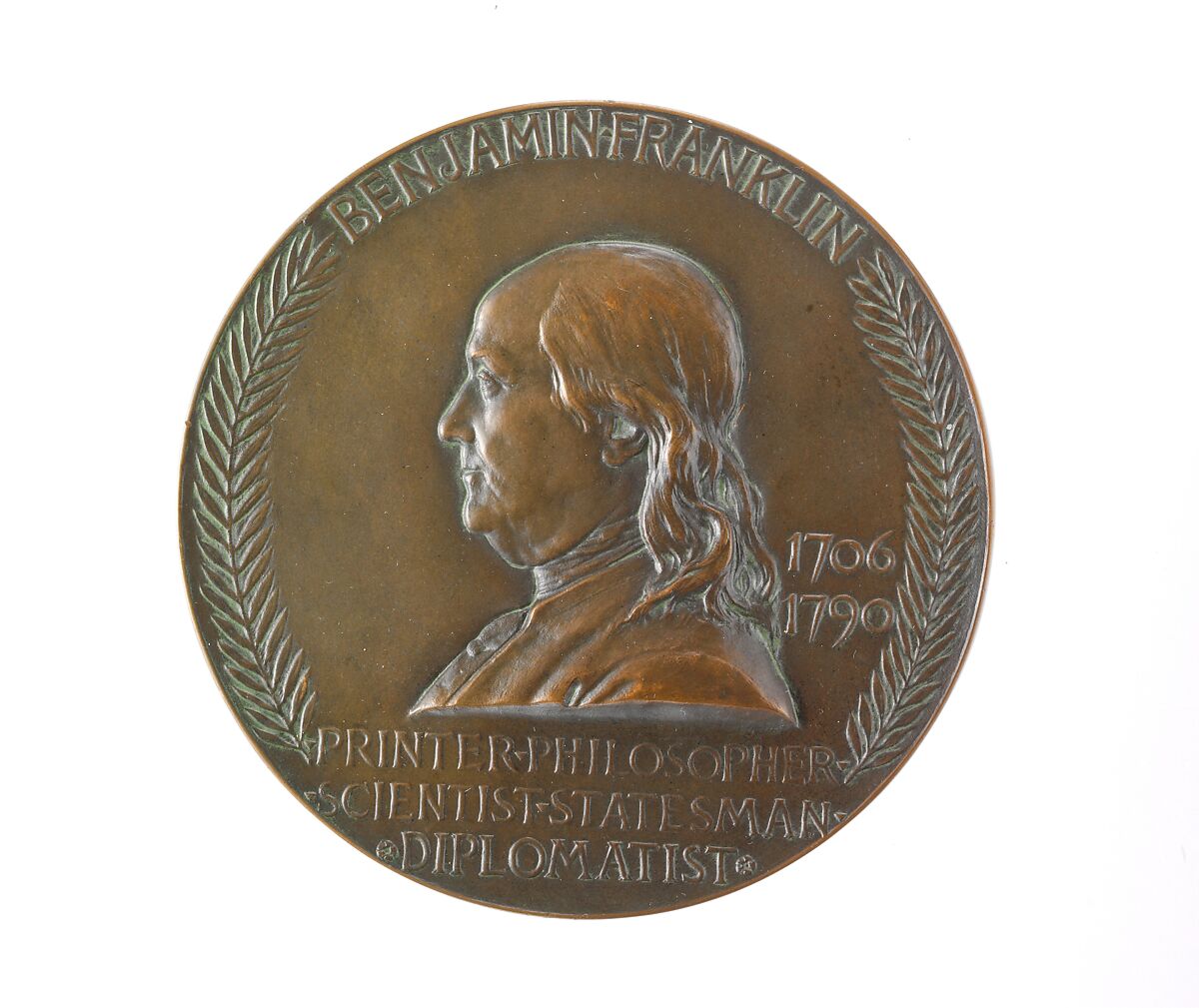 This artwork is meant to be viewed from right to left. Scroll left to view more.