Chintz appliquéd quilt
Mary Malvina Cook Taft American

Not on view
This quilt is appliquéd with pieces of chintz to form a Tree of Life motif at its center. This design strongly recalls that of Indian "palampores," hand-painted and dyed single-panel Indian cotton bed hangings that are often decorated with a central flowering tree. Chintz-appliquéd quilts were popular throughout the East Coast during the first half of the nineteenth century. The design elements, such as birds and flowers, were cut from printed fabrics and sewn onto a new background. The appliquéd pieces were often fastened down with blind whipstitch, but in some examples, more decorative buttonhole stitching was used. This quilt is a fairly late example of the chintz- appliquéd style, which by 1840 was losing popularity in favor of the pieced quilt.

According to family history, Mary Malvina Cook Taft made this quilt for her trousseau. She married Horatio Nelson Taft (1806-1888), a lawyer, on November 12, 1841. After their marriage in Sag Harbor, New York, where Mary Malvina had grown up, they moved to Lyons, Wayne County, New York.

The English chintzes used for the appliqués on this quilt illustrate the appealingly vigorous quality of mid-nineteenth-century textile designs. The central tree is constructed from pieces of chintz showing vibrant pink roses in full bloom. Some English chintz motifs, like these roses, appear time after time in American quilts. This raises the question as to whether certain furnishing fabrics were actually sold in small amounts of yardage specifically to be cut up for appliqués. The "basket" in which the tree is planted was cut from an English pillar print of about 1830-35, on which the column capitals overflow with a variety of boldly drawn flowers. The rather more modest palm trees that decorate the outer border can be traced to another English chintz, which was probably manufactured in about 1812. Either this fabric continued to be available well into the nineteenth century or for many years the maker's family carefully saved scraps of chintz left over from furniture upholstery and curtains.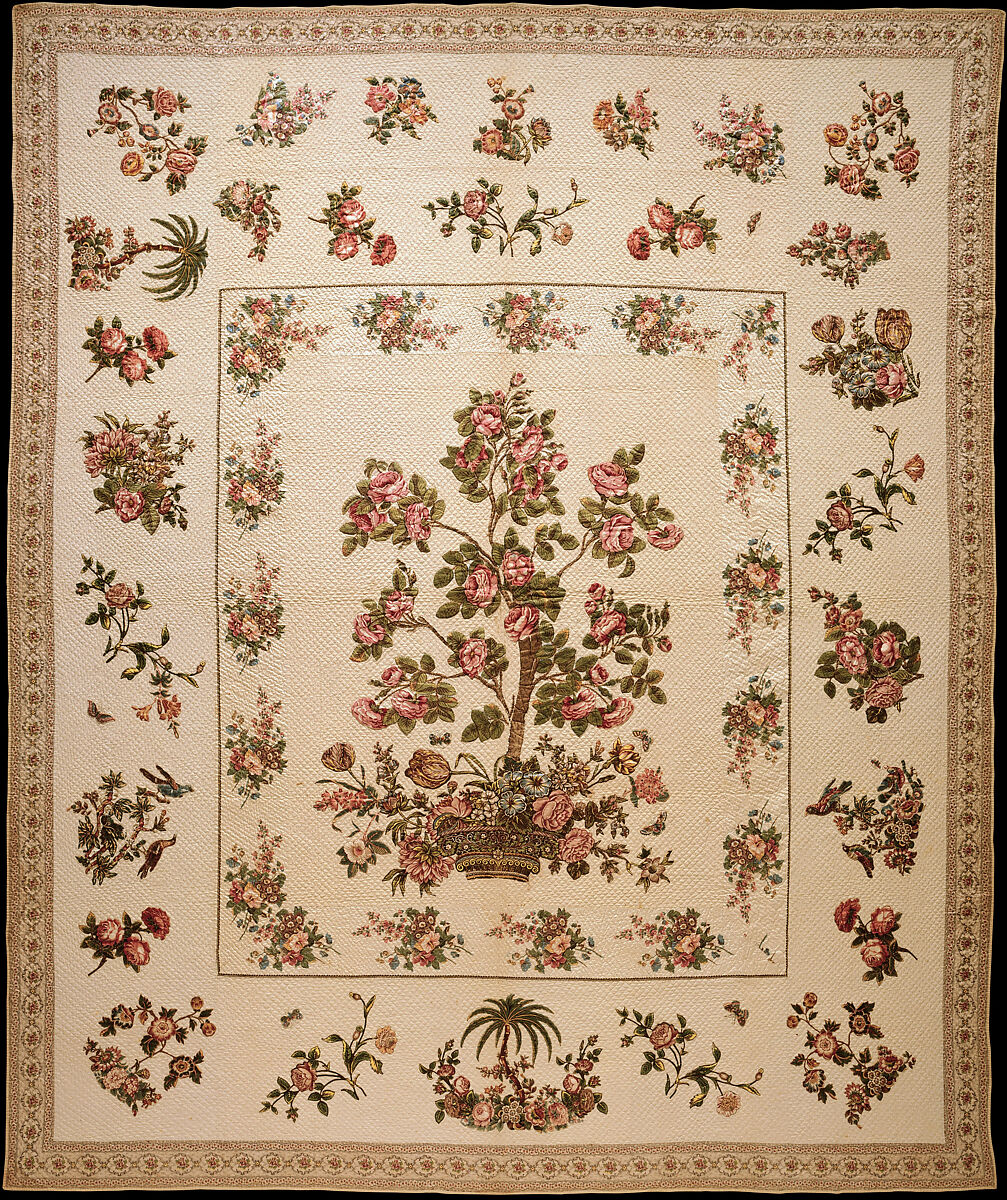 This artwork is meant to be viewed from right to left. Scroll left to view more.