Center Table
Attributed to Pottier and Stymus Manufacturing Company

On view at The Met Fifth Avenue in Gallery 736
Egyptian subjects and Egyptian-inflected designs enjoyed widespread popularity in the United States during the 1870s. Verdi's influential opera Aïda, set in Old Kingdom Egypt and commissioned to celebrate the opening of the Suez Canal in 1869, had its first American performance in New York in 1873. While several cabinetmakers produced furniture inspired by ancient Egypt, Pottier & Stymus were the leading purveyors of the style. Egyptian Revival furnishings bear no resemblance to furniture made in Egypt but are, instead, a manifestation of fascination with the ancient world and exoticized non-Western cultures. In this case, ornamental motifs such as sphinx heads and lotus blossoms have been applied to a Renaissance Revival form.

Stylistic and manufacturing similarities between this table and three other chairs in the Museum's collection (1970.35.1,.2 and 1983.68) likely made by Pottier & Stymus warrant its attribution to that large and important New York City firm. The attribution to Pottier and Stymus is supported by the cabinetmaker Ernest Hagen's description of their work "with brass gilt sphinx heads on the sofas and armchairs, gilt engraved lines all over with porcailaine [sic] painted medallions on the backs, and brass gilt bead moldings nailed on." As were the establishments of Leon Marcotte and the Herter Brothers, Pottier & Stymus was truly an interior decorating concern, capable of providing everything required— including the architectural elements— for the complete furnishing of a house. Although the firm's Egyptian-inspired furniture enjoyed widespread popularity, fellow cabinetmaker Ernest Hagen described it as a "most awful gaudy style."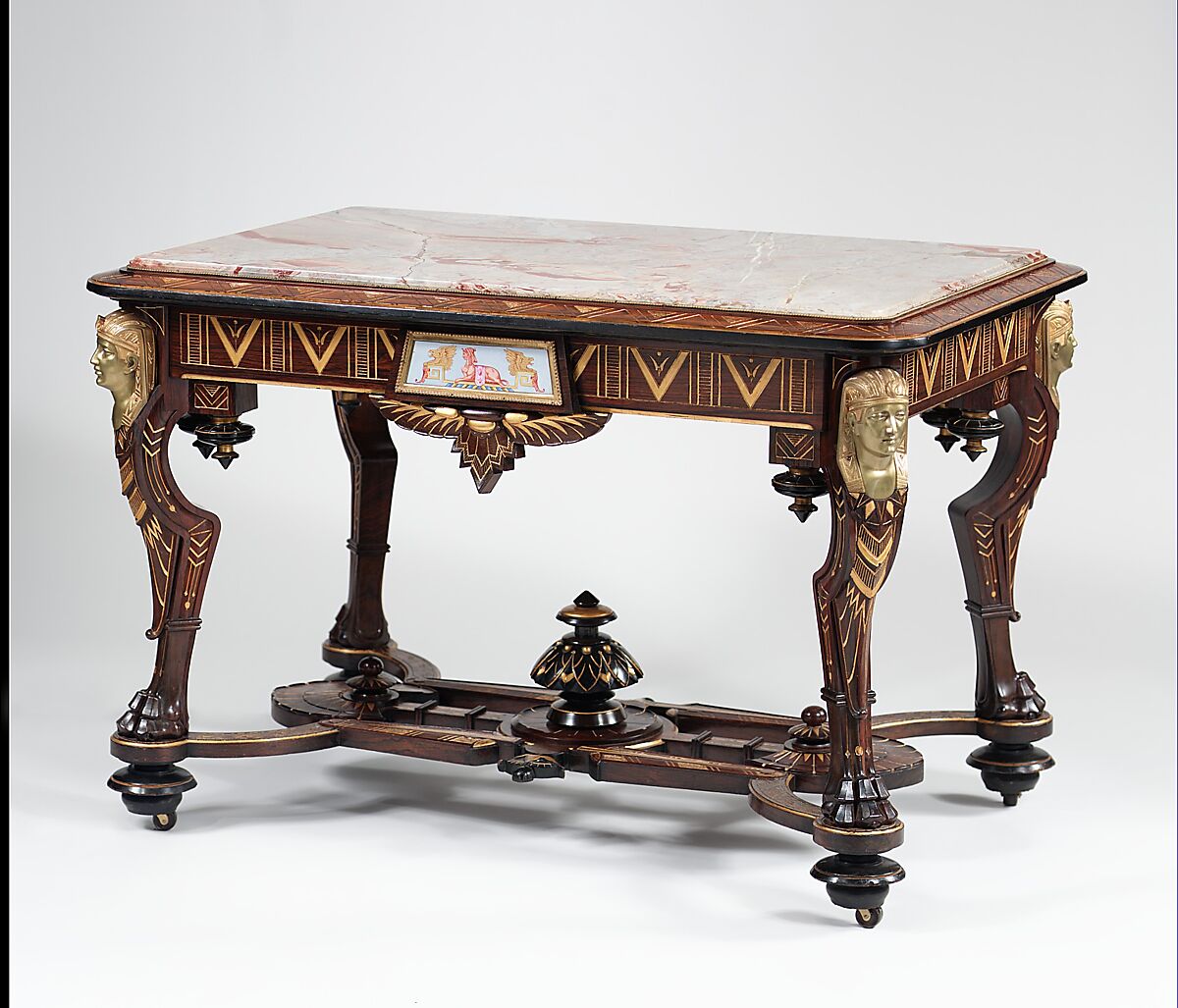 This artwork is meant to be viewed from right to left. Scroll left to view more.