Shoes
Manufacturer Hijos de J. Mayans
Department Store Vda. Acha Spanish

Not on view
The Osgood collection comprises 179 objects, chiefly fashionable Italian-made women's shoes dating from the years 1954 to 1958. The shoes were collected by Charline Osgood, Director of the Kid Leather Guild, a trade organization of American kid leather manufacturers. Highlighting the use of kid leather in footwear, the collection provides a fascinating and enticing view of high-style European shoe design from the period, representing many of the finest and most inventive Italian makers.
Spain was an important center for leather goods production, although its profile on the global market did not equal that of Italy. The blue and white color combination gives a pleasing nautical air suitable to a sporty tie shoe. The casual maritime theme is accentuated by the corded tucks on the vamp.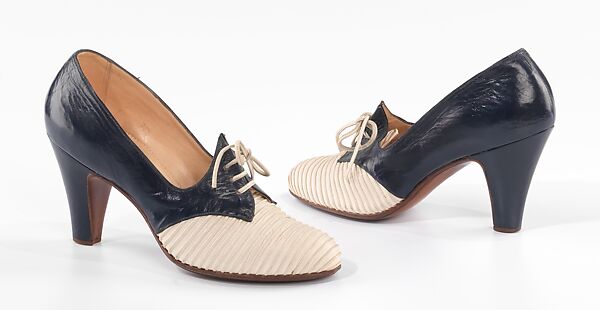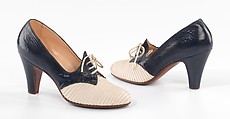 This artwork is meant to be viewed from right to left. Scroll left to view more.