Ensemble
Not on view
This object is from the collection of Natalia de Shabelsky (1841-1905), a Russian noblewoman compelled to preserve what she perceived as the vanishing folk art traditions of her native country. Traveling extensively throughout Great Russia, she collected many fine examples of textile art of the wealthy peasant class. From the 1870s until moving to France in 1902, Shabelsky amassed a large collection of intricately embroidered hand-woven household textiles and opulent festival garments with rich decoration and elaborate motifs. The Brooklyn Museum holdings include many fine examples including the majority of the garments. Portions of Shabelsky's collection are also housed at the Museum of Fine Arts, Boston, the Cleveland Art Museum, and the Russian Museum of Ethnography in St. Petersburg.

(a) Traditional Russian costume consists of straight, flowing lines. Beginning at the turn of the 18th century, the sarafan, a long, sleeveless dress, became the most popular article of peasant women's clothing in the Northern and Central regions of Russia. The motif on this sarafan includes strawberries, a significant symbol in folklore. The strawberry denotes purity and modesty, as well as fertility and abundance.

(b) In the 18th century the sarafan, the long sleeveless dress seen here became the most prevalent form of women's clothing among the peasant class of Northern and Central Russia. The shirt worn under the sarafan is unique for its extremely long sleeves gathered onto the wrist. Together with the traditional headdress the ensemble makes a bold statement with its contrasting red and blue and generous gold ornamentation.

(c) Married women were required to cover their hair entirely lest they be considered immodest; they wore fatas, usually a white muslin veil woven with silk floral designs and gold embroidery such as this. These were sometimes worn with a headdress, or kokoshnik. The traditional wedding customs that were practiced widely in the 16th century and lasted in some remote areas into the early 20th century placed great importance on needlework. Young women often began years before their marriage to produce the collection of textiles that would be presented as gifts to their future husband and his family. These gifts offered proof of the maiden's skill and industriousness to her future family, and consisted mostly of towels with wide embroidered borders and chirinkas, or embroidered pocket handkerchiefs.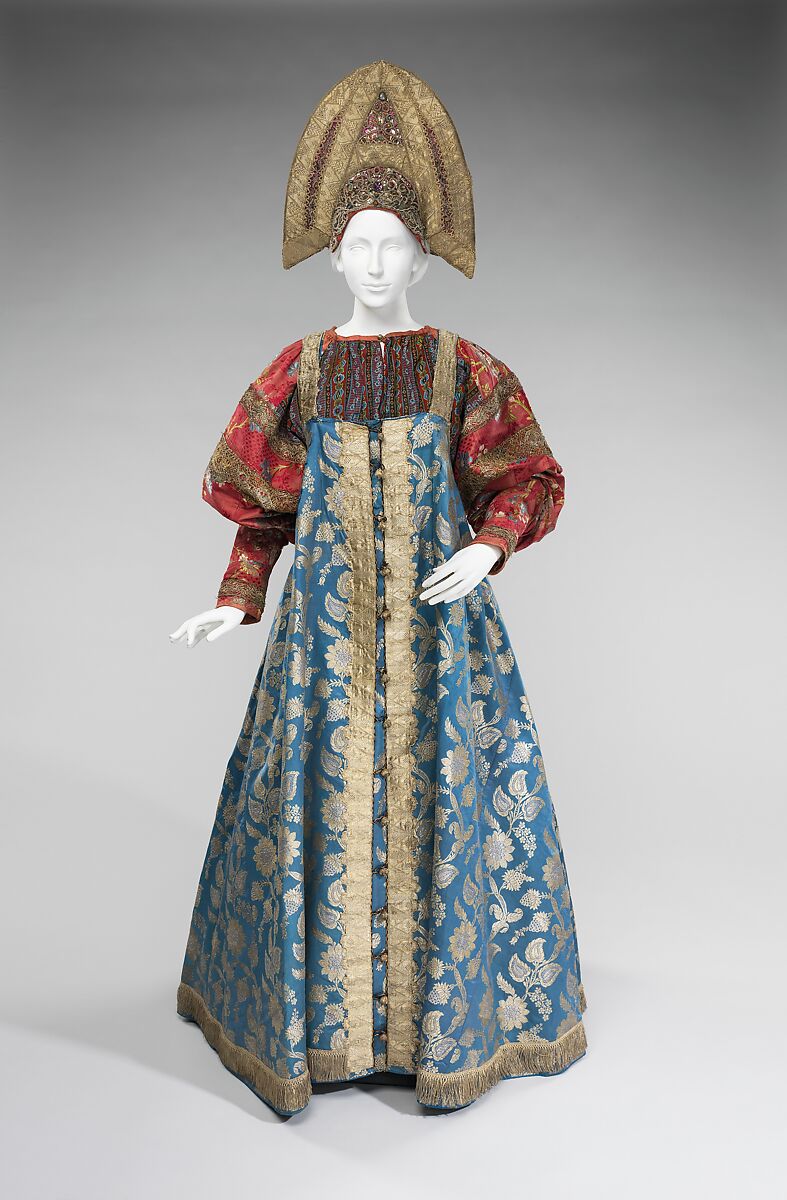 This artwork is meant to be viewed from right to left. Scroll left to view more.