Headdress
Not on view
This object is from the collection of Natalia de Shabelsky (1841-1905), a Russian noblewoman compelled to preserve what she perceived as the vanishing folk art traditions of her native country. Traveling extensively throughout Great Russia, she collected many fine examples of textile art of the wealthy peasant class. From the 1870s until moving to France in 1902, Shabelsky amassed a large collection of intricately embroidered hand-woven household textiles and opulent festival garments with rich decoration and elaborate motifs. The Brooklyn Museum holdings include many fine examples including the majority of the garments. Portions of Shabelsky's collection are also housed at the Museum of Fine Arts, Boston, the Cleveland Art Museum, and the Russian Museum of Ethnography in St. Petersburg.

Headdresses, or kokoshniks had the greatest abundance of ornamentation of any type of garment in Russia. They were most often made of damask woven with gilt metallic threads or velvet with gold embroidery. The wealthy peasant class decorated their kokoshniks with pearls and gemstones. Their decorative elements were representative of the regions in which they were made. Those from the North were embellished with the river pearls that were plentiful in that area while goose down and woolen embroideries were more popular in the South. The headdresses worn by maidens exposed their hair, considered a prize possession in Russian culture. They were often accompanied by a venchik, a forehead covering made of fabric or metal. Married women were required to cover their hair entirely lest they be considered immodest. This example uses colored foil in addition to semi-precious stones for decoration.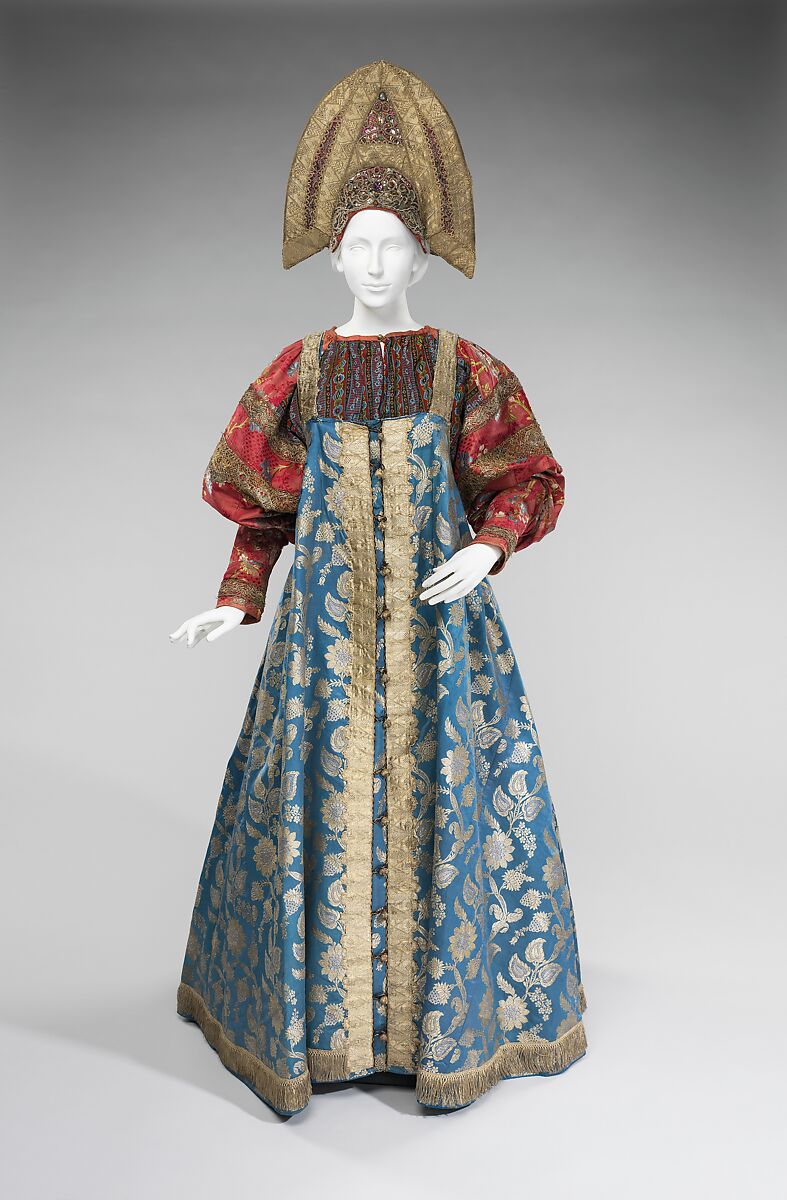 This artwork is meant to be viewed from right to left. Scroll left to view more.