Habit à la disposition
Textile design attributed to Sarah Lipska Polish

Not on view
This object is from a collection of sample embroideries, which was originally owned by Morris de Camp Crawford, editor of Women's Wear Daily, who collected objects which told the story of fashion and fabric history. Included in this collection was a group of textiles which illustrated what American and French designers and manufacturers were using. According to Crawford's book The Ways of Fashion, the work of Polish artist Sarah Lipska (1882-1973) was represented in this collection. Lipska is an enigmatic figure, who is known to have worked with Leon Bakst as a set and costume designer for the Ballets Russes, and later in the 1920s as a fashion designer in Paris at 4 rue Belloni, and finally as a sculptor. Extant examples of her work are rare. Although only a few pieces in the Brooklyn Museum collection bear a label or a signature, others bear hallmarks of her work, such as a distinctive form of whip stitching on appliqué work, unusual abstract motifs, and Cubist-inspired patterns.

An outstanding piece of embroidery, probably one-of-a-kind, this dress embroidery incorporates a complexity of decorative materials in energetically bright colors, including crimped sequins, beads of different shapes, iridescent sequins of various colors, metallic thread and highly unusual ceramic pieces. The overall effect is very theatrical, and is suggestive of Lipska's work for the theater and the Ballets Russes. The markings on component a make this sample a wonderful document of how a dress was made, showing the process in which these embroidered pieces were constructed and cut.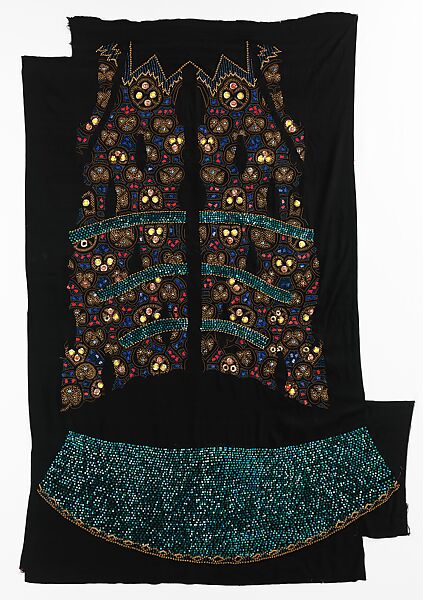 This artwork is meant to be viewed from right to left. Scroll left to view more.