Design for Ark Doors, Temple Emanu-El, New York
Louis C. Tiffany American
Tiffany Studios

Not on view
Pasted into a photograph of the "bimah" (the elevated platform from which the Torah is read) of Congregation Emanu-El's synagogue at Fifth Avenue and 43 Street, this drawing shows how the Ark doors, commissioned in 1910 by philanthropist Jacob H. Schiff, might look in place. Tiffany Studios meticulously rendered the intricate geometric ornament to be cast in relief and selected warm yellow-brown tones to convey bronze.
The stylized Hebrew lettering is nonsensical, typical for any inscription at this stage of design. As cast the doors bear quotations from the Hebrew Bible: the right cites Psalms 24: 9-10 spoken when the ark doors are opened at the beginning of Sabbath service; the left, Proverbs 4:2, 3:18 and 3:17.
When Temple Emanu-El moved to its current location at Fifth Avenue and 65 Street in 1929, the doors were removed and altered by craftsman Oscar Bach (1884-1957) to fit a newly designed Ark for the Beth-El Chapel where they are still in use today.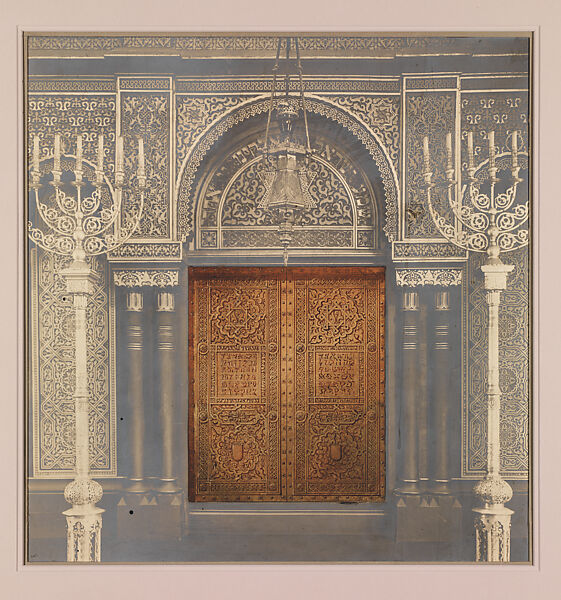 This artwork is meant to be viewed from right to left. Scroll left to view more.