Square Piano
Robert Nunns British
John Clark British

Not on view
This costly showpiece of Renaissance and Rococo Revival eclecticism, an obvious status symbol perhaps intended for display at New York's Crystal Palace exposition, elevated the reputation of the English immigrants Robert Nunns and John Clark, partners in New York since 1833; they had exhibited an equally ornate piano in London in 1851. Built on the scale of a billiard table, this massive rosewood instrument stands on elephantine legs surmounted by lush carved bouquets. Slips of mother-of-pearl, tortoiseshell, and abalone embellish the seven-octave keyboard. Within, a lacquered iron frame reinforces the case. The felt-covered hammers could have been made by machines invented by Rudolph Kreter, who assigned his patent to Nunns & Clark in 1853. At that time, some eighty employees, including members of the Steinway family, were producing about three hundred instruments annually at Nunns & Clark's factory in Setauket, Long Island.

Technical Description: Rectangular rosewood and rosewood veneer case, elaborately and heavily carved in deep relief on all sides, on 4 similarly decorated legs, front panel not hinged to lid, but separately attached to swing over and behind music rack, revealing on its reverse side a carved portrait medallion showing a man's and woman's profiles (perhaps the original owners) over a pair of dolphins next to a trident; compass AAA-a4 (85 keys), mother-of-pearl naturals, tortoise-shell covered accidentals with abalone inlay on front; 2 pedals in carved lyre, left shifting felt tongues between hammers and strings (piano or mute stop), right lifting dampers; partial metal frame consisting of hitchpin plate and 1 metal strut and 1 tubular brace running to pin block; frame pierced with 8 astragal-end openings and painted and gilded with acanthus leaves, flowers, birds, and insects; oblong tuning pins; English single action (no intermediate lever) with escapement and regulating screw; escapement jack pivots from height-adjustable "rocker" flange; hammers covered with felt and leather except lowest 21 hammers (felted only); backchecks present; dampers on overhead arms; lowest 11 notes single-strung, remainder double-strung; lowest 21 notes wound and overstrung.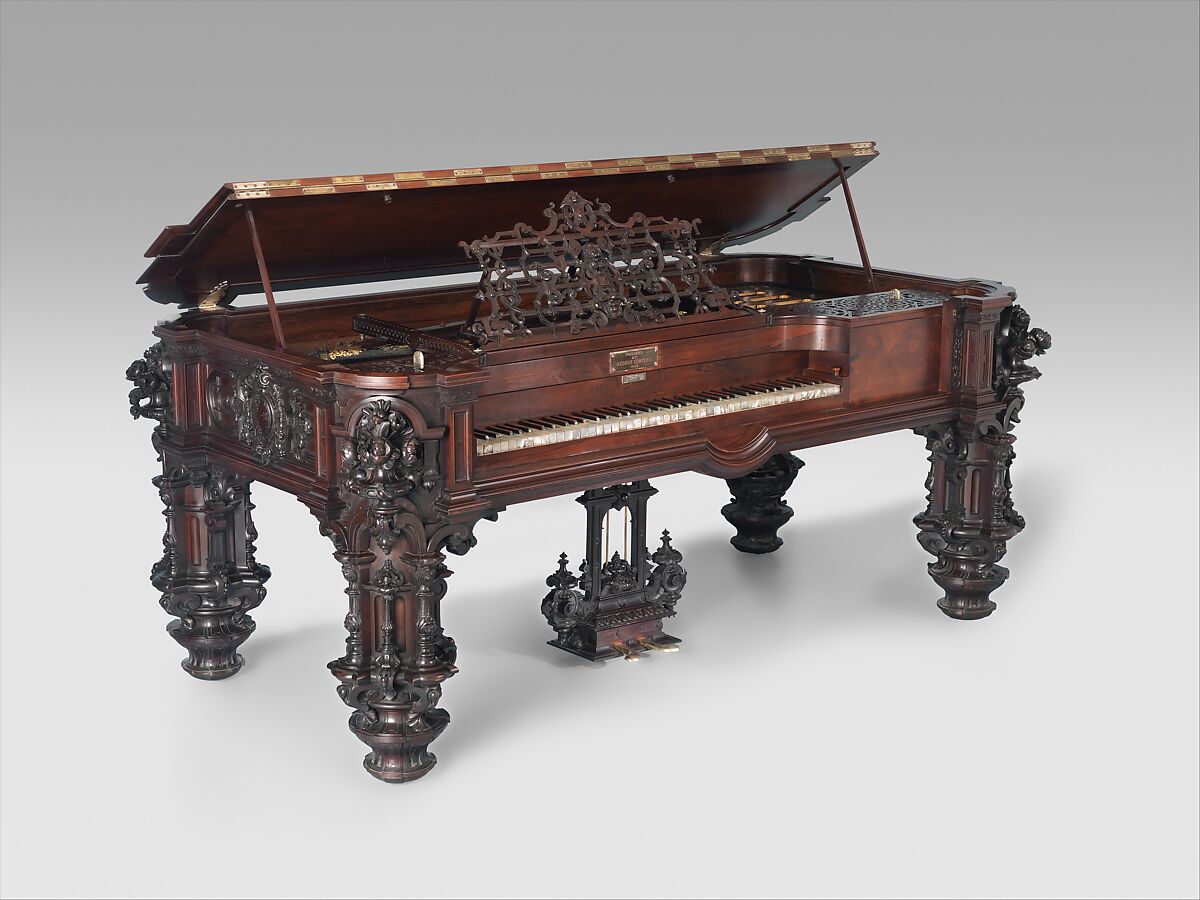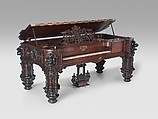 This artwork is meant to be viewed from right to left. Scroll left to view more.