Snuffbox with six scenes of putti at play
Jean Georges (or George)
Miniatures by Mademoiselle Duplessis French

Not on view
This box in the emerging Neoclassical style is distinguished by the quality of both the goldsmith's work and the enameled decoration. The latter includes ovals painted in brown monochrome with putti who frolic beneath garlands of polychrome flowers across the top of each oval. They are framed with molded gold borders and set against rectangular panels embellished with a scale pattern in low relief. A garland of flowers encircles the rim of the lid, and pendant garlands separate the panels containing the ovals. Four colors of gold have been employed for the various motifs, adding a subtle yet noticeable sense of contrast to the different components of the metalwork design. The cover, set with diamonds encircling the enameled scene, has a diamond thumbpiece in the form of a bowknot with sprays of flowers.

The enamel decoration on the lid was signed by Mademoiselle Duplessis, whose name is first recorded in 1753–54, and whose signature appears on another enameled snuffbox in the Metropolitan Museum (1976.155.8). The box itself is signed "George à Paris" and bears the mark of Jean George, a highly successful maker of gold boxes in Paris. A sale of George's possessions after his death in 1765 included a "quantity of new jewelry in the latest taste from the workshop of Monsieur George, such as snuffboxes, étuis, scent bottles, patch boxes, candy boxes, shuttles, étuis de pièces, men's and women's watches, chains, seals, in gold as well as in gold and enamel."[1]

[Jeffrey H. Munger, 2010]

Footnotes:
1. Quoted in Anna Somers Cocks and Charles Truman. Renaissance Jewels, Gold Boxes, and OBjets de Vertu. The Thyssen-Bornemisza Collection. London, 1984, p. 206.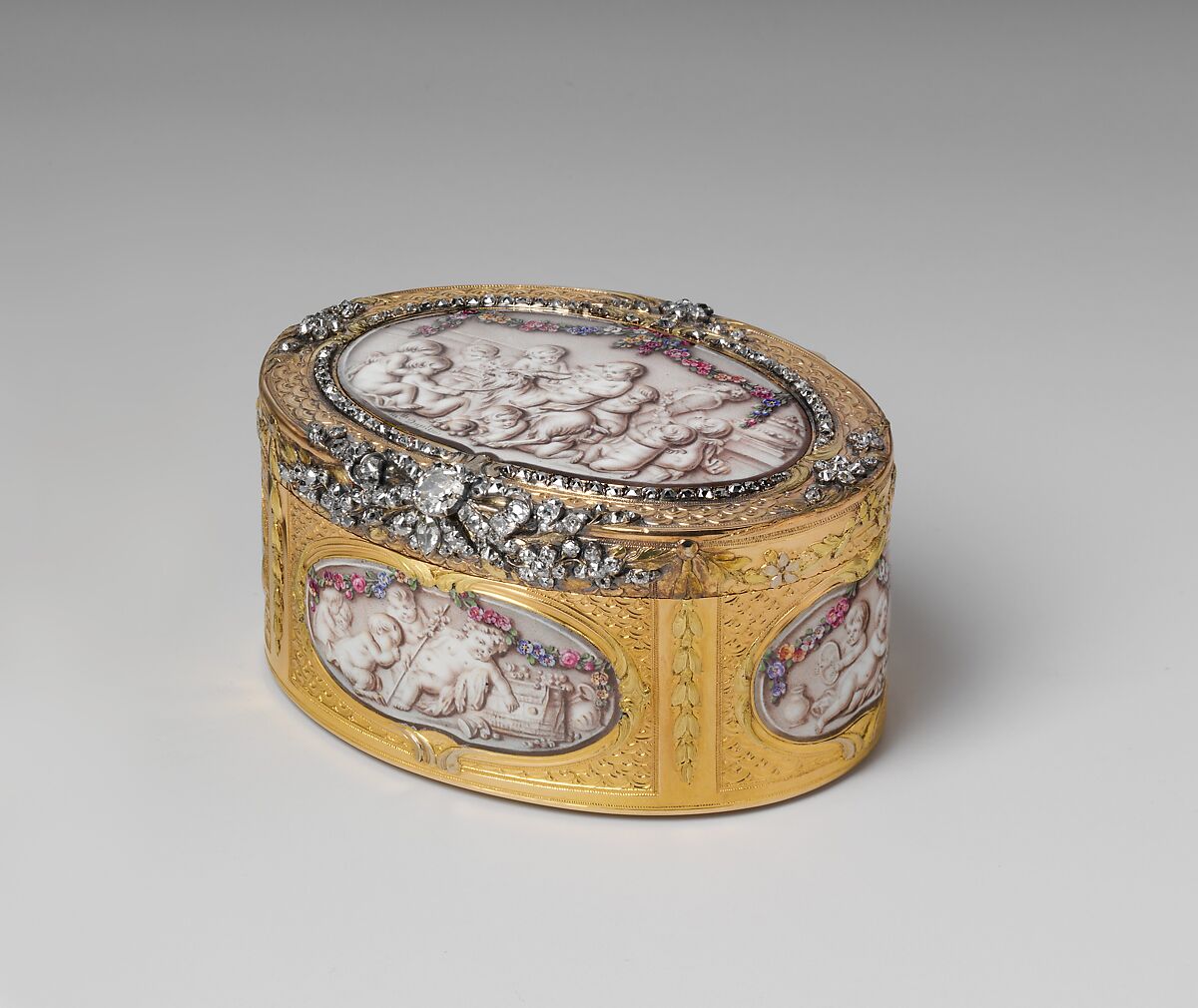 This artwork is meant to be viewed from right to left. Scroll left to view more.