View from Mount Holyoke, Northampton, Massachusetts, after a Thunderstorm—The Oxbow
Thomas Cole American

On view at The Met Fifth Avenue in Gallery 759
Long known as "The Oxbow," this work is a masterpiece of American landscape painting, laden with possible interpretations. In the midst of painting "The Course of Empire" (New-York Historical Society), Cole mentioned in a letter dated March 2, 1836, to his patron Luman Reed that he was executing a large version of this subject expressly for exhibition and sale. The picture was shown at the National Academy of Design in 1836 as "View from Mount Holyoke, Northampton, Massachusetts, after a Thunderstorm." Cole's interest in the subject probably dates from his 1829–32 trip to Europe, during which he made an exact tracing of the view published in Basil Hall's "Forty Etchings Made with the Camera Lucida in North America in 1827 and 1828." Hall criticized Americans' inattentiveness to their scenery, and Cole responded with a landscape that lauds the uniqueness of America by encompassing "a union of the picturesque, the sublime, and the magnificent." Although often ambiguous about the subjugation of the land, here the artist juxtaposes untamed wilderness and pastoral settlement to emphasize the possibilities of the national landscape, pointing to the future prospect of the American nation. Cole's unequivocal construction and composition of the scene, charged with moral significance, is reinforced by his depiction of himself in the middle distance, perched on a promontory painting the Oxbow. He is an American producing American art, in communion with American scenery. There are both sketchbook drawings with annotations and related oil sketches of this subject. Many other artists copied or imitated the painting.
#4344. View from Mount Holyoke, Northampton, Massachusetts, after a Thunderstorm—The Oxbow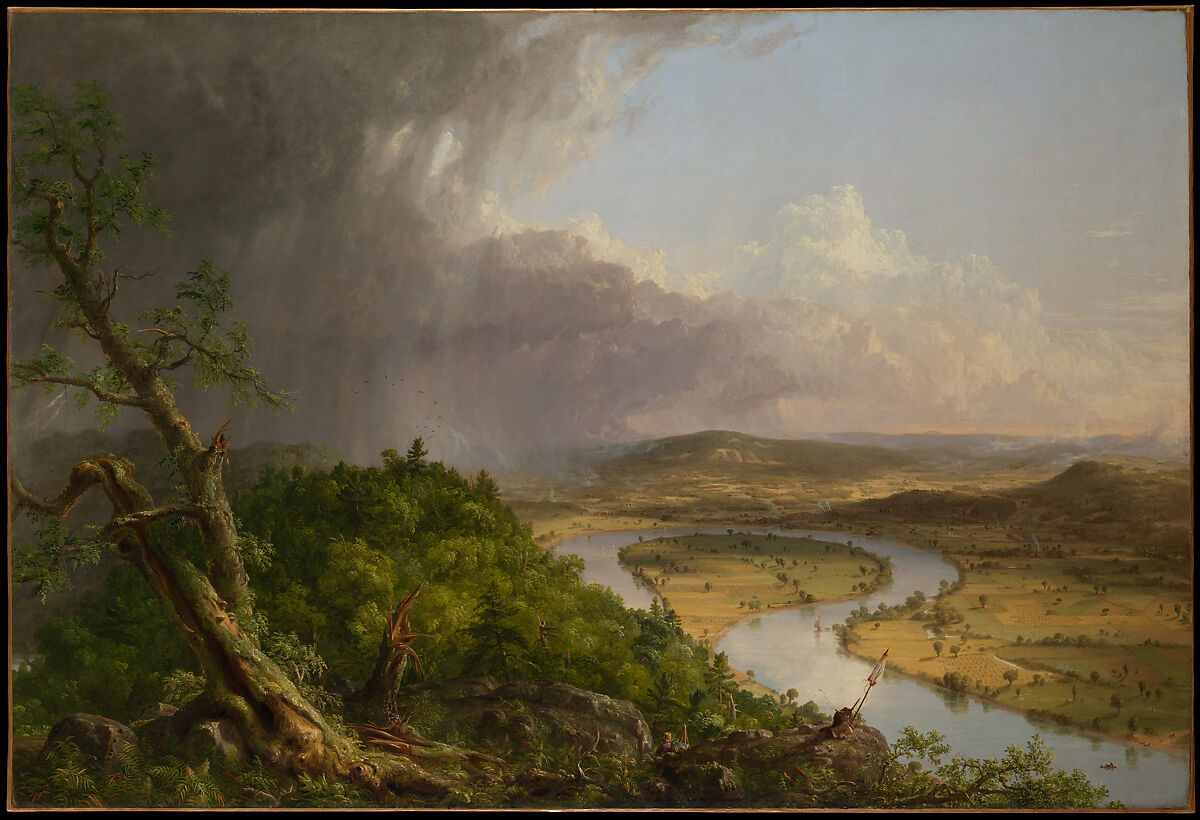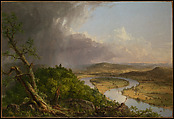 This artwork is meant to be viewed from right to left. Scroll left to view more.