Pair of candlesticks
François Thomas Germain French

Not on view
In the era before gas lighting and electricity, candles played a principal role in illuminating the domestic interior. The number of candles lit was an indication of the wealth and status of the owner: beeswax candles burned clean and had a pleasant smell but were quite expensive compared to those made of tallow.



In late seventeenth-century France, a change in dining habits had a significant effect on the production of silver candlesticks. Entertainment was increasingly orientated towards the evening and as a result, elegant lighting became an important part of the interior decoration.



This pair of candlesticks was made in 1757–59 by François Thomas Germain, the last member of the distinguished family of Parisian silversmiths, who took over the workshop of his father, Thomas Germain, in 1748. He was granted apartments in the Louvre and appointed "sculptor-silversmith to the king" by Louis XV. He continued the work of his father supplying the French court with tableware, candlesticks, and chandeliers, inkstands, and other items, generally in an ornate Rococo style. He also supplied splendid works to other European royalty, receiving commissions from both the Russian and Portuguese courts. These candlesticks are unusual in Germain's oeuvre in their restraint: their decoration consists of incised lines combined with a graceful serpentine outline.



Daughter of one of the founders of the Weyerhaeuser Timber Company, Catherine D. Wentworth (1865–1948) was an art student and painter who lived in France for thirty years. She became one of the most important American collectors of eighteenth-century French silver and on her death in 1948 bequeathed part of her significant collection of silver, gold boxes, French furniture, and textiles to the Metropolitan Museum. The collection is particularly strong in domestic silver as illustrated by this pair of candlesticks.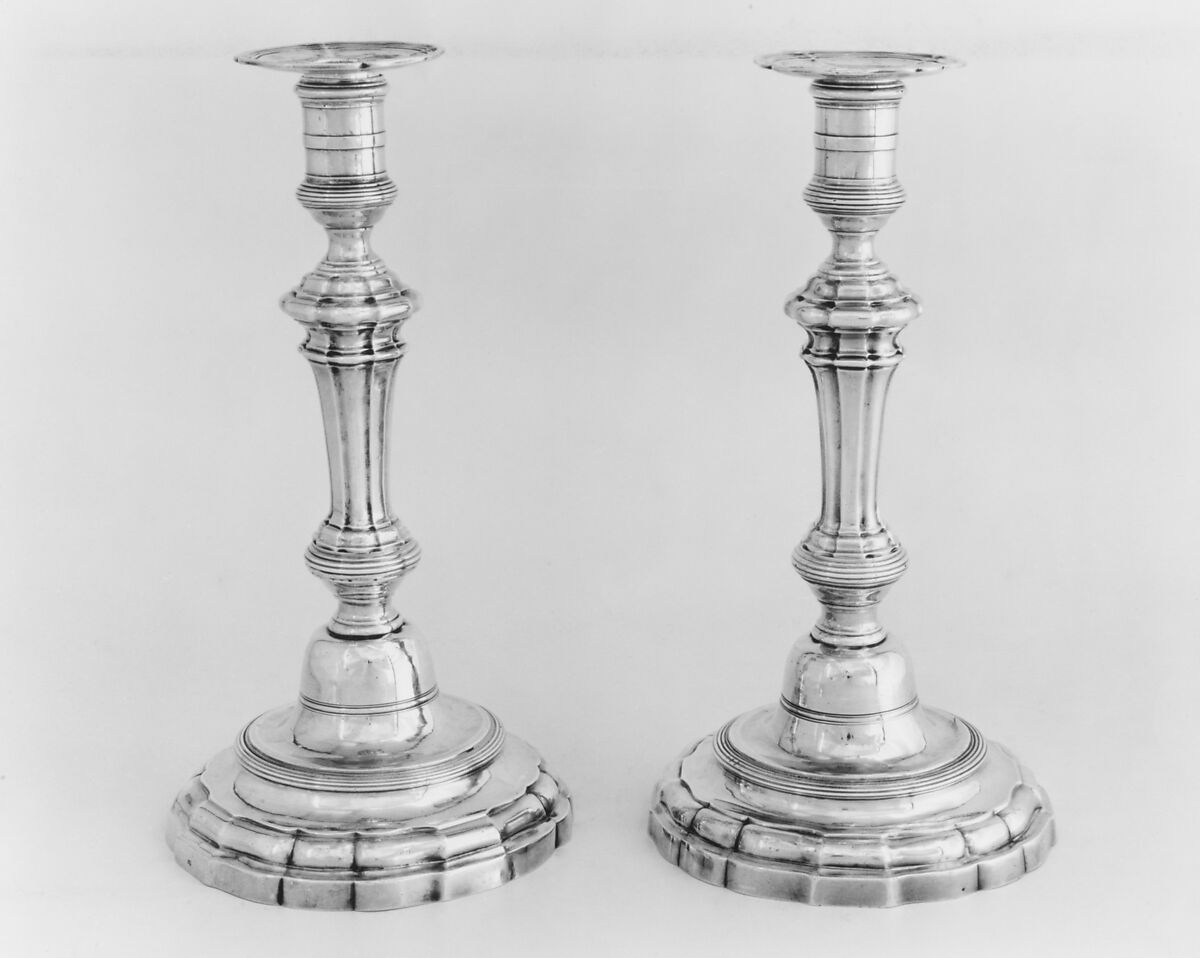 This artwork is meant to be viewed from right to left. Scroll left to view more.