Potpourri vase (pot-pourri à vaisseau)
Manufactory Sèvres Manufactory French
Modeler Jean-Claude Duplessis French

On view at The Met Fifth Avenue in Gallery 529
Many of the more extraordinary and unusual vase models made at Sèvres were created in the late 1750s, and of these the two types of vases seen here are among the most novel and ambitious. Such extravagant shapes were not admired by everyone, however. Thomas Bentley, the partner of pottery maker Josiah Wedgwood, wrote in 1776, "I observed several very rich vases of the manufacture of Seve, of the worst and clumsiest forms imaginable." The majority of these new vase models found favor at the French court, however, and contemporary documents indicate that the elephant-head vases in particular were avidly purchased by the king, members of his circle, and prominent marchands-merciers.

An inventory of 1779 indicates that the potpourri vase in the form of a ship and the two elephanthead vases (see 58.75.90a, b, .91a, b) were part of a decorative grouping of vases that was purchased by Louis-Joseph de Bourbon, prince de Condé (1736–1818), in December 1758. The two other vases that completed the garniture are now in the Musée du Louvre, Paris. The prince de Condé kept the group in his Parisian residence, the Palais de Bourbon. The garniture of five vases cost the prince the impressive sum of 4,320 livres, an amount that exceeded the annual income of a typical professional worker in the eighteenth century.

Madame de Pompadour was an avid buyer of both models of vase, owning at least two of the boatshaped vases and possessing at least three pairs of elephant-head vases. The cost of these vases and the difficulty of producing them ensured that relatively few were made. Ten of the boat-shaped vases and twenty-two elephant-head vases are believed to have survived to the present day.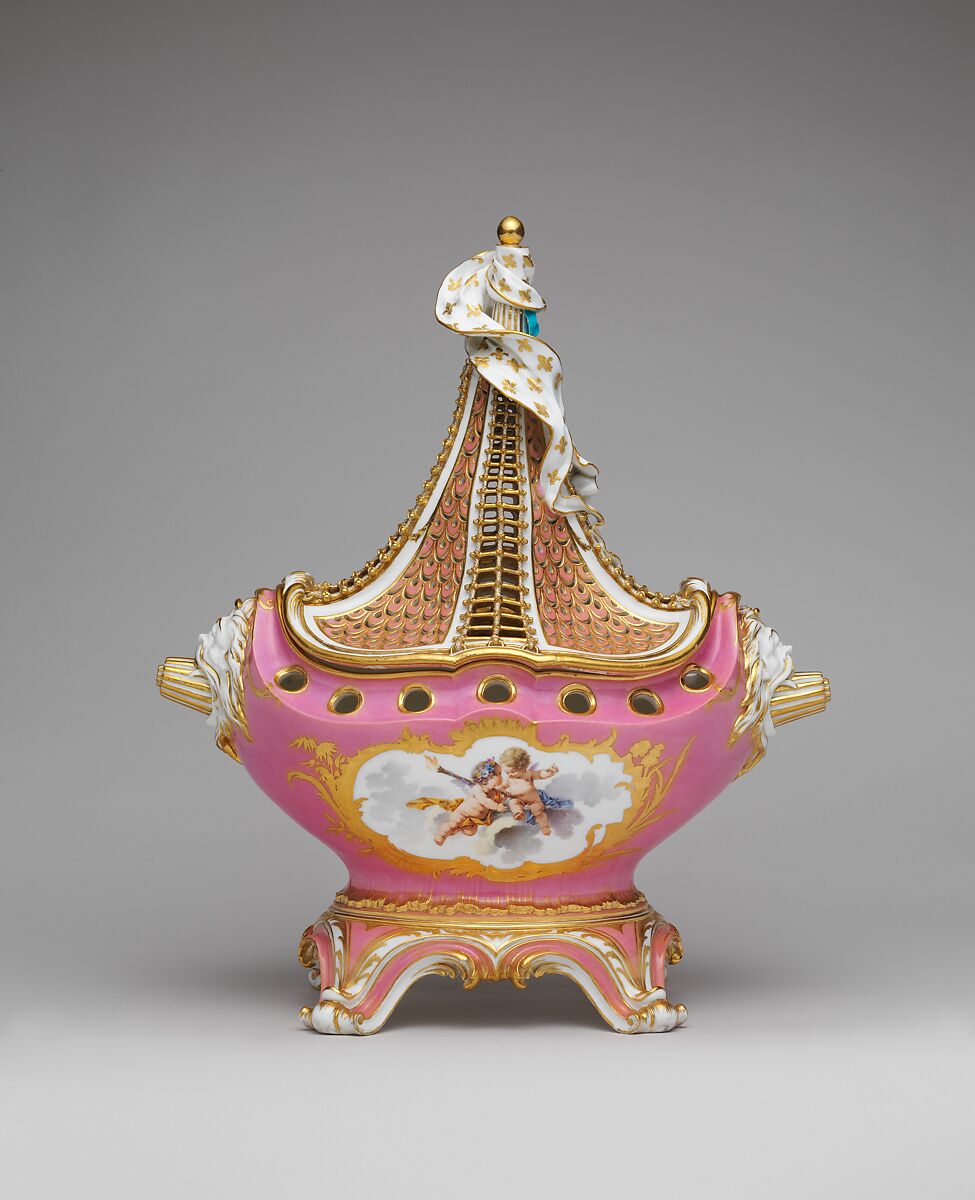 This artwork is meant to be viewed from right to left. Scroll left to view more.