Commode
Charles Cressent French

On view at The Met Fifth Avenue in Gallery 539
One of a group of six known commodes of this model, it shows the cabinetmaker (ébéniste) Charles Cressent's highly individual and very sculptural manner. Although Cressent did not sign a single piece of furniture, a considerable body of work has been attributed to him. This commode with its unusual shape matches a detailed description in the 1749 sale catalogue for one of the three auctions that Cressent, when pressed by financial difficulties, organized of his own stock and art collections.

Supported on four tall legs, the front of the commode contains two drawers and each of the sides has a single door opening to a cupboard. The undulating outline of the front and sides is repeated in the marble top while the carcass is entirely covered with marquetry veneer in a fine geometric pattern known as parquetry. Particularly noteworthy are the bold and highly decorative gilt-bronze mounts which are so distinctive of Cressent's work: Zephyr heads, large scrolling acanthus leaves and, most characteristic, a charming scene of two boys who swing a monkey on a knotted rope. These inventive gilded bronzes are clearly foreshadowed in the outline of the amaranth veneer, creating a marvelous harmony of design.

Cressent had been trained as a sculptor, evident in the particular interest he paid to the mounts. Further, flouting guild regulations, he had them cast and finished in his own workshop, repeatedly causing difficulties with the guilds of fondeurs-ciseleurs (casters and chasers) and ciseleurs-doreurs (chasers and gilders) metalworkers. The mounts bear crowned C tax marks which offer a good indication of the date of the commode. Imposed by a royal edict of February 1745, (the C stands for cuivre, or copper the main ingredient of bronze), this tax mark was in use until February 1749.

Bearing the trade label of Jean Rousselot, this commode appears to have been one of the few pieces by Cressent that passed through the hands of a marchand mercier or dealer in luxury goods while the cabinetmaker was still alive.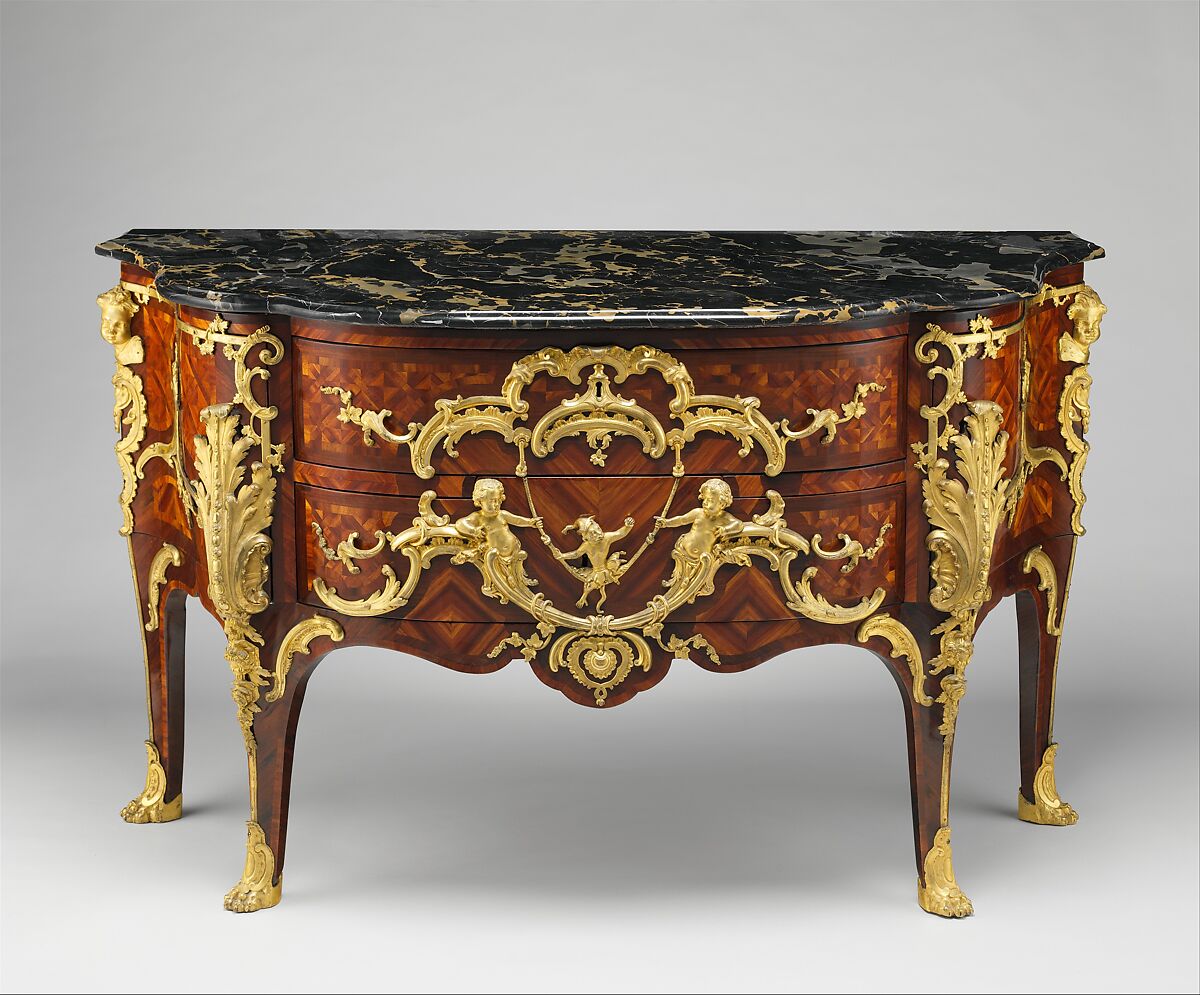 This artwork is meant to be viewed from right to left. Scroll left to view more.