"Les Travaux de la Manufacture"
Manufactory Oberkampf Manufactory French

Not on view
This is one of the best known copperplate-printed textiles produced at the Oberkampf factory and it presents an abundance of information regarding the complexity of the textile printing process. There are a total of fourteen different scenes depicting activities involved in the process. The designer, Jean-Baptiste Huet, and a female colleague are depicted outdoors sketching, dyers mix colors, and printers apply the printing bocks. The drying of the finished cloth on the grounds of the factory completes the picture. The concept of printing scenes from a manufacturing process exemplifies the Enlightenment fascination with human accomplishments.

Jean-Baptiste Huet, an extremely successful decorative painter, was commissioned by Oberkampf to create this design to celebrate the factory's award of the title Manufacture Royale. Huet was then named chief designer at the factory. The formula of individual scenes carefully integrated to form an overall pattern, which was developed in Les Traveaux de la Manufacture, is used repeatedly in copperplate-printed textiles.

The factory at Jouy was founded in 1760 by Christophe Oberkampf (1738–1815). It was given the tile of Manufacture Royale by Louis XVI in 1783 and awarded the Legion of Honor by Napoleon I in 1806. It remained in the hands of the same family until the 1820s. Oberkampf received many other awards in recognition of the quality of Jouy's fabrics, as well as for advances in the science and technology of textile printing. The factory employed about a thousand workers during the late eighteenth century. Female workers comprised one-third to one-half the workforce at various times. Female printers earned half the pay of male printers.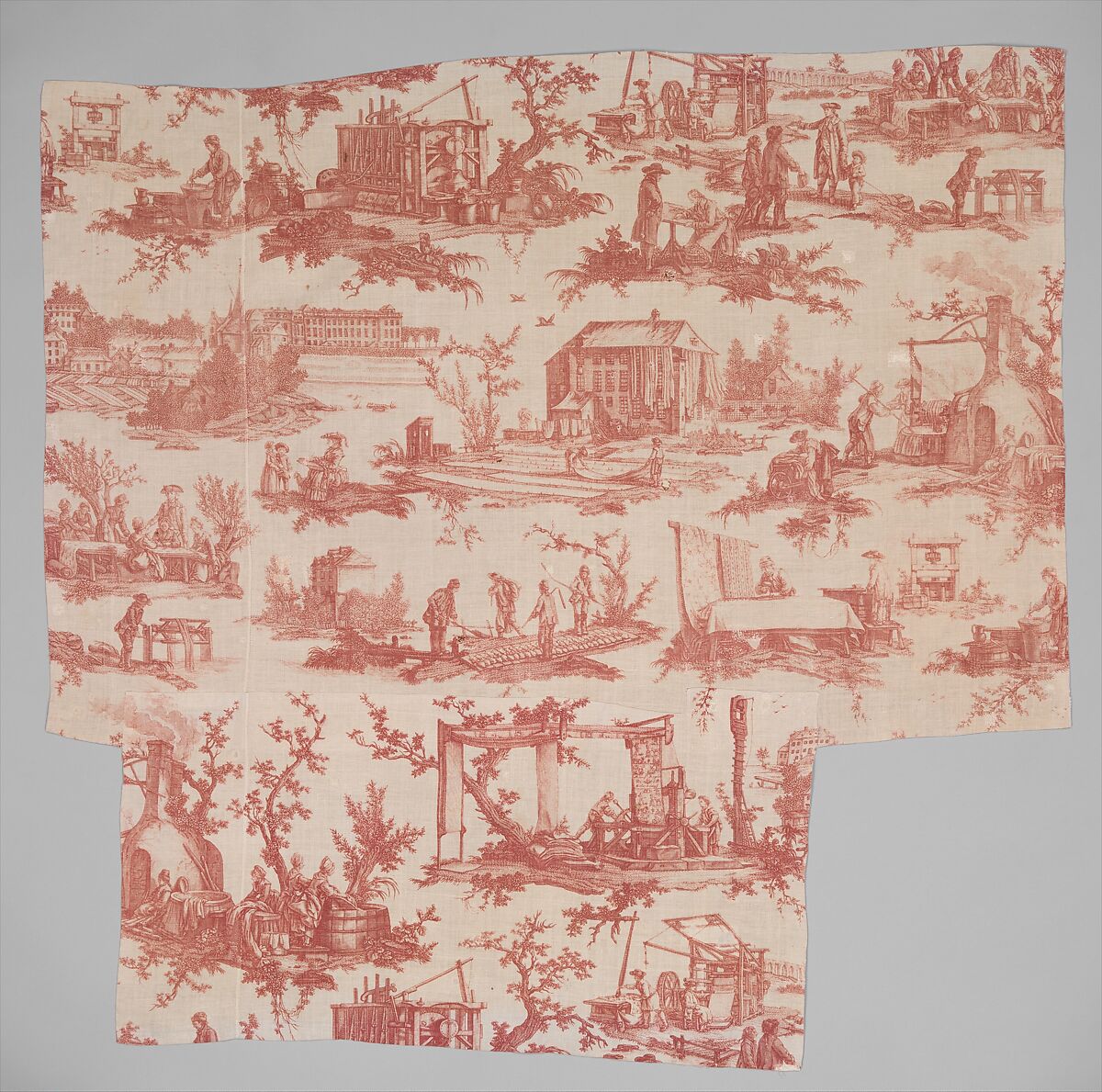 This artwork is meant to be viewed from right to left. Scroll left to view more.