Asia from a set of The Four Continents
Not on view
This suite of four tapestries and its coordinating upholstery (MMA 1978.404.4a-c–.18a–c) were commissioned from the Beauvais manufactory in 1786 and woven between 1790 and 1791.¹ As has been noted, "The attractive and not impossible suggestion that the set was intended to be a gift from King Louis XVI to George Washington was made by the first scholar to publish the work . . . but it is not supported by any contemporary evidence."² Regardless of whether the suite was intended as a gift to President Washington, the French Revolution intervened, and it is perhaps miraculous that the tapestries were woven at all. By the time they were complete, the French king was in no position to bestow diplomatic gifts on anyone.

It is the representation of America as a rather demure-looking young woman that sets this iconographic scheme apart from other groupings of the Four Continents. In the Beauvais tapestry set, America has evolved from the scantily clad, spear-toting, armadillo-riding, cannibalistic warrior princess seen in sixteenth century representations to the woman dependent on the protection of the female personifications of Liberty and Minerva (whose shield carries the fleur-de-lis of France).³ In addition to this representational shift, the Indian princess who had originally stood for the entire Western Hemisphere here represents only the United States. The concept for this view of America defended by France in the guise of Minerva was suggested by none other than Benjamin Franklin, and a medal based on his suggestion was designed by Augustin Dupre and struck in France in 1782.⁴

The production of these tapestries is thus a vivid example of the Gallic enthusiasm for the American colonists' struggle for independence from Great Britain, France's longtime foe, which existed at the highest levels of society. This was not the first American subject for the designer of the series, Jean-Jacques- Francois Le Barbier (an official peintre du Roi by 1780). In 1782 his illustration of the first Continental Congress appeared as the frontispiece in Essais historiques et politiques sur les Anglo-Américains (Brussels, 1781–82), just one of several publications on the subject of the American cause that appeared in the early 1780s.⁵

Of course, the French expressed their enthusiasm for the American struggle against the British with more than works of art and propaganda. They supported the Continental Army with money, supplies, and soldiers, including the wealthy marquis de Lafayette (1757–1834), whose fervor for the cause was so great that he sailed to America disguised as a woman to escape detection.

[Melinda Watt, adapted from Interwoven Globe, The Worldwide Textile Trade, 1500-1800/ edited by Amelia Peck; New York: Metropolitan Museum of Art; New Haven: distributed by Yale University Press, 2013]

Footnotes


1. For a complete account of the tapestry suite, see Standen, European Post- Medieval Tapestries, vol. 2, pp. 572–605; and Standen, "Jean-Jacques-Francois Le Barbier and Two Revolutions," pp. 258–65.

2. Standen, "Jean-Jacques-Francois Le Barbier and Two Revolutions," p. 273 n. 16. The earliest scholarly publication referred to by Standen is Doniol, Histoire de la participation de la France à l'établissement des États-Unis d'Amerique; see Standen, European Post-Medieval Tapestries, vol. 2, p. 573.

3. For a selection of sixteenth- and seventeenth-century representations of America in prints and drawings, see Honour, The European Vision of America, pp. 114–23.

4. Standen, "Jean-Jacques-Francois Le Barbier and Two Revolutions," pp. 261, 262, fig. 11; the Metropolitan Museum has two examples of this medal, acc. nos. 07.251.23 and 36.110.41. This was one of a number of medals depicting American Revolutionary War subjects designed by Dupre.

5. Standen, "Jean-Jacques-Francois Le Barbier and Two Revolutions," p. 255.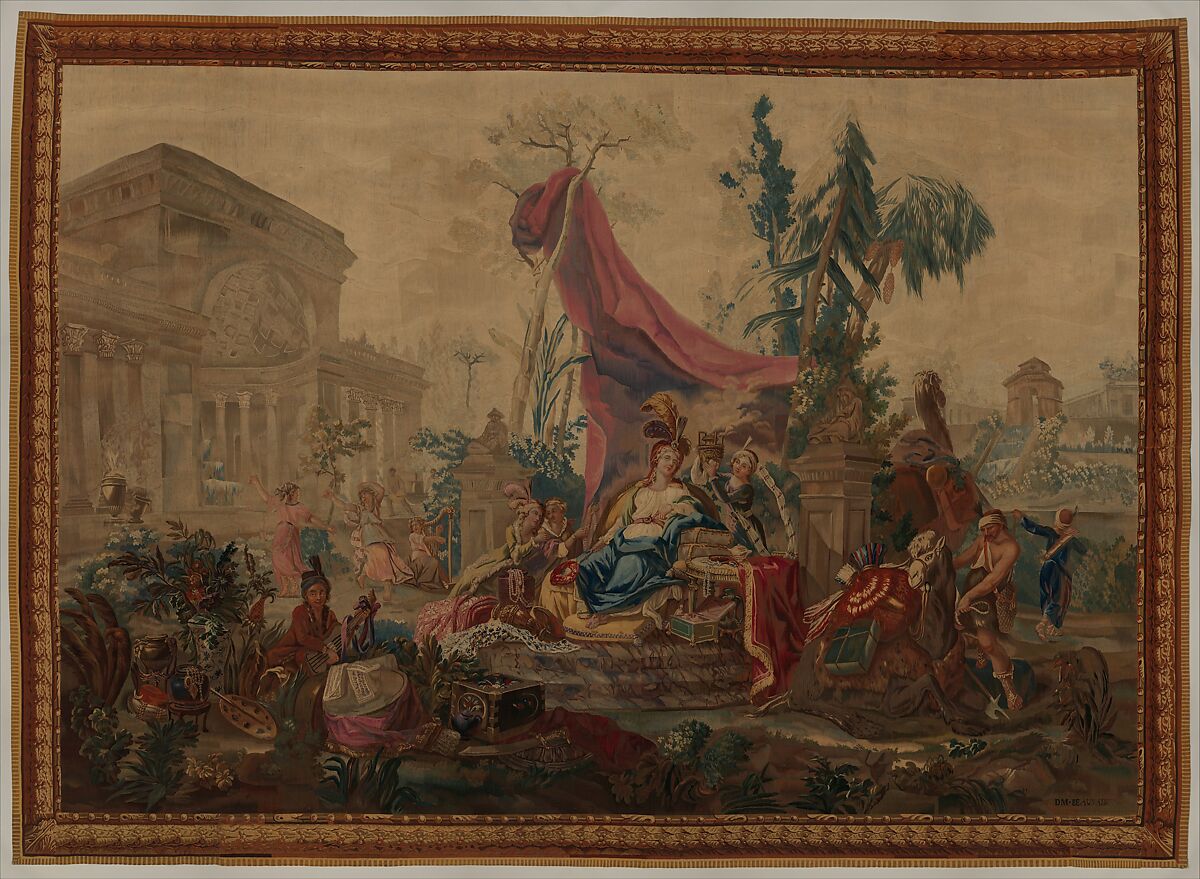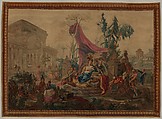 This artwork is meant to be viewed from right to left. Scroll left to view more.