Casket
Attributed to Michel Redlin German

On view at The Met Fifth Avenue in Gallery 521
Amber was one of the most treasured materials in central Europe and the Baltic, where to this day the ancient petrified resin is found in large deposits. In 1622 the Polish duke Krzysztof Zbaraski brought an amber casket to the Ottoman sultan Osman II, and Frederick William I, King of Prussia, presented an entire room fash-ioned from the material, formerly installed at Charlottenburg Palace in Berlin, to Czar Peter the Great of Russia around 1716.[1] The Brandenburg court was particularly interested in amber objects manufactured in the city of Danzig, such as this one, which is among the best-preserved extant examples of seventeenth-century amber work.[2]

The casket is fashioned almost completely from joined plaques of translucent, opaque, and so-called milky amber that demonstrate the natural variety of the material. The solid construction enhances the decorative effects of candlelight: as the open-sided lid admits it into the interior, it would have flickered in the amber like flames. This effect would have linked the casket to amber's supposed medicinal properties. Writing on behalf of the Royal College of Physicians in 1651, Nicholas Culpeper attributed such effects to the fiery nature of the material: "Amber . . . heats and dries, therefore prevails against moist diseases of the head."[3] Similar to bezoar and goa stones (see cat. 32), "unicorn" horn (narwhal tusk; see cat. 31), and rhinoceros horn, amber has been cited in herbals and lapidaries since the first century a.d. as a remedy for everything from stomachache to leprosy.[4]



Footnotes
(For key to shortened references see bibliography in Koeppe, Making Marvels: Science & Splendor at the Courts of Europe: The Metropolitan Museum of Art, 2019)
1. Trusted 1985, pp. 11, 13.
2. Ibid., p. 12; Wolfram Koeppe in "Recent Acquisi tions" 2007, p. 26.
3. Culpeper 1651, p. 35.
4. Pliny, Natural History 37.12.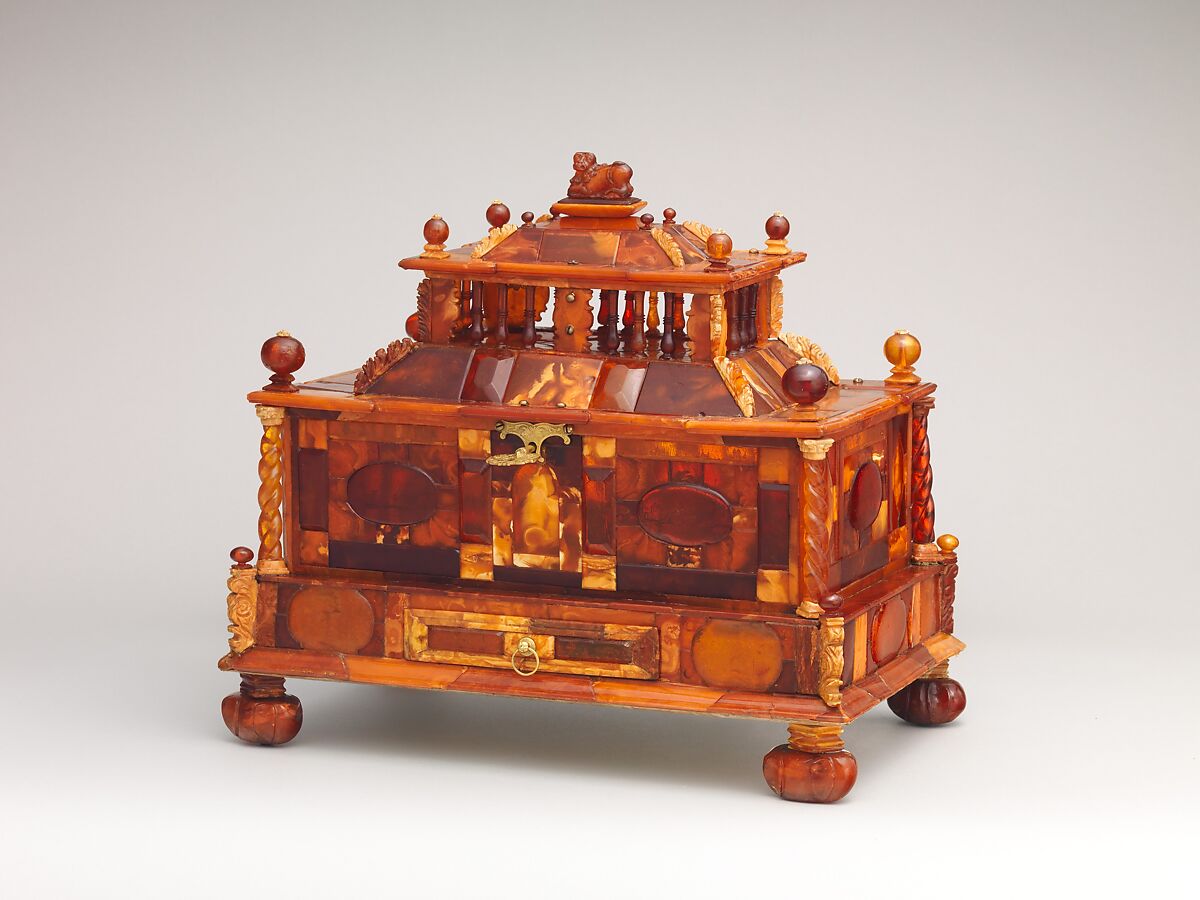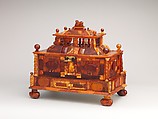 This artwork is meant to be viewed from right to left. Scroll left to view more.