Glass bowl decorated with four busts in roundels
On view at The Met Fifth Avenue in Gallery 171
Colorless with a pale green tinge.
Plain vertical rim with uneven ground lip; hemispherical body; slightly flattened bottom.
Below rim, single horizontal groove; on body, four large circular conjoining medallions, one of which overlaps the groove around rim; between the medallions at the top of side, two abraded eight-rayed stars on one side and two abraded shrines (aedicula) with a triangular pediment supported by two columns; on bottom, another abraded eight-rayed star with four dots above in spandrels between medallions; the medallions comprise two concentric circles, cut on a lathe, with 40-45 short abraded radiating cuts between; within the medallions, four busts, facing front, with head turned in profile to left, each wearing a tunic with a V-neck covering the shoulders, portraying a beardless youth with short spiky hair. The head and tunic are abraded with the details of the eyes, nose, mouth, and hair rendered by fine wheel-cut incisions.
Broken and repaired with one hole in body near bottom and cracks running to rim; a few pinprick bubbles; slight dulling and faint iridescent weathering.

The bowl belongs to a group of cut glass vessels well represented in finds from the Rhineland. A similar bowl (81.10.240), with four full-length figures, is displayed in the main Roman galleries on the First Floor (Gallery 169). Here there are four busts, all very similar in appearance. They are, perhaps, meant to represent imperial princes or even the four evangelists.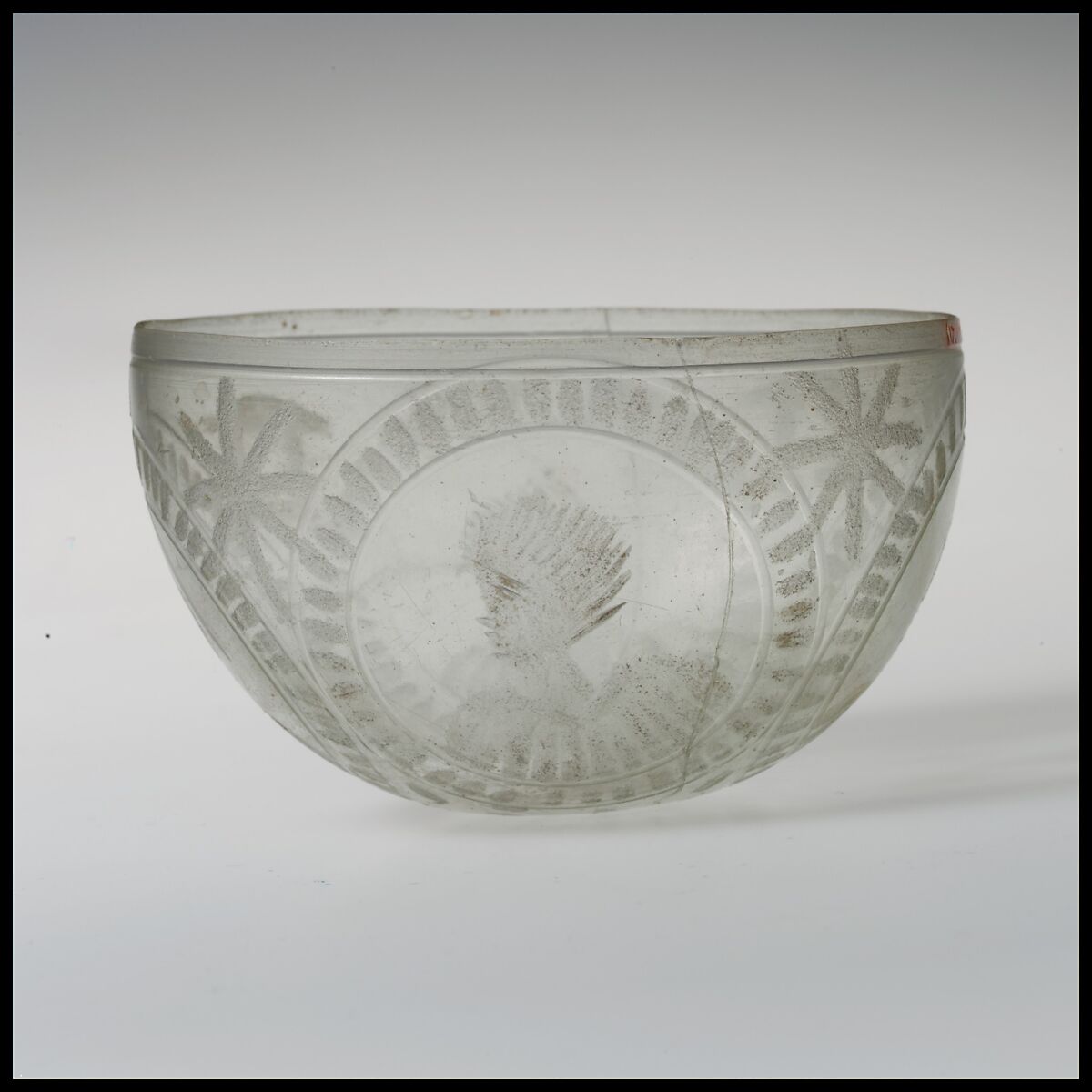 This artwork is meant to be viewed from right to left. Scroll left to view more.