Musterblätter enthaltend die anwendbarsten Jagdstücke u. Arabesken für Büchsenschäfter, Graveure etc. (Zella bei Gotha, n.d. [1849/50]) (Patternbook of Engraved Designs for Firearms Ornament), from the workshop of Louis D. Nimschke (1832–1904)
Engraver Gustave Ernst German

Not on view
Gustav Ernst was a leading instructor at the Industrial School in Zella, Thuringia, Germany, where he taught many of the most prominent firearms engravers who would go on to settle in America in the early 1850s to engrave for major firearms manufacturers including Colt, Winchester, and Smith & Wesson. The artists Louis D. Nimschke (1832–1904) (see acc. nos. 2018.856.19; 2018.856.20a–jjj), Gustave Young (1827–95) (see acc. nos. 2002.233.2–.26; 2003.521; 2009.330; 2010.481a–l), Herman Bodenstein (1829–65), and John Marr (1831–1921) are believed to have been among his students. Ernst published six pattern books between 1839–1853 which perhaps more than any other printed source informed the styles of these and other German-born firearms engravers throughout their careers in America.

The Museum's pattern book comes from the Nimschke workshop in New York City and so forms a direct link between firearms design in the Old World and the New. Published in 1850, it was Ernst's most influential publication and through its consistent use by the preeminent firearms engravers in United States played a central role in shaping what has traditionally been regarded as the "American" style of firearms engraving.

A number of firearms in the Museum's collection, including the gold-inlaid Colt Dragoon Revolver (acc. no. 1995.336), believed to be an early masterpiece by Young, and the target gun by Grudchos and Eggers (acc. no. 1992.375), include direct borrowings from this source.

The pages of the pattern book illustrate the various metal parts of a percussion gun that could receive engraved decoration, their surfaces covered with complex and elegantly rendered space-filling foliate scrolls and imaginative vignettes of hunters, dogs, and wildfowl. It comprises six loose sheets numbered 1–6. Accompanying these is a title page, unfortunately undated, indicating that it formerly was associated with a set of twelve pages numbered 23–34, proof that Ernst issued many more such prints.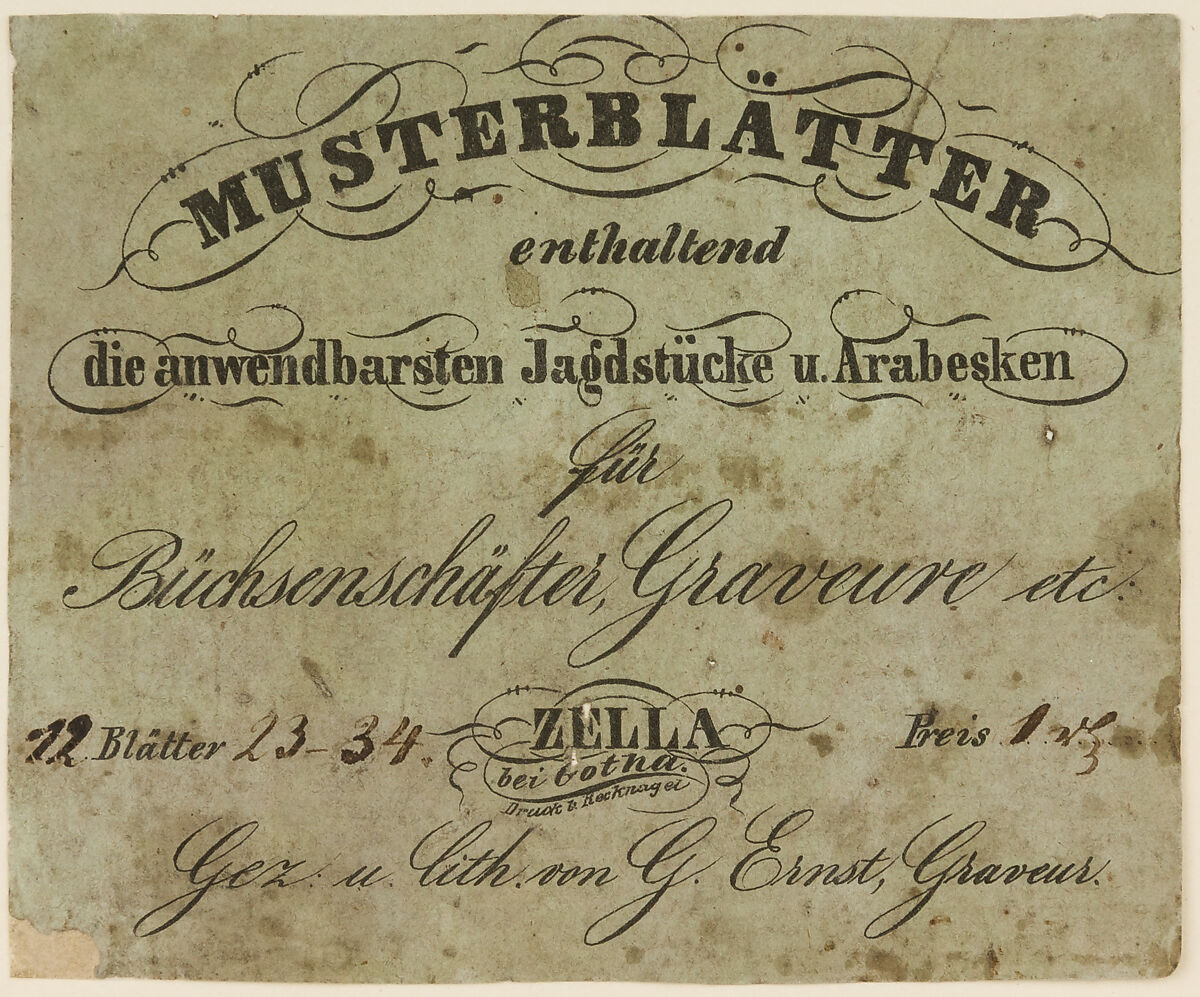 This artwork is meant to be viewed from right to left. Scroll left to view more.