Hunting Sword with Scabbard
Not on view
This hunting sword is a masterpiece of the Gothic Revival style and a virtuoso demonstration of mid-nineteenth-century design and craftsmanship, which were greatly stimulated by the series of international exhibitions held in London and Paris in the 1840s–60s. It is virtually identical to one executed by an otherwise unrecorded craftsman, Marcet, for the Paris firm of silversmiths and jewelers Marrel Frères, which was shown at the Great Exhibition held at the Crystal Palace, London, in 1851. That sword was especially praised by the exhibition's jurors, who noted that its design "left nothing to be desired." As a measure of their success, Marrel Frères received a medal for their display, and no fewer than five of their objects were purchased by the English commissioners for the new Museum of Practical Art, the forerunner of the Victoria and Albert Museum. The hunting sword was among these, valued at the substantial sum of £200, and is now in the Victoria and Albert Museum (reg. No. 159-1851).

This sword differs from the London example only in an ornamental band around the throat of the scabbard. The grip is fashioned as a deep architectural niche formed of pierced strapwork and foliage, partly gilt, into which is set a figure, cast and chased in the round, of Saint Hubert, patron of the hunt. The cross-shaped guard is inhabited by three dogs, modeled with naturalistic detail, in pursuit of a fox, which cowers at the front of the quillon block; on the end of one quillon an eagle seizes its prey, a crane. The broad, double-edged blade is chiseled with a series of interrupted fullers on each side. The scabbard is of copper, cast and chased with Gothic tracery and gilt by electroplating, an innovative technique that enjoyed great vogue during the mid-nineteenth century. Encircling the top of the scabbard is a silver relief representing the miraculous vision of Saint Hubert; another silver panel in the center of the scabbard is embossed with trophies of the chase. An inscription, MARREL PARIS, is found at the base of the hilt and tip of the scabbard.

From the mid-sixteenth century, the French were unrivaled in the field of highly decorated, deluxe arms. This sword demonstrates that this tradition had not diminished 300 years later.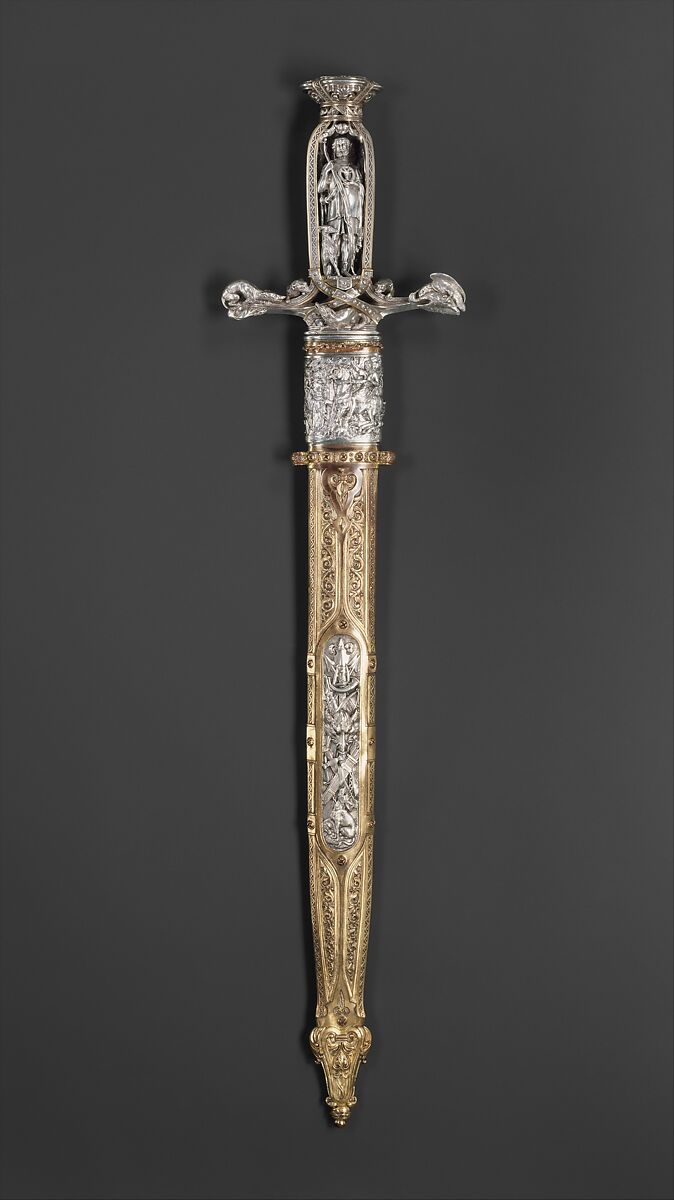 This artwork is meant to be viewed from right to left. Scroll left to view more.