Girls I Have Known
Daniel Rochford American

Not on view
The invention and mass marketing of Kodak cameras in the late 1880s transformed photography into an everyday activity. By the turn of the century, amateurs everywhere were filling album pages with the fruits of their own labors.

Mass-media imagery suited the album format just as well. Sparked by advancements in photomechanical reproduction, a profusion of new illustrated magazines began to appear just after the turn of the century. This, in tandem with a burgeoning film industry-well off the ground by 1910-wrought dramatic changes in public perceptions of fame, sophistication, and ideal beauty.

Girls I Have Known, compiled by Daniel Rochford when he was sixteen, stands at the crossroads of these various cultural and technological currents. This eccentric scrapbook-filled with handwritten commentary, folded notes passed in school, and snapshot portraits-documents the "girls" the author has liked (and disliked), from his first kindergarten "crushes" to later, unrequited high-school romances. More than an example of oddball juvenilia, Girls I Have Known is a testament to photography's signal importance in the structuring of mass desire at the dawn of the media age.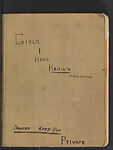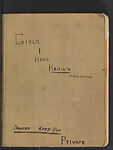 This artwork is meant to be viewed from right to left. Scroll left to view more.