Rayograph
Man Ray American

Not on view
Profound indeterminacy characterizes most of Man Ray's art. Through motion, ambiguity, and visual punning, Man Ray created objects in a variety of media that defy the viewer to discover their meaning. No medium was better suited to advance his theories than the photogram. Unlike photographs printed from negatives, each photogram is unique, unrepeatable, and to a degree uncontrollable. The artist cannot know precisely how the selected object will be recorded, especially if he varies and moves his light source; thus the process is inherently unfixed and dynamic and produces results that are similarly defined.
Like Man Ray's "Object to Be Destroyed" (1922-23), a metronome with a photograph of a woman's eye attached to its swinging arm, this untitled rayograph is constructed of wedge-shaped elements that seem to oscillate around a relatively fixed base, the central white square. The dark background is itself a liquid world of chemical experimentation, which flows throughout the picture like a primordial sea. As his friend the Surrealist poet Robert Desnos wrote in 1923, Man Ray "succeeded in creating landscapes which are foreign to our planet, revealing a chaos that is more stupefying than that foreseen by any Bible."
The majority of Man Ray's photograms are on 8 x 10-inch sheets of paper, which he used for his portrait commissions. This rayograph is four times that size, and one of the most mesmerizing of the very few larger photograms. It appears on a painting easel in the photographer's studio in the 1928 photograph of Man Ray filming Desnos reading his poem "Etoile de mer" for the short film of the same name.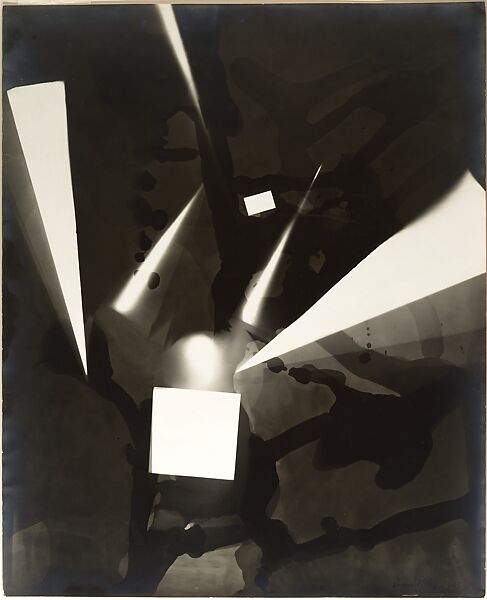 This artwork is meant to be viewed from right to left. Scroll left to view more.