Photographs Showing Landscapes, Geological and Other Features, of Portions of the Western Territory of the United States, Obtained in connection with Geographical and Geological Explorations and Surveys West of the 100th Meridian, Season of 1872
William Bell American, born England
Commissioned by Lieutenant George Montague Wheeler American

Not on view
By the time the government's appropriations for George Wheeler's 1872 expedition were made, Timothy O'Sullivan had already signed up with Clarence King's survey for the season. Wheeler therefore asked William H. Bell, a photographer who had worked for the American Medical Museum, to take O'Sullivan's place in his corps.

Unlike O'Sullivan, who regarded the problem of landscape as a rational arrangement of vacancy and mass, Bell perceived landscape dramatically and vertically, related to the upright posture of man. Whereas O'Sullivan composed in a planar and lapidary fashion, carving out powerful blocks of tone, Bell composed in depth, setting off the plunging perspectives of the Grand Canyon against the rocks in the foreground. Here, from the shadow of the slanting overhang of a cliff, the viewer sees the blare of sun on the canyon's opposite wall like dawn's curtain rising.

This photograph is part of the Colorado River Series in a rare album of thirty-five prints of Bell's photographs for Wheeler's 1872 season. A companion volume of thirty-five prints of O'Sullivan's photographs for Wheeler's 1871 season is in the collection of the Metropolitan Museum. The prints in both albums probably were made by O'Sullivan in the winter of 1872-73, either to encourage appropriations for the next season or as prototypes for the composite albums of the Wheeler surveys that the government would publish in 1874-75.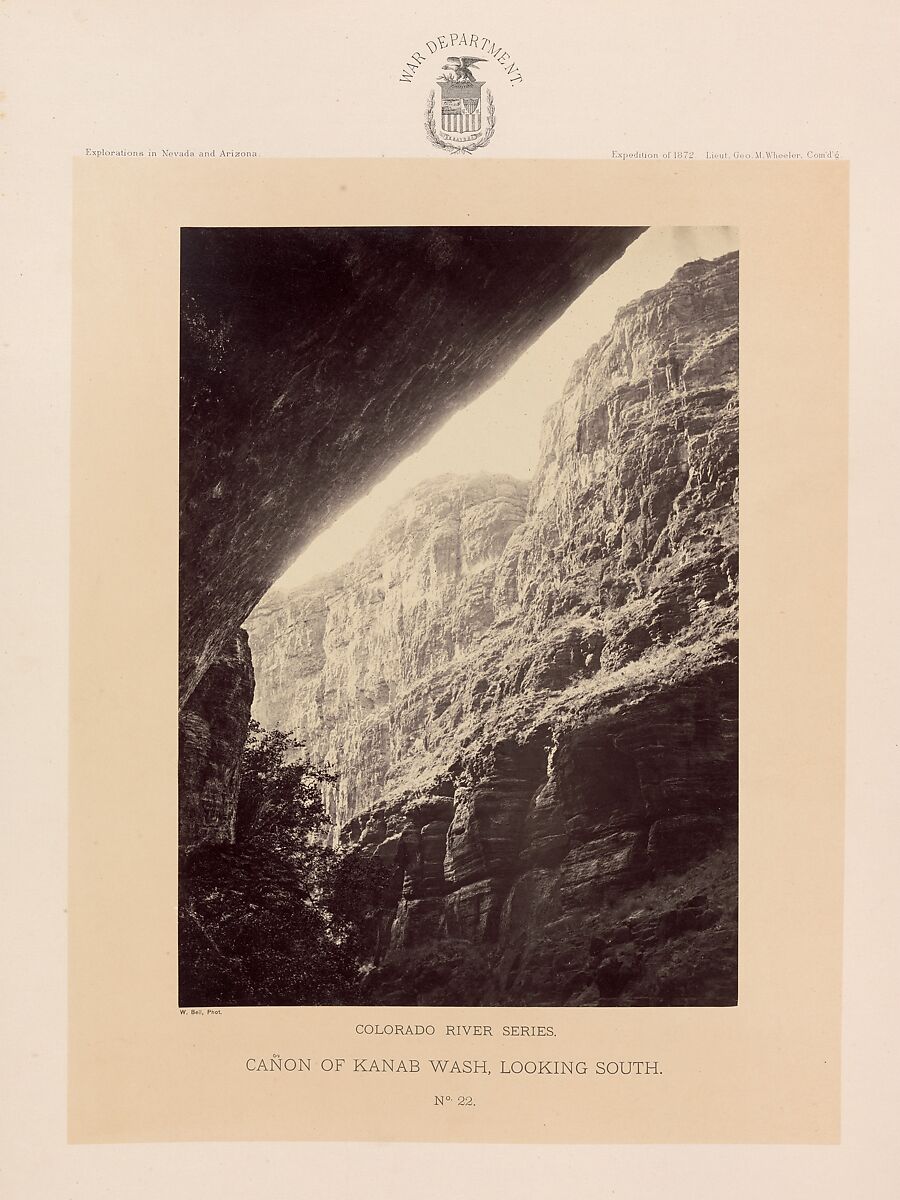 This artwork is meant to be viewed from right to left. Scroll left to view more.