Stirrup spout bottle with warrior
On view at The Met Fifth Avenue in Gallery 202
This impressive ceramic stirrup-spout bottle depicting a hawk warrior on bended knee was fabricated by artists of the Moche culture of Peru's North Coast. The clay was first modeled and specific details of the costume were inscribed or punctated. The surface was then covered with a white slip (a suspension of clay and/or other colorants in water). Traces of red pigment remain on the shield, spout, and the headdress, indicating that additional decoration covered parts of the vessel. The absence of any surface blemishes caused by uneven heating is indicative of the artist's careful control of the firing process - the method by which soft clay is transformed into hardened ceramic through heat.

The hawk warrior, so called for its beak-like nose, is dressed in classic Moche battle regalia, including a turban or helmet with two round tassels above the forehead and tied under the chin (Donnan, 2003). The headgear, surmounted by a crescent shape, includes two stepped elements on either side of the head. Most of the warrior's hair is covered by a head scarf, but a few long strands can be seen hanging down the figure's back, over his shoulders. He wears a tunic, a garment worn by men in the ancient Andes, finished with a fringe of repeating triangular shapes that may represent metal bells. The warrior wears a broad collar, representing the type of intricate shell or stone bead collars that have been found in the tombs of high-status individuals, and holds a mace and a square-shaped shield. Although the multiple depressions in the shield, headdress, ear flares, collar and tunic are reminiscent of the way decorative inlays of stone or shell were fixed to ceramics, the absence of any traces of adhesive in the depressions suggests that the bottle did not originally have inlays.

The stirrup-spout vessel—the shape of the spout recalls the stirrup on a horse's saddle—was a much favored form on Peru's North Coast for about 2,500 years, from at least the beginning of the first millennium B.C. through the early colonial period. Although the specific meaning of this distinctive shape is unknown, the double-branch/single-spout configuration may have prevented evaporation of liquids, and/or may have provided a convenient handle for carrying. Early in the first millennium AD, the Moche elaborated stirrup-spout bottles into a wide range of shapes, including human figures, animals, and plants, and combinations of these. About 500 years later, bottle chambers became predominantly globular, providing large surfaces for painting complex, often multi-figure, scenes.

The image of a kneeling warrior is a popular subject in Moche art. Other examples in the Met's collection include 63.226.88, 64.228.31, 64.228.32, 1987.394.93, 1987.394.114, as well as multiple copper figures believed to come from the site of Loma Negra (1987.394.61, 1987.394.62). The significance of this pose is unclear; are the kneeling figures supplicants or is this a posture of allegiance? Does it signify readiness for battle? As there was no tradition of writing in South America prior to the arrival of Europeans in the sixteenth century, these remain difficult questions to answer. The representation of anthromorphized animals as warriors, including iguanas, crayfish, foxes, and crabs, is also a recurring theme in Moche art. On certain ceramics painted in the fineline style, the hawk warrior is shown with wings and tail feathers (Sawyer 1966:47). Although this figure is referred to as a hawk warrior, the image may represent a harpy eagle, the largest of the raptorial birds in Peru.

The Moche (also known as the Mochicas) flourished on Peru's North Coast from AD 200-850, centuries before the rise of the Incas. Over the course of some six centuries, the Moche built thriving regional centers from the Nepeña River Valley in the south to perhaps as far north as the Piura River, near the modern border with Ecuador, developing coastal deserts into rich farmlands and drawing upon the abundant maritime resources of the Pacific Ocean's Humboldt Current. Although the precise nature of Moche political organization is a subject of debate, these centers shared unifying cultural traits such as religious practices (Donnan, 2010).

Published references

Sawyer, Alan R. Ancient Peruvian Ceramics: The Nathan Cummings Collection (New York. The Metropolitan Museum of Art, 1966), p. 47.

References and further reading

Donnan, Christopher B. Ceramics of Ancient Peru (Los Angeles: Fowler Museum of Cultural History, University of California, Los Angeles,1992).

Donnan, Christopher B. and Donna McClelland. Moche Fineline Painting: Its Evolution and Its Artists (Los Angeles: Fowler Museum of Cultural History, University of California, Los Angeles, 1999).

Donnan, Christopher B. Moche Portraits from Ancient Peru (Austin: University of Texas Press, 2003). (See especially p. 64).

Donnan, Christopher B. "Moche State Religion," in New Perspectives on Moche Political Organization, edited by Jeffrey Quilter and Luis Jaime Castillo (Washington D.C.: Dumbarton Oaks Research Library and Collection, 2010), pp. 47-69.

Golte, Jürgen. Moche cosmología y sociedad: Una interpretación iconográfica (Lima, Cusco: Instituto de Estudios Peruanos-Centro Bartolomé de Las Casas, 2009).

Lavallée, Daniéle. Les représentations animales dans la céramique Mochica (Paris: Université de Paris, Mémoires de l'Institute d'Ethnologie – Musée de L'Homme, 1970).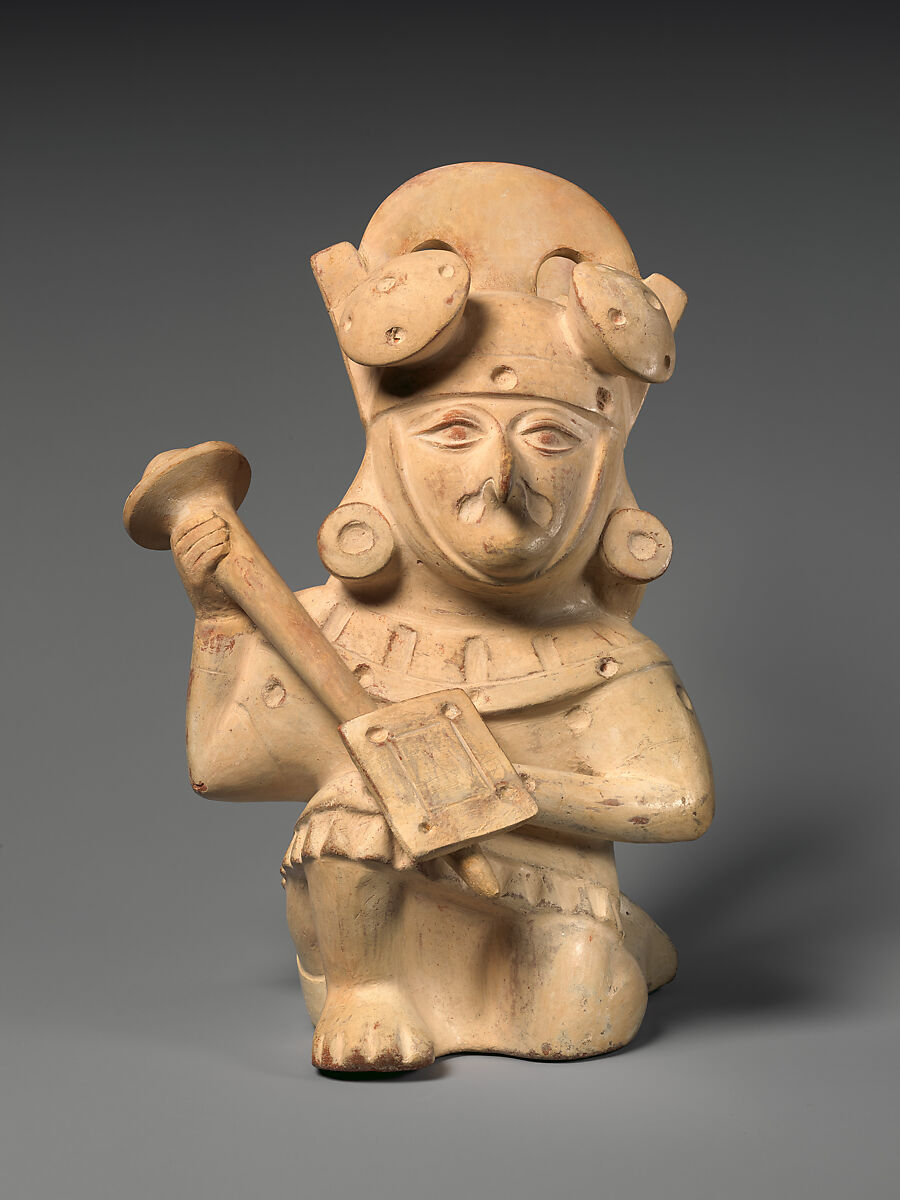 This artwork is meant to be viewed from right to left. Scroll left to view more.