Stirrup-spout bottle with feline
On view at The Met Fifth Avenue in Gallery 202
As early as the beginning of the second millennium B.C., artists in northern Peru produced ceramics of remarkable technical refinement, aesthetic appeal, and iconographic complexity. By the time this vessel was made—almost 3,000 years later by the potters of the Chimú culture—ceramic production emphasized efficiency and repetition rather than artistic and technological excellence. Although Chimú potters used the forms, imagery, and techniques employed by their predecessors, their wares can at times appear mass-produced in comparison. However, some vessels, even though made in molds, as is the present example, are well modeled with carefully finished surfaces, implying a considerable investment of time and skill. The black color was achieved by firing the ceramic under conditions of limiting oxygen, thereby generating soot that bound to the vessel surface. The pottery was burnished after firing to produce the shiny black surface.

This bottle depicts a feline crouching atop a rectangular chamber. Curiously, the animal appears to have a thin collar around its neck, suggesting it is a captive. The vessel has a stirrup spout—the shape of the spout recalls the stirrup on a horse's saddle—which was a much-favored form on Peru's North Coast for about 2,500 years. Although the importance and symbolism of this distinctive shape is still puzzling to scholars, the double-branch/single-spout configuration may have prevented evaporation of liquids, and/or may have provided a convenient handle. Unlike those of their predecessors, Chimú vessels are notable for the presence of a lug at the junction of the spout and stirrup. Here, there is a small monkey; others have a bird or a simple lug.

References and Further Reading
de Lavalle, José Antonio. Culturas precolombinas: Chimú. Colección Arte y Tesoros del Perú. Lima: Banco de Crédito, 1988.

Martínez, Cruz. Cerámica prehispánica norperuana: Estudio de la cerámica Chimú de la colección del Museo de América de Madrid. Oxford: BAR, 1986.

Moore, Jerry D. Cultural Landscapes in the Ancient Andes: Archaeologies of Place. Gainesville: University Press of Florida, 2005.

Schjellerup, Inge. Chimu Pottery, Fascicule I. Copenhagen: National Museum of Denmark, 1986.

Publications
Wassermann-San Blás, Bruno John. Céramicas del antiguo Perú de la colección Wassermann-San Blás. Buenos Aires: Bruno John Wassermann-San Blás, 1938, no. 190, p. 108.

Sawyer, Alan Reed. The Nathan Cummings Collection of Ancient Peruvian Art (Formerly Wasserman-San Blas Collection). Chicago, 1954, p. 31.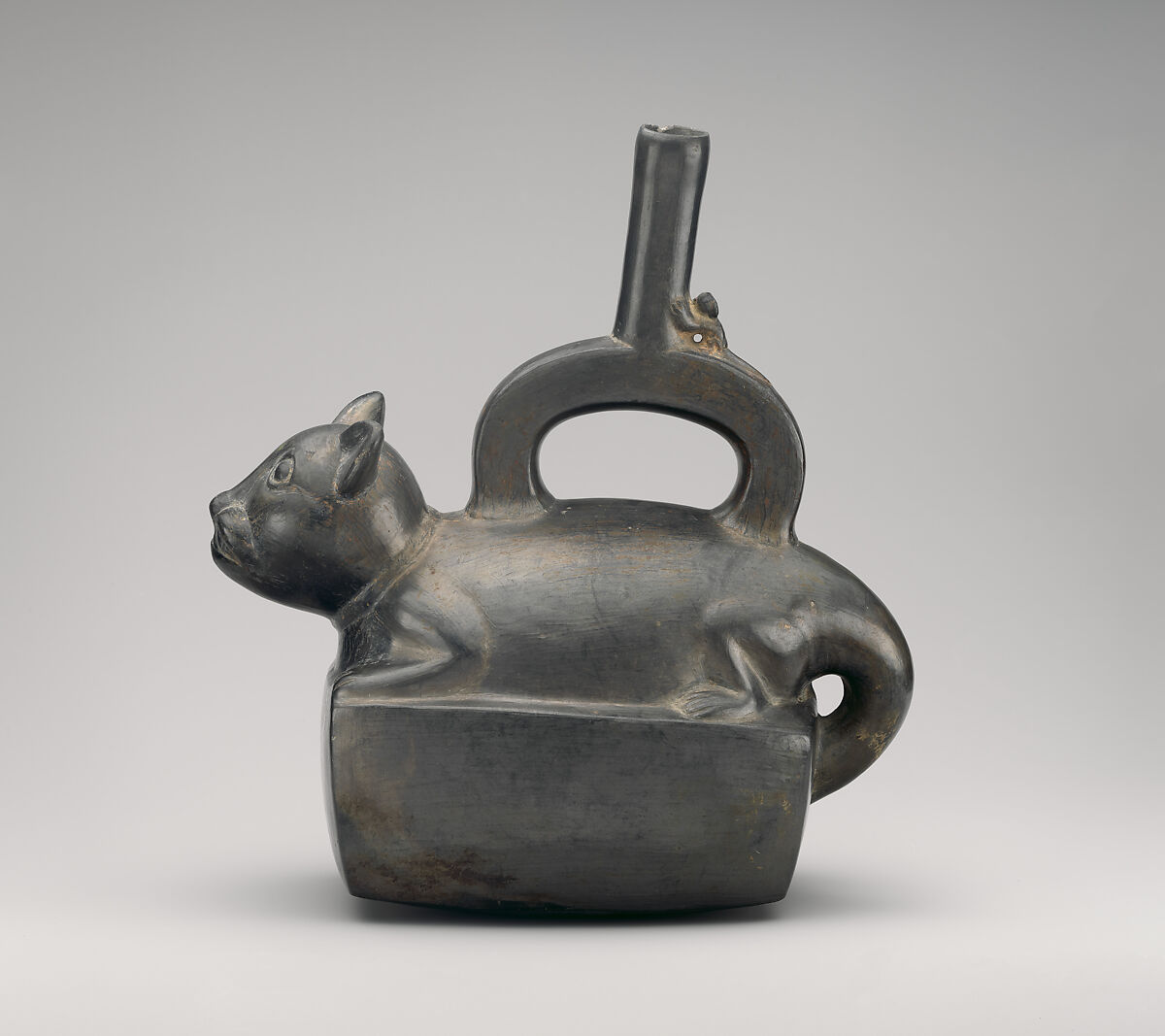 This artwork is meant to be viewed from right to left. Scroll left to view more.