Body Mask (Det)
Not on view
The art and religion of the Asmat people of southwest New Guinea center primarily on the spirits of the recently dead. Nearly all Asmat subgroups celebrate, or celebrated, the mask feast, a series of rituals culminating when the dead, personified by performers wearing full-length body masks, return to visit the community. The rites involve two types of masks. The first, a single conical mask depicting a legendary orphan, appears as a comical prelude. The second type of mask, seen here, portrays the dead. Each mask of this type is named for a specific individual. At the climax of the ceremony, the masked performers representing the dead emerge from the forest and tour the village, where they are offered food and hospitality. They eventually arrive in front of the men's ceremonial house, where the dead and the living join in a dance, which continues long into the night. The following morning the dead, now properly fed and entertained or frightened by threats of violence, depart for safan, the realm of the ancestors.
#1748. Body Mask (Det), Part 1
Playlist

1748. Body Mask (Det), Part 1

2204. The Art of Dress: Body Mask (Det)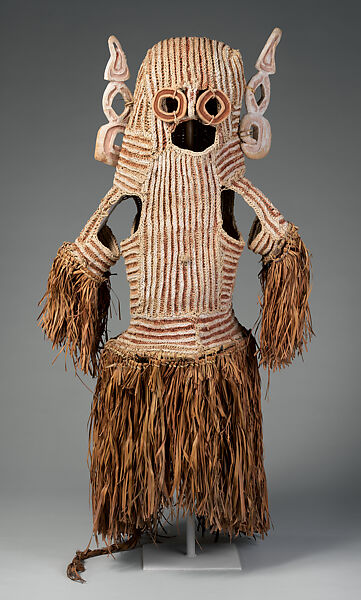 This artwork is meant to be viewed from right to left. Scroll left to view more.