Ancestor Figure
Not on view
The squatting position of this figure may be a reference to an incident from an Asmat creation myth in which the culture hero, Fumeripits, carved the first humans in the form of wooden figures joined at the knees and elbows. The form and position of the figure also show similarities to the praying mantis, a symbol of headhunting for the Asmat, since the female beheads the male during mating.

A carver's prestige was second only to that of the most successful warriors, since his activities mirrored those of Fumeripits. Carved images were central to ceremonial life and usually represented recently deceased individuals. The figures served both to commemorate the dead and remind the community that their deaths must be avenged. While the figures depict specific individuals and bear their names, they employ a standardized iconography and are not intended as portraits.
#1174. Kids: Ancestor Figure, Part 1
Playlist

1174. Kids: Ancestor Figure, Part 1

1175. Kids: Ancestor Figure, Part 2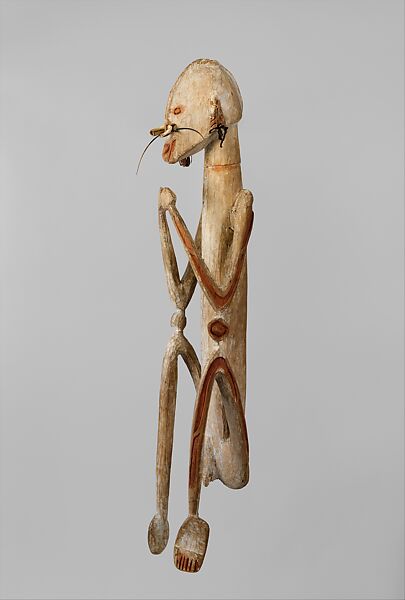 This artwork is meant to be viewed from right to left. Scroll left to view more.