Male Poro Altar Figure (Ndeo)
Not on view
Pair with 1979.206.194

Men's poro and women's sandogo associations commit themselves to the physical and spiritual well-being of Senufo communities. Although divination in northern Côte d'Ivoire is most often associated with sandogo women, not all diviners are members of the organization. Senior poro members and other enterprising men also establish divination practices. The height of this sculptural pair suggests that the pair served as spirit figures on an altar belonging to a senior member of poro. Sculptures on divination altars reflect the status, prestige, and skill of their owners and appeal to spiritual intermediaries. This pair of spirit figures, or ndebele (sing.: ndeo), differs from the taller pombibele (sing.: pombia) sculptures that poro members carry in procession or place in a central courtyard during funeral and commemorative ceremonies for deceased poro elders.

The female figure in this pair stands taller than its male companion, reflecting an aesthetic choice common in Senufo sculpture. Artists elevate the stature of the female form to honor women and allude to their maternal roles in poro, an initiation cycle that transforms uninitiated boys into productive adults. Membership in poro is largely male and in sandogo is largely female. The arts and practices of both institutions demonstrate the interdependence of both genders.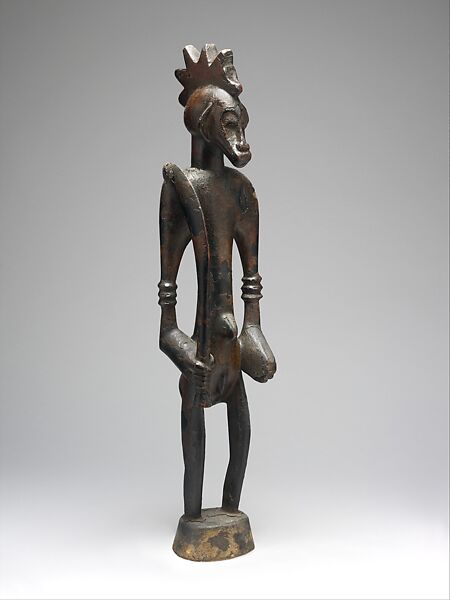 This artwork is meant to be viewed from right to left. Scroll left to view more.